The man who probably isn't going to be the second black president was speaking at Selma's Tabernacle Baptist Church one Sunday in March, recalling his days working for the NAACP Legal Defense Fund.

Deval Patrick has an unusually direct connection to the civil rights era for a man of the Joshua Generation: Back in 1985, he was the junior lawyer on the Alabama vote fraud case against Albert Turner, an old ally of Martin Luther King Jr., who had helped organize the march across the Edmund Pettus Bridge on Bloody Sunday; his wife, Evelyn; and another man named Spencer Hogue Jr. They became known as the Perry County Three, accused by the Justice Department of altering absentee ballots. If found guilty, each could have gone to jail for life.
He remembered his clients, he told the congregation, "as being old black people. In fact, they would now only be the age I thought they were then." The crowd laughed at Patrick, who likes being referred to as still a relatively young man. "The scary thing is, I am now the age they actually were."
Theirs, and others, was a legacy of resilience, Patrick said, and it served black folks well to remember that even in the face of all manner of injustice, including injustice related to police violence — "A grand jury can't see in the videotaped strangling of Eric Garner what the rest of the world sees!" he said, also making reference to Michael Brown — that legacy was dishonored by declaring defeat. "The key it seems to me is to be as mindful and as determined as our forebearers to keep on marching whether we are desperate or comfortable — maybe especially if we are comfortable."
The point about being comfortable recalled another line for Patrick: "Being first doesn't mean a thing unless there's a second."
The crowd approved and applauded — and Patrick let that applause linger in the air, sharp and abiding as it had been at any point during his address.
Deval Patrick, the first black governor of Massachusetts and only the second black governor in U.S. history, did no public Hamlet act over whether he'd run for president. He did, however, consider it in private, he told BuzzFeed News in an interview. Top advisers to Hillary Clinton also eyed Patrick warily through much of last year. He was, in their view, one of the few Democrats with a path to beating her.
But Deval Patrick is not challenging Hillary Clinton for the Democratic nomination — he's not running for president and he's not going to follow Barack Obama. Instead, the former two-term governor of Massachusetts, a powerful speaker with a liberal record, works at Bain Capital, and complains from time to time that Hillary Clinton doesn't have a strong enough challenger.
"If our forebearers had been defeated by the challenges around them, which were in many respects more profound, then we wouldn't get to sit in a room like this," Patrick recently said of that Selma speech, gesturing from the 41st floor of the Boston high-rise where he now works toward the state house, whose golden dome was beaming under the sunlight. "I wouldn't have got to sit in a building like that."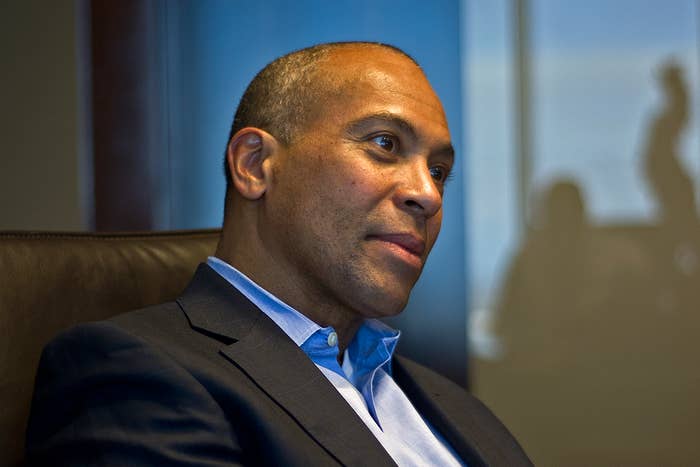 It's a unique bit of symmetry that Patrick's new office at Bain Capital, the private equity firm intertwined with the 2012 election where he will lead a new "social impact" investment fund, overlooks his old one. His new office is "not quite fitted out yet." For now, it's just two purple orchids and pictures of his family lined up in a row.

The nondescript space is a little like Patrick's newly formed post-governorship life so far. He left office in January — and looks little changed from years past, a bit more trim, perhaps. He rocks a bit of closely cropped salt-and-pepper haircut, and is perpetually clean-shaven. And while the 58-year-old walks gingerly — the effect of hip replacement surgery in 2009 — Patrick's appearance is not the evidence we all needed that black don't crack, but he looks good. And now, he's out of public life and back to near anonymity.
"One thing I have noticed about being a black man," he wrote in his 2011 memoir, "if you're dressed in jeans and a casual shirt with a cap on, people will often look right past you." Earlier this year, a local high school hosted a panel on the legacy of civil rights with, among others, former Sen. William "Mo" Cowan and J. Keith Motley, the chancellor of the University of Massachusetts–Boston. Patrick showed up in a cap and sweater. "I look up and see him," Motley said, "look around and realize, 'My god, no one even realizes he's here.'" His next-door neighbor, State Sen. Brian A. Joyce, spotted him — ball-cap clad and being assisted at the Apple Store's Genius Bar recently. "There was not a person who recognized him. I think he relished that."
Even if Patrick relishes this anonymity, however, he occupies an unusual perch in the Democratic Party, at the intersection of three current centers of power: He is close friends with the president; he has a long, albeit less close, history with the Clintons; and he shares a home state with the woman — Elizabeth Warren — who leaves progressives enamored and creates problems for both Barack Obama and Hillary Clinton.
And, at the end of the day, he could have run for president.
A true progressive who oversaw a major transportation consolidation project, helped implement the state's health care insurance system, and signed into law criminal justice changes popular in the Democratic Party, Patrick was widely considered capable of winning a third term. The question of a presidential run indeed weighed on Patrick, too, last year. If some Democrats were looking for a real challenger to Hillary Clinton, why not him? Democrats could do worse than a two-term governor with name recognition in New Hampshire.
Last December, Obama called into Patrick's monthly "ask the governor" radio show as a final good-bye. When Obama hung up, Patrick was asked about what it's like for that kid — the kid from the South Side of Chicago — to field a personal call from the president of the United States. Patrick took a deep breath to collect himself. "I've had reporters asking me about another political job — even that political job," Patrick said. "I know I'm supposed to keep a straight face and try to give the best answer I can, and an honest answer, which is, 'I don't have any plans.' But it really blows my mind that people would ask a kid from the South Side of Chicago a serious question like that."
He wrestled with the decision, one prominent Democrat said, and woke up daily for a time unable to say that he was not going to run. When told this, Patrick's closest advisers downplayed how close Patrick got, given that there was a clear path — Obama's path — to the nomination.
Sitting in the Bain office last month, Patrick acknowledged that he gave running for president some thought. But, he said, his personal obligations eliminated the slightest possibility. "I didn't have to think about it very long," he said. "I never ran for governor to be something else."
"My sense is that he didn't come as close as people think," Joyce told BuzzFeed News. "I don't know a governor or a U.S. senator who doesn't take a close look at it — who doesn't at least close their eyes and say, 'Hey, I could do that.'
"He certainly has not issued any Sherman-like statements," he added. "Would I rule him out in the future? Absolutely not."
A close former aide who went to dinner with Patrick recently said politics didn't come up once. He is most upbeat when he begins to talk about his work at Bain Capital. "Oh, man!" he let out when asked what indication he had the work was going to be fulfilling. "The enthusiasm inside the building has been over the top." The mission of social impact investing is one Bain Capital is trying to figure out how to be in, he said "and the field is exploding and that is a very hopeful thing." He emphasized field and that like a politician who is trying to inspire.
Still, even Obama himself recommended Patrick for higher office. "Deval would make a great president or vice president. But I think based on me talking to him, it sounds like he'd like to take a little bit of a break," Obama told a Boston cable news station. "He's still a relatively young man."
Asked if Obama asked him to consider a run, Patrick laughed. "That's a nice try," he said. "What's your next question?"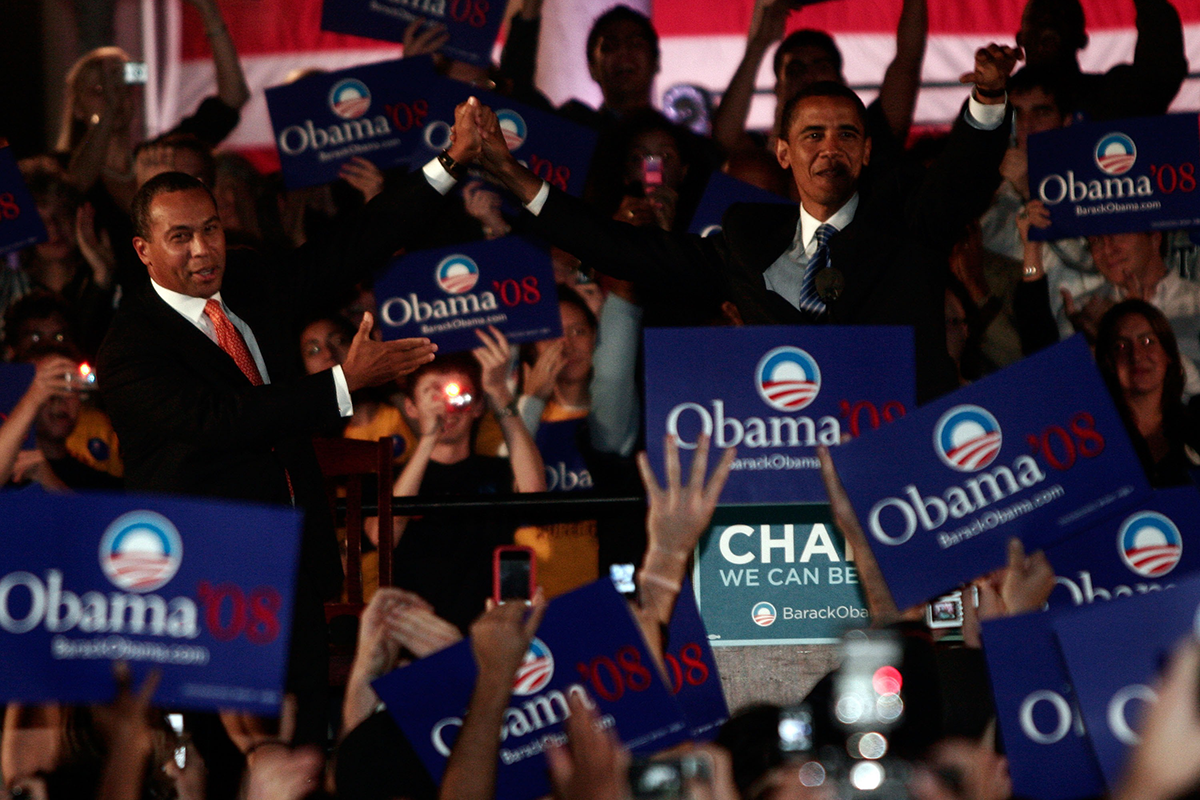 The curious thing about Patrick — a man who is not running for president — is his seemingly incurable habit of talking about Hillary Clinton's "inevitability" problem.

It started in early 2014, when Patrick was asked outright by a reporter if there was going to be a "Hillary–Deval ticket in 2016." He looked bewildered before saying no, and began laughing.
In July, Patrick expressed doubt about what he perceived to be her inevitability. "I worry about the campaign," he said then. "I don't think it's so much her." He noted they'd spoken at a conference in San Diego — but he added, "It's not like we're pals."
In September, he emphasized she was "fantastic and incredibly strong," before saying that "the problem with inevitability is it's sometimes interpreted as entitlement, and I think that voters want competition and they want their candidates to have to work for it."
And again in November: "Secretary Clinton has been an extraordinary public servant and would be a terrific candidate for president," he said. "But I think the narrative that it's inevitable is off-putting to regular voters."
Patrick said, in the interview with BuzzFeed News, that he doesn't mean that point he's made — that Clinton's inevitability reads to the general public like entitlement — as a criticism of Clinton so much as it was of the people she had around her, noting this time around that her campaign manager, Robby Mook, is "off the charts good." Patrick said what he hungers for is authenticity. He also wants competition. "I think if she has a competitive primary, she will be a better nominee." Asked if she was better now, Patrick said he saw her at a rally for Martha Coakley, the former attorney general who lost to Gov. Charlie Baker. "She was brilliant. She was fantastic," Patrick said. "She really got to, sort of, the nub of people's aspirations and anxieties. It was beautiful."
That was last October. Clinton arrived in Boston to campaign for Coakley, speaking to a packed ballroom at the Park Plaza Hotel for a little less than a half hour. People say Clinton and Patrick began with political chitchat. Patrick congratulated her on the new addition and before long, babies Gianluca and Charlotte were the main topic of conversation. Clinton and Patrick got a glimpse of the other's grandchild on their phones. It lasted about 15 minutes.
The former governor and the former first couple have a long history, dating back more than a quarter century. When the NAACP LDF sued to stop voting rights violations in Arkansas he befriended Bill Clinton, who saw Patrick work the room in a meeting that settled the lawsuit and observed, "He has a future as a politician." In 1994, Clinton tapped Patrick to lead the Justice Department's civil rights division.
When Barack Obama entered the presidential equation, however, the relationship shifted a little. Then-Sen. Hillary Clinton had called in 2007 asking for his endorsement, he said in the interview last month. "I told her I was going to keep my powder dry," he said. "I like the competition." Then, in the summer of 2007, he told Obama he would endorse him on Martha's Vineyard at a home Valerie Jarrett rented. Run like you're willing to lose, run at the grassroots, and keep your rhetoric high-minded and positive he told Obama, according to his memoir, repeating the occasion in the interview. (When he recalled offering Obama to use his "just words" riff, Patrick briefly got emotional when he recalled giving the original speech on Boston Common. It was an especially rough time for "what they were trying to do to my family.") Patrick's recollection now of telling Obama he'd endorse him is less than crisp. "We've had lots of Vineyard conversations," he said.
If there is leftover angst from endorsing Obama years ago, a Democrat close to Patrick said he's not interested in rehashing it. "He's been a civil rights lawyer, a corporate executive, governor ... he's worked in the Clinton administration and he's close to Obama," the Democrat said. "By virtue of his tremendous experience, you can't put him in a box. It's just not that simple." When Obama appointed Clinton secretary of state, he signaled to the rest of the party that "Democrats have been tasked with showing a way forward. So when talking about the past, some of these issues are, like, who cares? Except with how it relates to moving forward."
In 2015, the only criticism is that of "inevitability." The source familiar with Patrick's thinking reiterated that it's not personal. "For him, talk of inevitability is off-putting because it's self-defeating. It assumes that the voters don't matter, that what they care about doesn't matter, that there's no value in engaging with them. He views that as a failure of politics and policy."
The danger Clinton's inevitability candidacy poses, Patrick noted, is that someone like, well, Deval Patrick could come along. "That was the view of the Democratic establishment in 2005 and 2006," he said, referring to his Massachusetts primary victory over two members of the state party establishment in 2006. "If you'd asked a lot of people then — and maybe even me — about whether it was going to be a really competitive primary with this newcomer, meaning me, coming into the race, I think a whole lot of people would have been equivocal. Things happen in politics. People find their voice and their footing."
"If there's a political doctrine that consistently governs Deval Patrick's actions as a political player, it's that if you want to know what he thinks, you can literally just listen to what he says," said longtime ally and former campaign manager John Walsh. "He's not the kind of guy who says things he doesn't believe. His biggest asset in an election is his willingness to lose. I've never heard him say, 'What do I need to say here to win?'" Walsh said, in a way explaining his willingness to shake things up.
Behind the scenes, Patrick's been a little less resistant to the Clinton operation: On April 27, after attending the swearing-in of Attorney General Loretta Lynch that morning, he attended the so-called "road show" the Clinton campaign has embarked on in some cities as a way to brief her most ardent supporters. It was held at the law firm Foley & Lardner LLP, according to sources familiar with the meeting. Mook and Obama campaign vet Marlon Marshall held forth in a large conference room, with Mook telling the audience even if Clinton is the likely nominee, her staff wasn't taking it for granted — and neither could they.

Other attendees included Clinton loyalists Beth Boland, a partner at Foley; Steve Grossman, former state treasurer and former Democratic National Committee chair; Cheryl Cronin, a lawyer and fundraiser; and Shanti Fry, a wealthy Cambridge activist who was a former finance co-chair for Massachusetts Sens. Ed Markey and Elizabeth Warren.
It wasn't known by every attendee that Patrick would attend or who had invited him; Patrick's comments in the press about Clinton's inevitability and her need for a competitive primary, irked some who were present at the meeting and were said to be surprised by his appearance a third of the way into the presentation. He arrived in a suit and tie. When asked to speak, he did. He said that Democrats need to speak with conviction in this election about what they believe in, about the tough road that lay ahead and the importance that the Democratic nominee follows President Obama to the White House. "Democrats need to have conviction to make sure we actively explain to voters what we stand for," he said, adding that voters are going to be have a clear choice in the election. Two people present at the meeting couldn't remember if he said anything about Clinton.
Even so, when asked in the interview about Clinton, Patrick remained almost noncommittal. Will he campaign for her?
"Within bounds," Patrick said. "I mean, I've got demands on my time."
Patrick said, even though she's the likely nominee, "I'm going to be listening to all the candidates."
Would he be helping her raise money? Patrick repeated himself.
"I'm going to be listening to all of the candidates, and we'll see."
His relationship with Obama is far less complex. The pair met in 1995 at the behest of Abner Mikva, the former congressman and former White House counsel who once told Obama to study preachers to cultivate his speaking style. Patrick, in the middle of his stint at the Justice Department, met Obama for coffee, remarking in his memoir he was immediately taken with his intellect.
Now, he says, he serves a slightly different role in Obama's life.
"I may be one of the few people who called him every once in a while, or comes to see him without saying, 'Do this differently,' or 'do that differently,'" he said. "It's just, "How you doing?" It's hard to have these jobs and know people who are just interested in you."
Patrick says he's pushed Obama to push the limits of his own bubble, well aware of how they can be debilitating. But increasingly, Patrick reiterated that while his relationship with Obama is of a personal nature, he does not see his role of defending the president as a defense of his friend but as a defense of visionary leadership. "The president can stick up for himself — he's the president," Patrick said. "My defense of the president is not just a defense of my friend, it's a defense of visionary leadership, and that's what I think we have in this president."
When you speak with Democrats who worked for Obama or are friends with Obama, they emphasize his legacy; they talk about the importance of how he will be seen going forward, the cornerstones of his record, and what best will preserve that legacy — a Democratic successor.
Political surrogates with name recognition like Patrick's are not easy to come by. His standing and political capital make him a serious and possibly indispensable surrogate for the Democratic nominee. And people around him say he does like campaigning, that he was eager to stump for Coakley last year and escape the grind of governing.
He will make speeches, he said, "when I have something to say." And he does have plenty to say about the issues of criminal justice, police violence against the community, and mass incarceration — something the Clinton campaign has already signaled will be a part of her platform, and something the Obama White House has faced over the last year. If Patrick is interested in the defense of Obama, whose exit from the White House is actually inevitable, it may be on this subject that Patrick is seen out on the campaign trail.
After all, his message in Selma was connected to a legacy of black people who "faced their fears" and fought for civil rights.
The absentee ballots organized by the Perry County Three were about political power. "The charges were a response to growing black political power," Patrick said.
And then, Patrick said if the heroes of Selma hadn't been resilient, hadn't fought to vote and exercised their political power — and gotten back up — that there would be no Barack Obama.
"Imagine if they hadn't?"