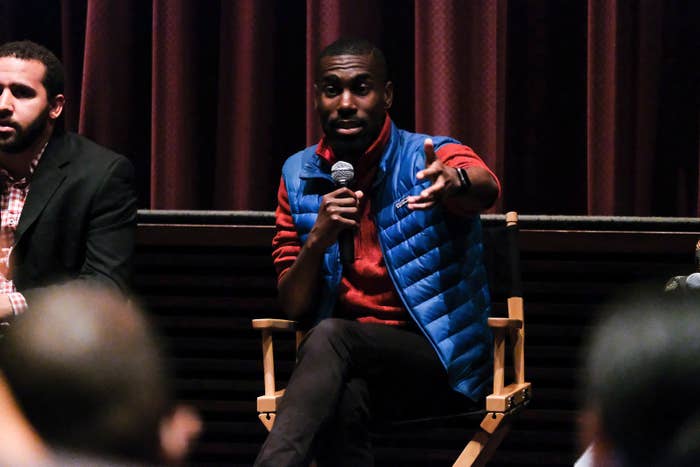 PHILADELPHIA — A man called to DeRay Mckesson from across the street. "The young icon!" he yelled, wanting a picture.
He also wanted to know what Mckesson thought of the election, a touchy subject for activists in the movement for which Mckesson is seen as a de facto spokesperson. Mckesson obliged. He offered a solemn analysis of the political landscape, punctuating it with a final flourish: "And Trump is gonna screw us all over."
In Philadelphia, home to this year's Democratic National Convention, people (mostly young) greeted Mckesson everywhere. They were curious about his thoughts on policing problems, Hillary Clinton, and his recent arrest in Louisiana. They wanted to know what to do next.
But mostly, they wanted to talk politics. They wanted to engage. And Mckesson — if tired after a long week — was happy to engage.
Mckesson has remained a neutral observer and refuses to endorse a candidate. He was annoyed at a story that emerged out of the Wikileaks DNC leak, in which a DNC operative ask he be vetted to become a surrogate. "I am not being vetted for anything," he said, slung back in the back of an Uber.

Politically-connected black Democrats — perhaps Clinton's most united force — would love to see him endorse her. But as one of them said of high-profile BLM organizers, nobody really expects them to endorse her and its unclear if Clinton will again meet with activists from the Black Lives Matter movement. Mckesson has said that her racial platform is not enough, and that they'll continue to push her.
In Philadelphia, his presence and ubiquitous vest, instead, reflected a new kind of political blackness. Mckesson has assumed an inside/outside posture both in politics and within the movement. Critics feel that because he does belong to the larger activist network, Mckesson is trying to evade accountability. To this, Mckesson likes to answer that he knows there is more than one way to organize, and no one way is more valid or important than another.
Regardless, young black Democratic operatives see the movement, and by extension, Mckesson, as extremely important — the reason why they are in the seat of power.

"In 2016, if you don't support the Black Lives Matter movement, you're on the wrong side of history," said Kouri Marshall, a black millennial and Democratic operative who's used his platform as the head of Democratic GAIN, a national progressive political organization, to highlight the movement and its causes. "I have been pushing the marriage of BLM and electoral political activism because it is one way to bring about the kind of change we all desperately need that will release young black and Latino men and women from the grips of systemic racism."
Mckesson's own foray into electoral politics is also a sensitive subject for the movement and political establishment. During a panel discussion in Philadelphia about black millennials in the election sponsored by Revolt, Terrance Woodbury, an analyst with brilliant corners Research and Strategies, brought up Mckesson's fundraising success — touting that the financial support came from all over the country.
"Yeah, but that ended up hurting him in the election!" someone from the audience called out over murmurs, a commonly held opinion, which sparked an exchange.
For all of his admirers in politics, these are the some of the same young black Democrats who did not want him to run for mayor of Baltimore. They predicted he couldn't win, and thought it could end up being seen as a loss for the movement. At best, they felt, it would just be a loss for him. Based on his popularity at the DNC, anyway — and the movement's standing in the current political climate — it's neither.
But his relative anonymity amongst the the DNC's more established leaders is symbolic of the generational gap inside black political leadership, of the strangeness the older generation feels toward the younger generation's lack of conventions, unwillingness to wait.

Inside the Uber tent at the convention, on the night of President Obama's speech, a white woman asked Mckesson to take a picture, saying her daughter "would just die." After the picture, Mckesson politely called out to Deval Patrick to say hello. About 10 feet away, an older black man was doing the same with Rev. Jesse Jackson, who, turning around to exit, looked right at Mckesson, passed him, and said nothing.
Unbothered, Mckesson took out his phone and opened Twitter.