Democrats Pick An Attack Against Scott Walker: Voter ID
Scott Walker's candidacy brings voter ID laws, a huge issue for black voters, into the spotlight. But is it a sexy enough issue for voters to seize on?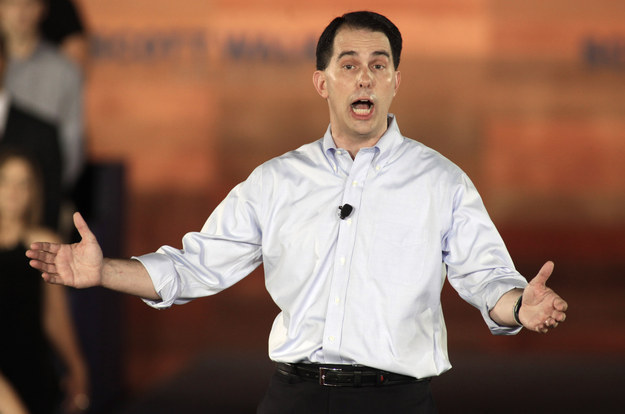 PHILADELPHIA — Republican Wisconsin Gov. Scott Walker entered the presidential election Monday, and Democrats and left-leaning voting rights advocates at the annual NAACP convention this year couldn't be happier.
Walker's rise to prominence as a candidate, and his support for contentious voter ID laws, made him a soft target for DNC chair Debbie Wasserman-Schultz, who addressed the NAACP in Philadelphia on Monday.
"Scott Walker claims that he wants to bring Wisconsin to Washington," Wasserman-Schultz said in her address. "But the truth is he's already brought the worst of Washington's dysfunction and divisiveness to Wisconsin."
Walker passed "one of the nation's strictest voter ID laws" she added, "and then he fundraised off it, capitalizing financially on potentially denying people their right to vote."
Touting his conservative record in his announcement speech Monday, Walker was unapologetic about his cuts to Planned Parenthood, about defeating unions, and he received thunderous applause when he mentioned the Wisconsin law that requires people to present a photo ID before being allowed to vote.
The law affects an estimated 300,000 voters in Wisconsin — or 9% of eligible voters — according the the nonpartisan Advancement Project. Last year, Walker also implemented cuts to early voting, ended weekend voting, and consolidated voting locations in some communities.
As the national Republican Party attempts to make inroads with minority communities, Democrats and activists will point to Republican-backed voter ID laws, such as those championed by Walker in Wisconsin, that advocates say disproportionately affect the poor and minorities.
Katherine Culliton-González, senior attorney and director of the voter protection program at the Advancement Project, which brought lawsuits against Wisconsin, says protecting against voter fraud is the most common defense for support of photo ID laws, but that many voter fraud allegations are proven as false. The allegations of fraud are not only unfounded, she said, but prevent people in Wisconsin from using state-issued identification, for instance, that is not expired but does not have a valid address.
"We all have a fundamental right to vote, and the ballot box is the one place we should all be equal," Culliton-González said. "Scott Walker has basically stood for the opposite of that."
Democratic frontrunner Hillary Clinton has also name checked Walker, and she highlighted Walker's record on voting rights on her website, alluding to both the photo ID law that made it difficult for some college students to vote.
In her speech on voting rights, Clinton pitched a quixotic 20-day, nationwide early-voting window and automatic voter registration for when citizens turn 18. She pointed her criticism at Republicans, saying, "What part of democracy are they afraid of?"
Democrats made it clear that Walker will not be the lone target among Republican candidates.
"Rand Paul in particular has touted his outreach to the African American community, but I have a question for the good Senator," Wasserman Schultz continued. "How do you expect to broaden your party's appeal when you voice opposition to the Civil Rights and Voting Rights Acts, and believe in a business' right to discriminate?"
Michael Tyler, the Democratic National Committee's Director of African American Media said in a statement to BuzzFeed News that "whether it's Scott Walker in Wisconsin, Rick Perry jeopardizing access to the ballot for 600,000 Texans, Rand Paul dismissing the Voting Rights Act because America elected President Obama, Chris Christie brazenly claiming that Democratic efforts to increase ballot access are tantamount to a secret plot to commit voter fraud, or any number of the outrageous policies backed by the 2016 Republican field, their candidates and the Republican Party continue to make it very clear that they believe that when fewer people vote, they're better off and win more elections."
In North Carolina, the state legislature passed the strictest voter ID laws in the country. The law, H.B. 589, shortened the early voting window by a week, requires strict forms of state-issued ID and, among other restrictions, ended same-day registration. Arguments in a lawsuit began yesterday before U.S. District Judge Thomas D. Schroeder, and the trial is expected to last for two weeks.
All told, voter ID laws impact ten percent of all eligible voters nationwide, according to the Brennan Center for Justice.
At the same time, Republicans are attempting more outreach with black voters. Last week, Republicans announced their Committed to Community initiative, to be run in Ohio, an important swing state.
Democrats would rather show those voters the GOP's record on voting laws, and Scott Walker has stepped right up.
"Governor Walker is under no illusion as to which demographics will be impacted by these discriminatory laws, and certainly has no reservations about disenfranchising hundreds of thousands of legal, eligible Wisconsin voters, especially if they plan to vote against him," Milwaukee Rep. Gwen Moore, one of Walker's most vocal critics, said in a a statement to BuzzFeed News. "He's made it crystal clear that he's willing to do and say anything to silence those who disagree with his policies, and his abysmal record on voting rights is indicative of that eagerness."