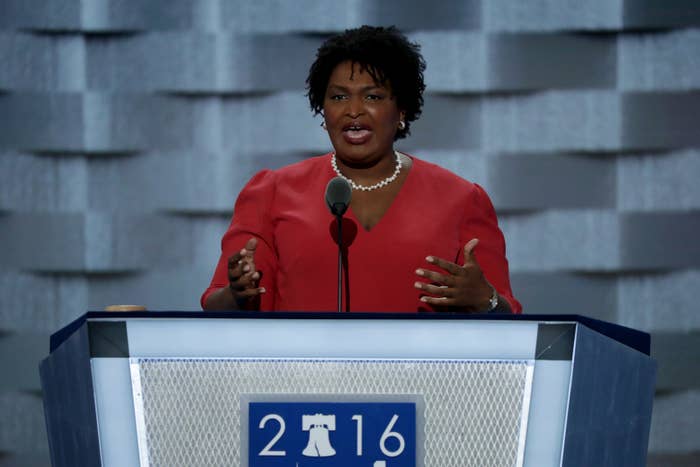 Democrats have begun to worry that a contentious and expensive primary in Georgia's governor's race could majorly disadvantage the eventual nominee — in a race that some believe is winnable amid President Trump's unpopularity.

Three months remain until Georgia's May 22 primary and Georgia Democrats have two choices in the race for governor: Stacey Evans, a lawyer and former state legislator who hails from the northern part of the state, and Stacey Abrams, a tax attorney and former House minority leader of the Georgia state legislature.
Abrams advisers told BuzzFeed News worry that if the primary runs its full course, it will get harder for the campaign to go into a potential general election at full strength. That's in part because of a big gamble by Abrams: running an expensive, aggressive field campaign almost from the very start. The campaign so far has spent nearly everything it's taken in, but national Democrats say they understand the necessity. "She's doing a November field campaign in January because she's a black woman," a campaign adviser told BuzzFeed News.
That's required a lot of fundraising, as well, including in places like Washington where Abrams is a well-known figure, after years of organizing voting rights and registration efforts. Abrams, for instance, recently drew a large audience at a fundraiser at The Park at 14th, a four-level nightclub frequented by a young political class. Servers held out plates of jerk wings and macaroni and cheese, and music blared before a slate of speakers addressed the crowd, including a very young white woman. The idea of Abrams becoming the nation's first black female governor has been the driving force and primary currency of her campaign. (The campaign is expected to announce about $1.7 million in donations during the last period, from about 14,800 donors — which would make the average donation a little over $100.)
Her argument is that any Democrat not working as hard as she is to expand the voter base is going to continue to lose elections, citing successful efforts in Alabama and Virginia as examples. "When you start a company or when you begin any type of project, your responsibility is to cultivate customers," she said, invoking her business background.

"You do not reach customers by raising money and holding it and hoping your customers come to ask how much money you have," she told BuzzFeed News. "Any startup that went out for seed capital to put it in the bank and hold it just 'cause would not find new investors. They would not find traction because they would not find customers, which in this case are voters who have not been targets of campaigns."
Meanwhile, there was a rumor circulating in recent weeks that Stacey Evans might drop out of the gubernatorial primary and run for attorney general or lieutenant governor instead. She's not getting out, though.
"That," in the words of an Evans adviser to BuzzFeed News, "is a lie."
Her campaign has shown a willingness to take chances. In Atlanta's tumultuous mayoral runoff election, Evans endorsed Keisha Lance Bottoms over Mary Norwood, a white independent candidate who had an overwhelming majority of the white vote and who was backed by a black city council president and former mayor Shirley Franklin. The risk paid off. Bottoms declared victory when ahead by a slight margin on election night, and Norwood conceded the election two weeks later. (A Democratic source said Bottoms was heard speaking about Evans in glowing terms at the US Conference of Mayors' 86th Winter Meeting last month.)
But it hasn't been without controversy. Last month, the Evans campaign filmed a digital ad inside Ebenezer Baptist Church depicting Evans as a welcome guest. The campaign was swiftly rebuked by the church, which asked the campaign to remove the ad from its social media, but it had already gone viral. Through the pastor, the Rev. Raphael G. Warnock, the church released a statement: "Our church leadership and administration does not condone such use of the church's iconography or worship space." The political commentator Jason Johnson called the apparent effort to superimpose Evans' face on Martin Luther King Jr.'s at the end of the video "political blackface." Since then, she rolled out, formally, the endorsement of a well-known district attorney who is a black woman.
In the background of all of this, the top Republican challenger, Lt. Gov. Casey Cagle, raised a whopping $7 million according to his most recent filing.
That's not all that's giving the Democrats in the race anxiety. The deadline to file if you intend to run for governor in Georgia is March 9.