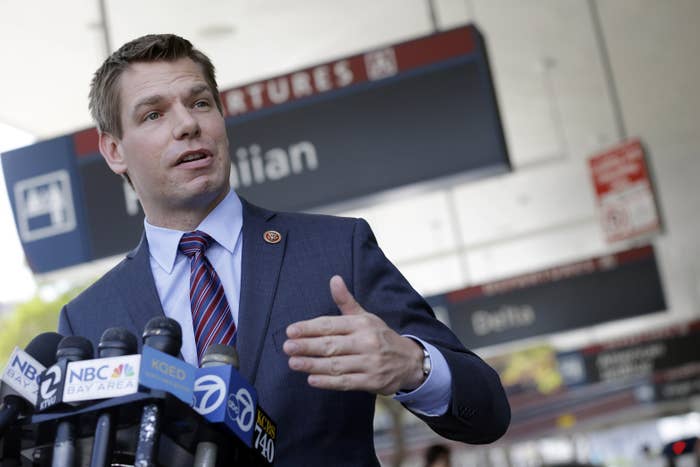 WASHINGTON — The co-chair of a congressional caucus monitoring the sharing economy said he hopes Airbnb takes action against hosts who have shown a pattern of discrimination.
In an email to BuzzFeed News, Democratic Rep. Eric Swalwell of California, said "bias, whether conscious or unconscious, must be a constant concern for any sharing-economy company. Any discrimination must be addressed immediately and decisively."
"The company's platform gives users a way to flag inappropriate conduct by hosts, and I hope the company will act against any host demonstrating a pattern of discrimination," Swalwell added.

The hashtag #AirbnbWhileBlack has gone viral, with users expressing their challenges, horror stories, and inconveniences when using the service. In one instance, an Airbnb host rejected a black user, only to offer the same slot to a user using a fake account the host thought belonged to a white person.
Airbnb, for its part, has decried racism on its platform, saying it has taken steps to address discrimination in its community of hosts. The company recently hired David King III, a former State Department official, to be its "director of diversity and belonging." It has also said that it prohibits content promoting discrimination and that it requires users comply with local laws and regulations.
Asked if the company had taken action against so-called bad actors in its community, an Airbnb spokesperson directed BuzzFeed News to a blog post by King. "We have removed hosts from our community who discriminate against guests because of their race or sexual orientation or other factors and we will continue to do so," King said.
In the post, dated Wednesday, King said that Airbnb made unconscious bias training available to "over 5,000" hosts who attended the Airbnb Open, its annual host convention. Though it's not clear how many hosts took part in the training, Airbnb said it will make its star ratings more robust, expand its customer service offerings, and utilize technology to help fight bias.