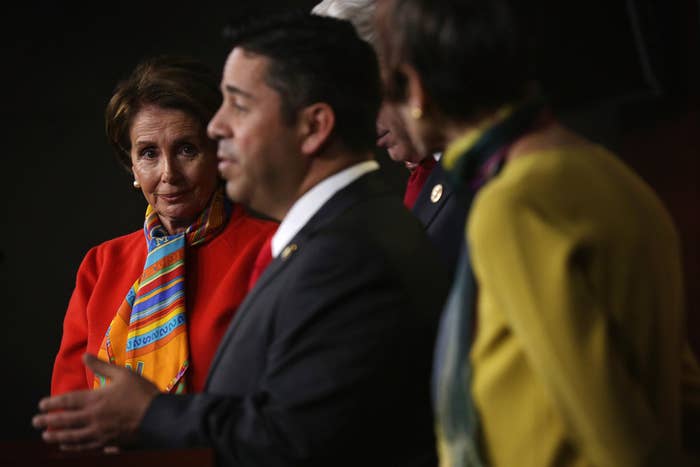 WASHINGTON — The Democratic Congressional Campaign Committee released its first-ever statistics on the makeup of its staff, saying that 33% are people of color, 35% are managers and half are women.
The numbers — first made available to BuzzFeed News — are part of the broader effort the DCCC has taken to increase diversity under the leadership of Rep. Ben Ray Luján of New Mexico. The audit is, at least in part, a response to a growing movement within the party to diversify its ranks as a broader majority of voters are people of color. The DCCC says that effort begins with growing a diverse team in Washington headquarters, as well as putting an intentional focus on hiring diverse field staff and recruiting and retaining candidates of color.
In an email to BuzzFeed News, Luján said, "Our work is never finished, but I am proud of the progress that we've made to both grow a diverse team and also promote a long-term structure that will mean more inclusiveness and diversity at the committee far into the future."
The numbers were lauded by Democratic groups for the increased diversity and for the transparency in disclosure.
"We applaud the DCCC not only for their great strides in transparently publishing their own staff diversity data, but their daily effort through Troy Perry's leadership, to work toward increasing the pipeline of diverse applicants into their training programs and their candidates' campaigns," Alida Garcia, the co-founder of Inclusv, a diversity hiring initiative said.
Jessica Byrd of Three Point Strategies, a national consulting firm that melds electoral politics with justice campaigns and candidates, said more transparency in politics is key in making improvements in diversity; a common criticism in Democratic circles was that if groups had no imperative to report their numbers, the issue would never be solved. "I think the DCCC is taking the necessary steps to build programming to support and hire culturally competent new leaders and I applaud [it]."
Byrd said when the BLUE Institute was held in Atlanta to train Democratic staff of color how to run electoral campaigns, Perry "had a line around his table" talking to prospective job candidates seeking to work on congressional campaigns, giving "tailored advice on where and how to apply for campaign jobs.

"It is that type of time, people, money and resources that it will take to close this gap," Byrd said.
But Byrd said there is still room for progress, challenging Democratic committees and campaigns to do the type of soul searching undertaken by the DCCC. "I think our investment towards these hiring efforts is still not at scale in the progressive community based on the immediate need — and I implore every committee, organization, and campaign to take seriously what the deepening of their investment in hiring staff of color should look like."
Added Garcia, "We look forward to seeing their continued improvement and call upon the DNC and DSCC to follow the DCCC and the presidential candidates' lead and publish their data as well."
DCCC hired Perry to be diversity director around mid-2014 — establishing a system-wide approach dubbed the Majority Project, rolled out in the fall to determine how to bring the new diversity paradigm to scale to ultimately help Democrats winning House races.
"The DCCC will continue moving forward this year with an intentional focus on hiring diverse staff across the Committee, which is not only important now, but lays the groundwork for 2018."