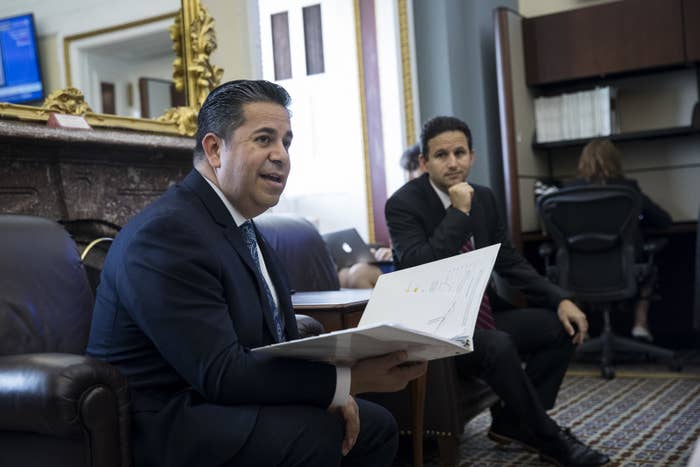 The Democratic Congressional Campaign Committee has made good on a promise to boost staff diversity over the last election cycle, according to numbers it made available to BuzzFeed News.
But those gains in diversity come as some black Democrats say they are still unhappy with the role the DCCC is (and in some cases not) playing in certain competitive primaries.
The DCCC provided BuzzFeed News with new statistics about staff diversity at the top group charged with helping elect Democratic candidates to the House of Representatives — an effort rooted in correcting long-standing critiques about the inclusion of black and Latino staffers, especially, at the party's top groups.
As of last month, 38% of DCCC staff was nonwhite, 52% of the senior staff was a person of color (and half of the total staff are women), the DCCC said. April's percentages represent 13% and 17% increases from 2016, respectively.
The DCCC told BuzzFeed News the committee also wanted to make "significant changes" to how money is spent. In 2017, the committee created its first department specifically for diversity, which is being led by Jalisa Washington-Price, a veteran of Hillary Clinton's 2016 presidential campaign. The year-old effort has helped the DCCC work with 25 new vendors; the organization will spend tens of millions of dollars with these minority-owned firms to do mail, media, digital advertising, and political strategy, a DCCC official said.
DCCC Chair and New Mexico Rep. Ben Ray Luján emphasized in a written statement to BuzzFeed News how important it is for the party to invest in policies to recruit, retain, and develop political talent from diverse communities.
"The DCCC's greatest asset in electing Democratic candidates is the diversity and passion of the people we work with every day," said Luján, who in 2015 became the first Latino lawmaker to chair the organization. "It's critical that the DCCC reflect America's diversity, and while the work is never done, I am proud of the significant total staff diversity at our committee — including amongst senior staff who are decision-makers and spenders."
The DCCC highlighted additional investments in black media, and outreach at the local and grassroots levels, and lauded candidates' efforts in the field, as well.
Beyond the walls of the DCCC, though, the committee's decisions about races this year — especially when to endorse — have been a source of contention with the party.
Collective PAC — a new organization that wants to be for black candidates what EMILY's List is for women who are pro–abortion rights — wrote a letter earlier this year requesting a meeting with Luján after observing the committee's "Red to Blue" target program had no black candidates.
Since then, the DCCC has added three black candidates to the list: Lauren Underwood, who won a seven-way primary in Illinois' 14th District; former Rep. Steven Horsford, who won Nevada's 4th District in 2012; and Colin Allred, a civil rights attorney and former NFL player who won the most votes in the Texas's seven-way primary in Pete Sessions' district, advancing to a runoff against Democrat Lillian Salerno. Underwood and Allred were added after their respective electoral success. As it stands today, of the 42 target candidates, 26 are nonwhite and/or women, and that list could soon include more diverse candidates, a DCCC official said.
The DCCC and Collective PAC have worked together since then in an effort to boost black voter turnout. Collective PAC cofounder Quentin James commended Luján, saying the numbers reflected "not only improvement but the real commitment the DCCC is placing on a building a diverse, reflective team to win in 2018."
Another prominent group advocating for more diversity in the party said it hopes the DCCC's transparency encourages other groups to follow its lead.
Inclusv led a charge beginning in 2016 to ask campaigns and committees to release their numbers on diversity.
"We commend both the DCCC & the DNC for their commitments to transparency and growth over the last year," said Eric Lundy, Inclusv's program director. "Diversity and inclusion require a daily focus by any major organization and it's significant that the DCCC is now maintaining a practice of paying attention who is at the table across the institution and in leadership. We hope to one day see the same transparency from the DSCC."
On Capitol Hill and around the country, black Democrats and lawmakers remain concerned with recruitment choices, dispersal of monetary and staff resources, and rumor of furtive tactics to hurt black candidates. These gripes, aired mostly in private, are certainly not particular to this cycle, or to Luján, who is well-liked on Capitol Hill, and who has received some kudos from these Democrats, who are far from the only figures or constituency groups who want more from him and the DCCC. Those patterns, though, has caused some friction between outside groups and the DCCC with the black candidates squarely in the middle. Groups like Collective PAC toe a delicate line: They want to strongly advocate for black candidates and keep a working relationship with the DCCC.
The DCCC's numbers on diversity were met with skepticism by some candidates, unable to square increased staff diversity with what they say is the organization's refusal to let primaries play out. Pam Keith, a vocal critic of the DCCC, is running in Florida's 18th District against Lauren Baer, a national security expert and former litigator who worked under secretaries Clinton and John Kerry at the State Department. Keith said that staff diversity alone doesn't fix what she called the "misguided and rigid" endorsement strategy employed by the DCCC.
"I do think that the diversity of the staff is a step in the right direction, but so far, it has not made much of a difference in valuing diverse candidates," said Keith in a phone interview with BuzzFeed News. "The place where we're lacking diversity of thought is in the echo chamber that they have built around themselves validating the stupidity of that rigid decision" to get — and apparently stay — behind Baer. A recent op-ed in the Palm Beach Post said the strategy was "undermining" engagement with black voters.
Keith criticized the DCCC for only finding "its way to supporting candidates of color after they win their primaries" a standard she said other candidates do not have to meet, adding that staff diversity does not guarantee procedural fairness. "You can get a person of any skin color or any gender to cosign stupid decision-making. They're absolutely calcitrant in their unwillingness to hear voters who are telling them that they don't like what they're doing and that they feel disrespected."
Tamara Harris, a businessperson running in the New Jersey's 11th District primary with Mikie Sherrill, a former Navy helicopter pilot and federal prosecutor endorsed by the DCCC, feels similarly. She said her experience with the DCCC has "not been reflective" and of an inclusive party and that the DCCC is "atrophying the capacity" for Democrats in these races to compete. Harris said she believes candidates whose backgrounds reflect the Democratic Party's base should not have to run against establishment resources and power.
"If those new diversity statistics actually bore out as fact, and it [translated] to the promotion of real diversity in the party, you're not seeing it in the primary process," Harris told BuzzFeed News. "There's some disconnect if that's really happening because if diversity were a true indicator of the DCCC's [willingness] to promote viable candidates of color in appropriate races, you wouldn't have some of the outcomes we're looking at."
In both cases, the DCCC said it lent assistance with nuts-and-bolts campaign logistics like fundraising strategy and staffing and both were invited to Washington to attend the DCCC's week of candidate training and support. A DCCC official said the circumstance of having candidates like Keith and Baer and Harris and Sherrill to choose from is "an embarrassment of riches."
Now, so are stories like Allred's, whose success was built on a formula of local support and grassroots energy. "We appreciate that the DCCC recognized the strength of our grassroots-driven campaign and is focusing on this district and working to support diverse candidates across Texas.
"We look forward to working together to bring change to Washington."