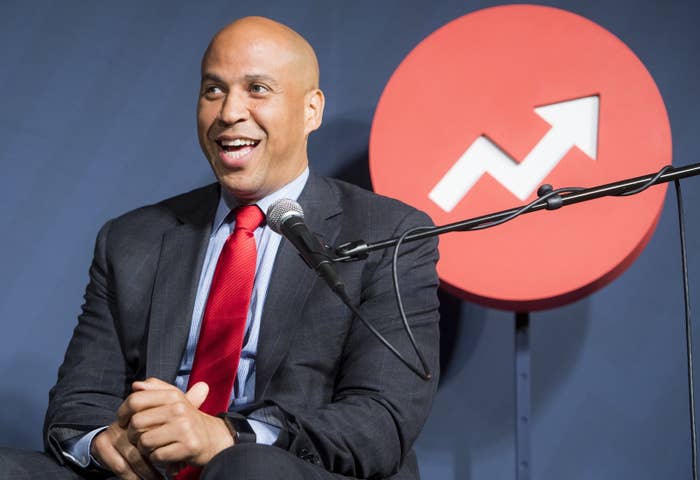 WASHINGTON — New Jersey Sen. Cory Booker said he gathered that "more people" seemed more outraged by Colin Kaepernick's protest of the killing of unarmed black people at the hands of police than with the killing of an unarmed black man in Tulsa, Okla.

Booker reacted to news out of Oklahoma in which an unarmed black man, Terence Crutcher, exited his broken down vehicle before being pursued and then shot to death by police.
"Right now on the Internet you have another unarmed African American who was murdered this week — or killed this week," said Booker. "From the video that I saw, even with the way he was being referred to, I mean there is this dehumanization going on on the audio, and people seem to be more outraged by an NFL player taking a knee than the murder or killing of an unarmed black man."
Booker, who reiterated his stance that he "disagreed" with the method of protest of the San Francisco 49ers quarterback, said he didn't want the conversation the Kaepernick's protest has sparked "to stop there" — all while acknowledging it was his constitutional right to do so.
The issue of needing to change the criminal justice system was the central theme of a discussion of BuzzFeed Brews, an interview series with newsmakers which on Tuesday featured Sens. Cory Booker and Mike Lee.
Lee, a Republican senator from Utah, and also one of the Senate's biggest criminal justice advocates, also said he didn't agree with Kaepernick's methods. "I think it's disrespectful but that is his right to choose to send that message in whatever way he deems appropriate."
Booker credited the Black Lives Matter movement for bringing like to the issue of police brutality. He said there were "real issues" with police accountability.
Booker said it's one of "the biggest cancers in the country right now that in the land of free that pledges allegiance — we pledge ourselves, we swear an oath to the ideals of liberty and justice for all — [that] should have a criminal justice system that's so broken."
"To see so many young people taking to the streets," Booker said, "to see so many activists much more conscious now — to see movements like Black Lives Matter — this is all stuff that's encouraging to me. Because the truth of the matter is we didn't get the civil rights movement because a bunch of senators sat around and said 'Hey, this is a swell idea.'"