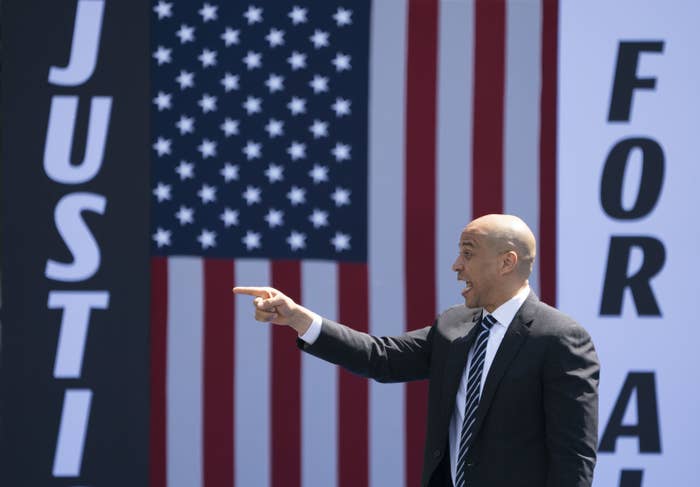 NEWARK, New Jersey — In the city he once led as mayor, Cory Booker presented his nonstop, high-energy, urgent case for a broad political changes in America now — while launching a political campaign that, by the necessity of its slow start, has to be about later. For the Booker campaign, the time is now and later; today and tomorrow.
He's the candidate for whom vitality and relentlessness are political virtues, and on Saturday pressed again and again a refrain from "Lift Every Voice and Sing," the hymn, which a young boys choir sang at the event. There wasn't enough time for all of the verses, but Booker made constant mention of the weary years. He said "our urgency, our impatience, comes from the most demanding of values: love."
Martin Luther King Jr. realized that impatience can be efficient, Booker said, highlighting what "we achieve when we realize our own power and refuse to wait." The children of Birmingham "refused to wait for justice and confronted dogs and fire hoses" to bring down segregation.
"There is no 'wait,' because we stand on the shoulders of giants — generations before us who did not wait," Booker said, before his adopted hometown crowd.
His campaign, however, says it understands the value of waiting.
Booker is polling in the single digits, and his campaign has raised less money than some other candidates, including a fellow former mayor of a city a third of the size of his own, something one of the most popular figures in the US Senate could not have expected. Booker's campaign earlier this week spoke to reporters Thursday seeking to "outline the strategy and strength of the campaign's early-state infrastructure building." In a relaxed, unbothered tone, various campaign strategists, led by Booker's campaign manager, Addisu Demissie, insisted that a spirit of composure was permeating the campaign, and that lower-than-expected fundraising numbers, as well as doubts about Booker's momentum, were not indicators of weakness, but rather a sign that the current frantic pace of coverage is incompatible with a primary they evaluate as a test of endurance.
So this is the Booker campaign in the early going: a high-energy candidate and a campaign trying to be composed, restrained, and portray its candidate as levelheaded and patient amid the frenetic primary contest for president.
The dissonance didn't confuse his supporters, nor did it tamp down enthusiasm Saturday. But the message itself has an expiration date, and Booker himself has been obsessed with the passage of time as a theme. In a recent Washington Post story, he spoke about being a bachelor — adding that there were 700 days until he'd be president, and a lot could happen between now and then. In his speech Saturday, he harped on getting to Newark two decades ago. He's launching a tour the campaign dubbed the "Justice for All Tour," replete with markers of the past, like his campaign logo.
Pro-Booker strategists say privately that the crowded primary will necessitate an emphasis on coalition building across local communities in the early-voting states, as opposed to only playing up Booker's political talent. Running that way, the strategist supporting Booker said, posed a challenge that could be misconstrued as a weakness: Booker needs time to get people to know him and who he really is, fighting a narrative sometimes spoken that he is a phony.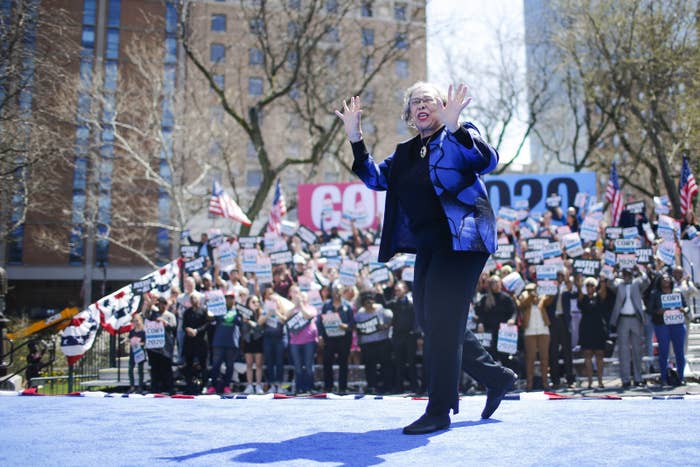 The event's New Jersey–focused theme doubled as a striking signal of where the Booker campaign believes he could eventually lead the race: in institutional Democratic support. He swept up the endorsements of Gov. Phil Murphy, Lt. Gov. Sheila Oliver, Sen. Robert Menendez, every Democratic member of the House, every major Newark Democrat, and over a dozen and a half party chairs. A spokesperson for the campaign told BuzzFeed News the showing of in-state support, and the increased strength of the New Jersey state party infrastructure that elected a Democratic governor, indicated he was a stronger candidate than fundraising or national public polling would suggest. "We all know Cory is a real [one]," a person who said he used to work for the city told BuzzFeed News.
Booker, who in recent years has draped his profile in the coalition power of the civil rights movement, offered onstage a glimpse at the kind of political stardom he hopes will galvanize black voters as the former mayor of a city of about 300,000 that is half black. Booker was introduced by his mother, Carolyn, who was active in the civil rights movement. Booker bopped soulfully to the Bill Withers song "Lovely Day" after she introduced her son.
Shambulia Gadsden Sams, a policy strategist for the HBCU Collective, a bipartisan organization that advocates for HBCUs who attended the event, said that it was rare to hear a launch in which the candidate states their outright support for HBCUs. Education has been critical to the history of black Americans and recognizing HBCUs as he did — his mother said in her introduction that she went to Fisk University — citing his support for the HBCU Capital Financing Improvement Act, which would expand financial opportunities for HBCUs. The legislation was introduced by North Carolina Rep. Alma Adams, and Booker introduced it in the Senate. "Listen, I jumped up with my African church fan," said Gadsden Sams, who showed it off. "He spoke about HBCUs as a whole, and we need to highlight the role that all of these institutions in building America."
Booker was explicit in 2013 that he wanted to go to Washington to work on criminal justice policy, and has constantly framed criminal justice as a path to wider societal empathy, rather than as a means to assuage black voters' concerns they're not being listened to. He quoted the social justice activist Bryan Stevenson, Booker's friend and "hero" who founded the Equal Justice Initiative, which recently completed a memorial to victims of lynching in America: The system, Stevenson said, "treats you better if you're rich and guilty than if you're poor and innocent ... a system so deeply baked with bias that it ruthlessly discriminates against black people, brown people, low-income people, and people with mental illness and addiction."
His next trip is to Iowa, but Booker on Saturday was in no rush to leave the kickoff of his campaign, which his aides say is a marathon. As if to live up to the characterization, he took selfies and shared banter with his constituents for 90 minutes as droplets of sweat beaded atop his head in the 80-degree sun.
It was a hot day; there was water. Food trucks serving slices of cheese pizza and empanadas lined an adjacent street, its tallest building block, where an American flag was draped over the top floors of one building. People painted cats, bats, and rainbows onto children's faces on an impossibly nice day the campaign used as an effort to create a volunteer base. The DJ at the event played music by the late Whitney Houston and the rapper-turned–digital media maven Joe Budden, both Newark natives.
New Jersey Gov. Phil Murphy spoke about environmental justice, an issue that Booker has emphasized in his background as a mayor of an urban center. In a brief interview with BuzzFeed News, Murphy, who endorsed Booker back in February, was asked if his candidate had enough time to make a campaign that's emphasizing patience actually work. "Who, Cory?" he said, entering the Booker campaign's press area, before saying that he believed he could. "100%."
Stephen Green, the young pastor of Heard African Methodist Episcopal Church in Roselle, New Jersey, who attended Morehouse College, where King was a student, said he heard echoes of how Booker is thinking about the importance of the civil rights movement in this moment in history, but was unsure about how it was going to connect in early-voting states where Booker needs to stay competitive.
"I think that the embrace of the philosophy of King and the emphasis on the need for justice reflects a lens of blackness and a deep consciousness about what it means to be an American politician running for president," said Green, whose father, Bishop Samuel L. Green, is an influential religious leader in South Carolina.
"Talking about white supremacy and the racial wealth gap, and about how he's from a low-income community is great," Green added, "because it gives us as voters a view into his mind and his thinking leading into this tour and we know him. But I think some of us are wondering how it's going to be realized in places like Iowa and New Hampshire, you know? We've been ready for that, but is the country ready for that?"