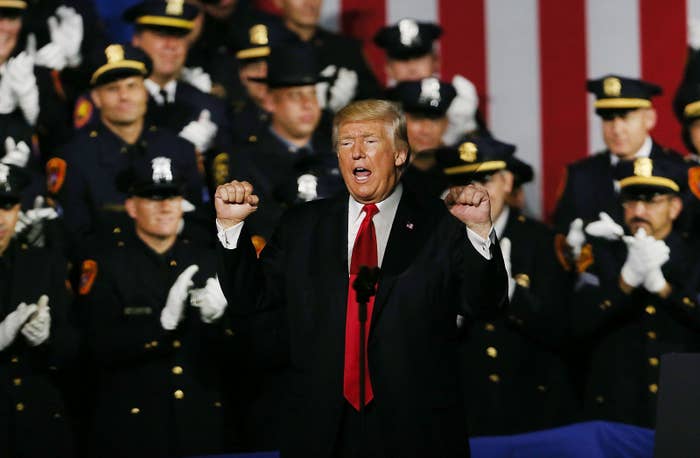 A group of conservative activists focused on policy issues concerning people of color are planning a CPAC-style conference in Washington, DC, designed to engage minority Republican voters in 2018 and 2020.

The Multicultural Policy and Political Action Conference is a first-of-its-kind conference being led by veteran Republican operatives Aaron Manaigo and Elroy Sailor.
Black Republicans are split on whether they should push their priorities amid widespread turmoil inside the White House at the staff level, and an investigation into Russia's role in the 2016 election. The conference illustrates how some conservative constituency groups are struggling to navigate the era — turning to 2018 as a pivot after originally talking about the presidency as the opportunity to advance an agenda.
The purpose of the conference, not made public until now, echoes a sentiment inside the party's black leadership that advancement means fewer fights with the White House, and finding other ways to get access to power. "The administration has shown that black Republicans don't matter to them," said one party activist who requested anonymity to speak freely. "It's a question now of, Do we work around them, or do we get in where we fit in?"
The conference hopes to help conservative groups "build institutional capacity" and promote conservative values "inspired" by policy initiatives.
A memo provided to BuzzFeed News reads: "The MPAC USA conference will bring together a broad spectrum of multicultural Republican/Conservative operatives; grass-roots activists; organizations elected officials; and policy subject matter experts, for a series of in-depth discussions on the most feasible options, strategy and tactics to positively impact the 2018/2020 election cycles. This conference will provide the Republican Party leadership with an opportunity to directly address the collective of minority cohort Republican/Conservative supporters."

The two-day conference will feature an awards ceremony and will host the Republican National Committee's annual "Trailblazer" luncheon, typically held during Black History Month. It will feature talks on Trump's legislative agenda, foreign policy, national security, and engaging young minority voters.
Manaigo and Sailor have been two of the party's biggest proponents of pushing the GOP to fight for minority votes. Sources familiar with the planning say they intend to emphasize that a major factor in improving minority engagement is the promotion of parallel conservative and cultural values. According to the memo, recommendations from private strategy sessions will be drafted and shared with stakeholders at the federal, state, and local levels.
Sailor did not respond to a request for comment.
Michael Steele, the former chair of the Republican Party, said that irrespective of how difficult the political climate is now or may be a year from now, it should not impede black Republicans from staying active, and getting behind viable candidates or opportunities that arise.

"What the 2018 political environment holds for black Republicans is an opportunity to show strength in numbers and demonstrate the ability to point out, get behind and elect highly qualified black candidate at all levels of government," said Steele.
It's unclear if a date has been finalized, but a source said the conference was still in the planning phase.