Congressional Black Caucus Lawmakers Stop Short Of Calling For Scalise Resignation
Said one member, "If something else comes out, it's over." Incoming chair G.K. Butterfield delivers sharp speech on race and inequality.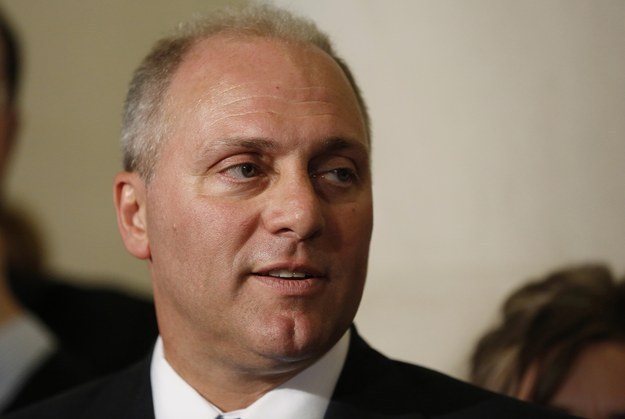 WASHINGTON — Rep. G.K. Butterfield on Tuesday declared black America in a state of emergency as it was a century ago, speaking at a ceremony installing the North Carolina Democrat as the chair of the Congressional Black Caucus.
CBC members said his speech — against the backdrop of political fallout from House Majority Whip Rep. Steve Scalise's acknowledgement he gave a speech to a white supremacist group in 2002 — represented a moral and political compass for the 114th Congress.
Four prominent CBC members in attendance declined to go on the record about Scalise and whether Speaker John Boehner was right in defending him on the eve of his vote to remain Speaker of the House.
But those members, who spoke anonymously because they were not prepared to go public with their sentiment regarding the issue, hesitated to call for Scalise's resignation. Instead, they all said Scalise deserved the benefit of the doubt — unless there are more revelations about Scalise.
Said one member, "If something else comes out, it's over."
Asked what he thought would become of Scalise and whether the Republican leadership would force him out, Rep. Chaka Fattah said, "I'm not into personalities." He added that he has met with Scalise on occasion and knows him personally. "I'm focused on the agenda. And we have some big concerns about [Republicans'] agenda."
"These are the kind of things where the media gets on it—" said Fattah, waving his hands.
Rep. John Lewis, a major figure of the civil rights movement, told the Huffington Post he thinks Scalise should apologize to Congress. "I think somehow and in some way, he should come clean and say what he did and apologize to members of Congress, to his colleagues on both the Republican and the Democratic side of the aisle," Lewis said.
Butterfield's speech Tuesday touched on his personal history and the legacy of the Jim Crow South.
"We saw racism at its worst," said Butterfield in the speech, adding that railroad tracks had divided his hometown of Wilson, North Carolina, where citizens did not enjoy basic services like paved streets. Working daily to support the Jim Crow economy, Butterfield said, those before him "were relegated to second-class citizenship."
Butterfield said the unbearable conditions he and other baby boomers experienced shaped him and made him "determined to fight every day to expose and evict racism and discrimination wherever they exist."
"And so if anyone has any doubts," his voice rising, "that this chairman and this Congressional Black Caucus will have any reluctance to fight for our communities, you are mistaken."
Butterfield's presence, Fattah said, is the ideal counter to the new Republican Congress, which he argued would stand in the way of changes to the criminal justice system, mending mistrust between police and black America, and solving income inequality, which Butterfield said would be a top priority.
"He's got a steadfastness and an intellectual heft that I think is going to be useful as we navigate our way through some of these issues," Fattah said.