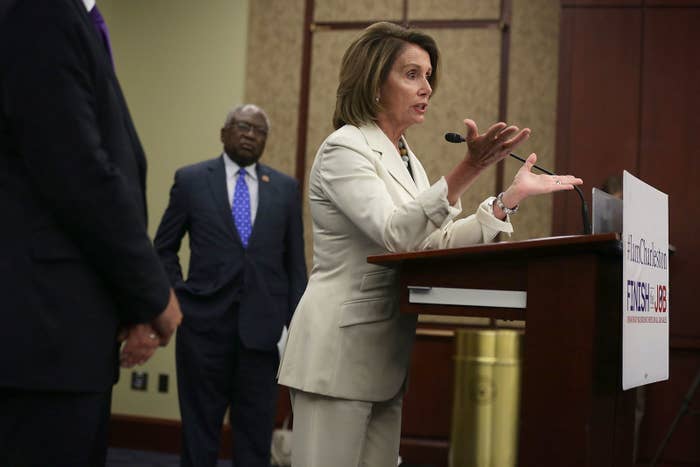 WASHINGTON — Leaders in the Congressional Black Caucus are furious and disappointed by Leader Nancy Pelosi's changes to the leadership structure, due to what they believe is a lack of appreciation for the Black caucus as a voting bloc and Black voters' allegiance to the party.
This late, ideological break with Pelosi led more than a dozen black Democrats on the Hill to believe that at least two-thirds of the CBC could possibly vote in the secret ballot election for Ohio Rep. Tim Ryan.
In particular, members and a powerful group of Democrats who work in and around the Democratic Caucus feel the plan diminishes the position of the assistant leader, currently Rep. Jim Clyburn, a highly respected member of whom President Obama once said, " a handful of people, who when they speak, the entire Congress listens."
Pelosi has recommended that Clyburn's position, when he vacates it, will be an elected one — and will only be eligible to someone who has served less than three terms. A senior democratic aide said that changes to the leadership structure are currently in review and no changes are being considered this week.
Critics believe Pelosi's plan — as it relates to changes to Clyburn's position — is reflective of a larger feeling among Black Democrats that the loyalty Black voters exhibit for the party election after election is being taken for granted.
Jennifer Stewart, a former CBC staffer familiar with the inner-workings of the caucus, and who has close relationships with CBC Members, acknowledged the feeling among Black Democrats.
"Despite the vital role Black people play in the party, there remains a dearth of Black leadership, candidates recruited to run for office, and contracts for black-owned firms by the party," she said.
"It cannot have a party if it does not value its voting base," she added.
One CBC member, Rep. Marcia Fudge, the immediate past chair of the CBC, publicly supported Ryan, citing his dedication to progressivism.
Stewart added, "Tim gets it. He understands that in a big tent party, Black people have influence in the party commensurate with Black voters' loyalty."
One Democrat said Pelosi's suggested proposal is akin to putting Clyburn on "retirement watch."
This week, Rep. Cedric Richmond voiced concern about Pelosi's strategy.
"[T]he original memo proposed that the Assistant Leader position be filled by someone who has served fewer than five terms. Why was this reduced to three terms?" Richmond wrote in a memo first published by Politico. "We have a number of members who have been in Congress five or more terms, but have not been able to serve in leadership roles because of stagnation at the top of our leadership structure."
"As the sun sets on the presidency of the first Black president it seems like the the most senior Black member in leadership has a bullseye on his back," said Marcus Mason, also a former CBC staffer. "To place term limits on the assistant leader position diminishes its power. It says that just anybody could do it — and it takes away from the seniority system which has long been valued in the institution."
Democrats have also valued Clyburn, who influential Democrats say deserves a seat at the table.
"Clyburn is a man who can go anywhere and talk to anyone: a big city, small city, an urban area — and he's one of the most prolific fundraisers in the party. That's just how value and respected he is. And he was so valued as a leader that in 2010 (when Democrats lost the majority in the House) we all said, 'Mr. Clyburn we need you.'"
Six years later, one of the most frustrating aspects of the current CBC blowback is this: they believe that Pelosi's proposed overhaul accounts for nearly every position but her own.
"Now the worry is that perhaps its most valued elected leader is dispensable because his position was no longer appreciated. The question is, does the party value Black leaders and Black voters? Is there room at the table for us?" Stewart asked. "Time will tell."