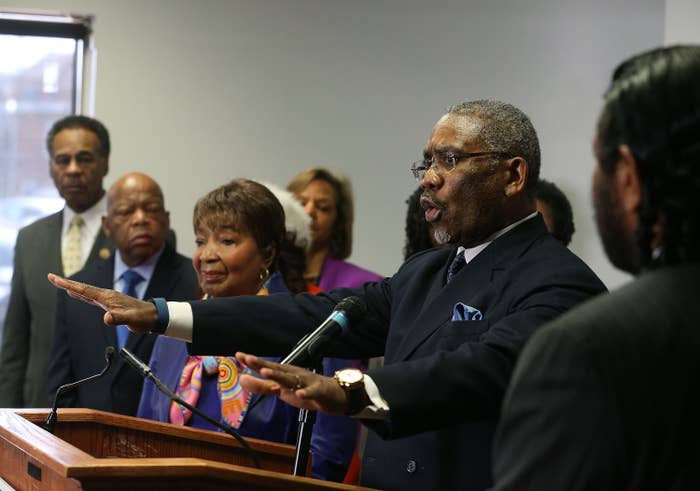 WASHINGTON — Members of the Congressional Black Caucus met Wednesday off campus so that members could have a "Democratic political conversation," that briefly touched on the of Rep. Donna Edwards, Rep. Gregory Meeks, the chairman of the Congressional Black Caucus political action committee told BuzzFeed News.
Members, prohibited from using government resources for political reasons, discussed President Obama's pending nomination to the Supreme Court and the presidential election, Meeks said.

Meeks pushed back at the notion that the caucus discussed the content of an email petition by Color of Change criticizing the caucus's political arm for its decision to not endorse Democratic Maryland Rep. Donna Edwards' run for the Senate. He was, however, aware of the petition saying that he was pleased
Politico reported last month that the CBC PAC voted not to endorse Edwards, citing among other unknown factors a lack of support among black leadership in Maryland. The non-endorsement came on the heels of the CBC PAC's endorsement of Hillary Clinton for president.
"Endorsements are never automatic for the PAC — no endorsement," Meeks told BuzzFeed News. "This is not something that hasn't happened before. It's just now it's been reported."
Meeks said he viewed the CBC PAC's decision to pass on endorsing her as a non-story because similar action has been taken in the past. Meeks denied that the meeting focused on Edwards much at all, and did not refer to the petition, as had been previously reported by BuzzFeed News.
"What I went through is...the candidates that had been endorsed and candidate's that are still pending. It was then [someone] it up brought up briefly in relation to Donna's candidacy. Some independent members said they would endorse" Edwards, Meeks said.

But Meeks said he can "absolutely understand" sentiment by Color of Change and others who have questioned the CBC PAC's decision to not endorse Edwards. While he declined to get into the PAC's internal deliberations, Meeks said he applauded the fact that Edwards has strong support — and that the grassroots group was getting involved.

"I'd like to get the facts out," about the deliberations regarding Edwards, Meeks continued, "but I like the fact that people are looking, inquiring and making a message and trying to get involved. Because they should care about their government. I think it's good. I want folks to be involved. I just want to make sure we get the facts and do the proper research and understand better [rather] than just make certain presumptions or assumptions without the facts."
Color of Change's email campaign, first reported by BuzzFeed News Monday, asked supporters to sign a petition demanding that the CBC remake its board and "cut ties with industries that harm Black people, including Private Prison lobbyists, Big Tobacco, and the anti-worker National Restaurant Association."
"If corporate lobbyists on the CBC PAC's board can decide to withhold support from someone like Rep. Edwards, why are they being allowed to operate under the banner of the Congressional Black Caucus?" the email blast read.
On Wednesday, Politico reported that the PAC's chairman, Rep. Gregory Meeks of New York, said the critique by Color of Change was overblown because the board members represent themselves, "not their companies or clients."

But the impact was still being felt. On Wednesday, the New Republic published a widely shared piece titled "Has The Congressional Black Caucus Lost Its Conscience?"
Politics365 reported earlier Wednesday the caucus discussed the forthcoming Supreme Court nomination by President Obama and the 2016 election.
On Tuesday night, Michelle Alexander, the author of The New Jim Crow, a seminal text on mass incarceration in the U.S., got behind the petition, calling it "critically important."
"Two weeks ago, the CBC PAC, with it's lobbyist-dominated board, made a high-profile endorsement of Hillary Clinton and quietly decided NOT to endorse fellow CBC member Rep. Donna Edwards' historic bid to become only the second Black woman to be elected to the Senate," Alexander wrote on Facebook.
"Read this petition to learn why Donna Edwards wasn't endorsed and get a small glimpse of how utterly corrupt our politics have become," she continued. "The Congressional Black Caucus presents itself as the 'moral conscience' of our government, yet its PAC exemplifies so much of what is wrong with our withering democracy."
Rashad Robinson, the executive director of Color of Change, said Alexander's involvement lent legitimacy to the campaign.
"I think Michelle Alexander's points underscore why we launched this campaign, knowing that we are going against the current and could potentially lose some friends," Robinson told BuzzFeed News. "We've heard from too many folks that this is how it is done in Washington or this is just part of the system — and we are tired. 'Business as usual' doesn't serve black people and our communities and, in fact, it hurts us. So CBC members have a choice, force the CBCPAC to clean up its business or risk squandering reputation, trust and moral authority."
Members also discussed low voter turnout among Democrats, a source said.