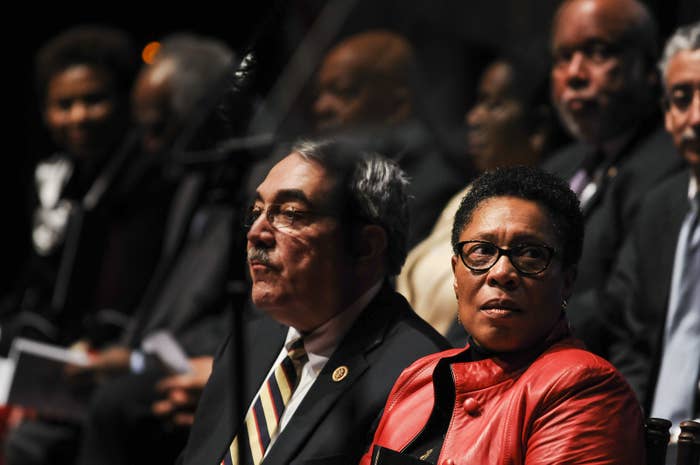 WASHINGTON — Members of the Congressional Black Caucus are threatening to boycott a golf tournament benefitting the Congressional Black Caucus Foundation and had mulled whether to skip its Annual Legislative Conference (ALC) later this year, multiple sources tell BuzzFeed News.
The origin of the dispute is the election of the foundation's new chair: Don Peebles, a wealthy black New York real estate figure. The Congressional Black Caucus Foundation, the nonprofit founded by CBC members in an effort to address issues in the black community, plans and executes the ALC every year.
In February, Peebles was elected chair after Rep. Chaka Fattah, the embattled congressman from Philadelphia, stepped down related to his 29-count indictment.
According to a half-dozen sources who all spoke with BuzzFeed News on the condition of anonymity, lawmakers are uneasy about how the vote that ushered Peebles in was handled. Rep. Sheila Jackson Lee, according to a pair of sources familiar with the inner-workings of the foundation, made her desire to replace Fattah clear. Several members, however, decided to informally draft Missouri Rep. Emanuel Cleaver, a highly-respected member of the CBC. Members took personal offense to Cleaver losing the vote to Peebles, who is widely considered a Washington outsider.
Shortly after the pro-Peebles vote was taken, the foundation held its Black History Month event at the Willard Hotel, which sources said was conspicuously thin on members. According to two sources, A. Shuanise Washington (the president and CEO who had once enjoyed strong support from CBC members) and Peebles realized there was an issue, and sent a letter to the CBC requesting the foundation members attend a standing meeting to keep them abreast of the foundation's progress. The lawmakers have so far declined to meet with Peebles together or privately, according to a source. "They basically think he's not going to bring in any money or add any value."
It's not clear how Cleaver lost the vote. But two sources said CBC Chair G.K. Butterfield sent a letter on behalf of the caucus outlining the caucus's concern that the method by which Peebles was elected had violated foundation bylaws. The foundation responded that there would not be a recount; multiple sources characterized the foundation's response to a member of Congress as disrespectful. "It was a complete slap in the face," a source close to Butterfield said.
A half-dozen sources who spoke on the condition of anonymity with direct knowledge of said that stakeholders in the foundation were thinking about withholding sponsorship money from foundation events because they could not be certain that members of Congress would be in attendance.
The Mervyn L. and Stephanie Tubbs Jones Memorial Scholarship Classic, to be held at the Landsdowne Resort and Spa in Leesburg, Va. later this month, raises money for scholarships. A small group had been thinking about attending Rep. Sanford Bishop's golf tournament in Columbus, Ga., held on the same weekend, instead, but it was not immediately clear if that decision had been reached. "If you have $50,000 to spend are you really going to want to risk that two members might show up?" a lobbying source concerned about the internal strife in the organizations said.
The foundation held a board meeting during a recent trip to Silicon Valley, before Memorial Day. Board members discussed the expected low turnout of members of the caucus, and strategized how to reverse the apparent trend. It was suggested that Reps. Hank Johnson of Georgia and Jackson Lee of Texas convince members otherwise, but sources said they were unsure how effective they've been.
There is all sorts of anxiety about Peebles among members. Insiders worry the organization will suffer without the gravitas of a member of Congress in the role. People have also taken notice of his affinity for saying nice things about Donald Trump.
"Look on the Republican side for president — [there are] governors, Donald Trump, so you got people who understand how to manage things," Peebles said during a recent appearance on Fox News. Peebles also said he thinks Trump was "poised to win it all" and represents the "extreme change" in presidential politics that resulted in George W. Bush's election to the White House and is "not a real risk in terms of management."
There is concern on K Street that there is a fractured relationship between the foundation and the members of Congress. One source told BuzzFeed News that some have discussed what it would take to embark on the formulation of another foundation.
"Shuanise and Don should recognize that this is bigger than them," a source familiar with the foundation said. "It's about scholarships, fellowships and the overall well-being of the organization."
"The chair is the face of the organization and is able to raise money for the organization in that capacity," the source said. "If I were new to D.C. and knew there was someone in that position who had very few relationships within the CBC I would not be eager to contribute money. Shuanise particularly knows better. She works at the pleasure of caucus and its reputation."
Reached by phone, Nicole Goldberg, a spokesperson for Peebles, said that Peebles Corporation does not comment for the foundation.
Shrita Hernandez, the foundation's VP for communications and marketing, said the foundation is "committed to developing leaders, informing public policy and educating the public. One way that we accomplish this is by increasing access to higher education through scholarships. And every year, we provide more than 300 scholarships to deserving students across the country."
She said the scholarship classic, which is hosted by members' spouses, raises money for scholarships for students in the members' districts.

"Since the inception of the Scholarship Classic, we have enjoyed support from many organizations and leaders—like members of the CBC, in particular—who appreciate the important work we are doing. I do not expect this year to be any different."