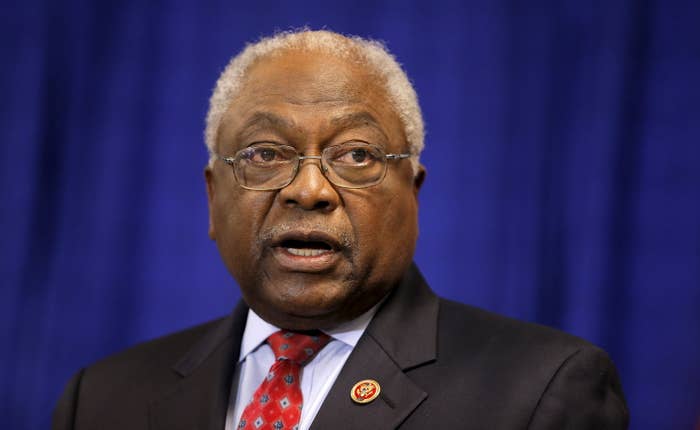 COLUMBIA, South Carolina — Rep. Jim Clyburn said he welcomed a less than pro-Clinton audience to hear him deliver his formal endorsement of Hillary Clinton — so much so, that he balked at the opportunity to turn the occasion into a rally.
On Thursday, BuzzFeed News first reported that Clyburn, the third-ranking Democrat in the House and the dean of his state's Congressional delegation, had chosen to endorse Hillary Clinton before the Feb. 27 primary. On Friday, a peculiar political event followed: A press conference attended by students who are mostly supporting Bernie Sanders.
Clyburn said he declined the offer of a more pro-Clinton atmosphere to keep the distraction on campus to a minimum — and to defend his decision in front of a demographic of students he knows overwhelmingly support Sanders.
"When I opened it up for questions I was looking around and wanted one of them, or some of them or all of them to ask questions. That wasn't just for the press."
Did he have a problem with the fact there was little support for her in the room — even on the applause line in his prepared remarks?

"Absolutely not," Clyburn told BuzzFeed News. "In fact, I'm glad they were there."
"I [didn't] want the students to feel that they had to come and be a part of a rally. The goal of having a press conference was this was a way to bring attention to HBCUs in my district."
The Clinton campaign quietly bristled at the notion that there were an outsize number of students supporting Sanders at the press conference.
But not Clyburn.
"Campaigns are always nervous," he said. "And if you noticed I answered two or three questions after the young lady yelled 'last question.' [I thought] I've got more time. I don't like that 'last question' business and it looks like you're cutting off questions. If I can't defend what I'm doing, I'm not going to do it.

"There's something to be said about preaching to the choir," Clyburn said. "So if we're [going] to give a press conference announcing my support for Hillary Clinton and I know there's a contest between Hillary and Sanders, what good am I doing Hillary Clinton if the only people involved in the press conference are already her supporters? I'd be wasting my time."