Clinton Will Start Rolling Out Criminal Justice Agenda
Clinton's campaign will begin to release its position on criminal justice, starting with an appearance in Atlanta Friday, a campaign aide told BuzzFeed News.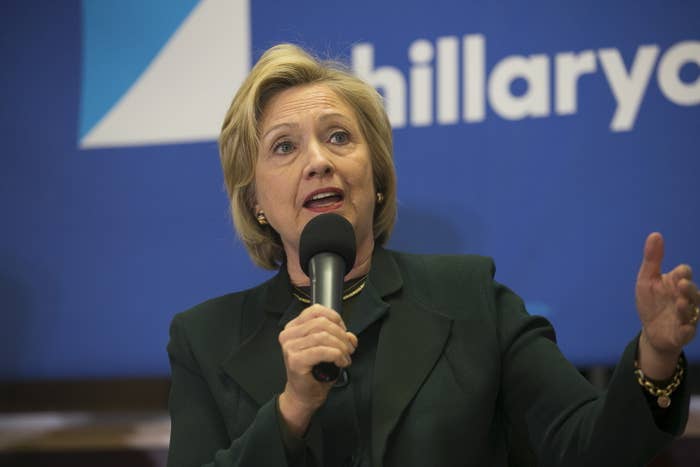 ATLANTA — Hillary Clinton is expected to roll out the elements of her criminal justice plan here Friday and in the coming days, according to a campaign official.
Nearly three weeks after meeting with prominent activists in the Black Lives Matter movement in Washington, Clinton will outline some additional criminal justice measures in Atlanta, where she will also attend an event with black clergy and appear at an "African Americans for Hillary" event.
The measures announced on Friday will include changing the sentencing disparity between crack and cocaine, according to the campaign official, but more of her criminal justice platform will be released soon.
Clinton's agenda is likely the one most anticipated by the activists — and the one most likely to be subject to their scrutiny.
"(When the platform is released), we will, just like with our meeting with Bernie Sanders, be matching up [her] platform with what we know to the the solutions from our communities that are embedded in Campaign Zero and in the platforms of activists more broadly," said one of the activists, Campaign Zero policy analyst Samuel Sinyangwe, who met with Clinton.
Those activists have applied pressure to the Democratic candidates this year, and, in the case of Clinton, questioned her over the effects of the 1994 crime bill that Bill Clinton signed into law. Beyond the activists, a bipartisan group of lawmakers now argue the tough-on-crime policies that dominated the 1980s and '90s were wasteful and damaging to communities of color, in particular.
Black Lives Matter activists who met with Hillary Clinton on Oct. 9 told BuzzFeed News that Clinton herself had been clear — forceful, even — that criminal justice would be an integral component to the first 100 days of her presidency. (Clinton's first big speech of her campaign, at Columbia University, addressed ending mass incarceration.)
DeRay Mckesson, the prominent Campaign Zero activist invited last spring to Clinton's launch event on Roosevelt Island, said Clinton had been open to being pushed on the issues raised in their meeting earlier this month. He and other activists had been especially taken with Clinton's openness to creating and fostering solutions to the narrative that law enforcement is central to the idea of safety in communities in the United States.
Both activists said they were looking forward to the conversation that followed after the release of Clinton's platform.
"Ultimately, we are looking for the president who will do the most for black people," Sinyangwe said. "That requires that we look at all of the candidates to see who has the most substantive policy, as well as the willingness to speak out on these issues in a conversation that centers black lives."
In Atlanta Friday, Clinton will be joined, at a rally at Clark Atlanta University, by former NBA All-Star Grant Hill, Georgia House Minority Leader Stacey Abrams, and Rep. John Lewis. Jesse Jackson will appear with Clinton at the luncheon with black clergy.