Clinton, Sanders Campaigns Grew At End Of 2015 While Diversity Hiring Remained The Same
New data to be released this week by Inclusv and made available to BuzzFeed News show the two Democratic presidential campaigns have grown considerably, while the percentage of diversity hires remained steady.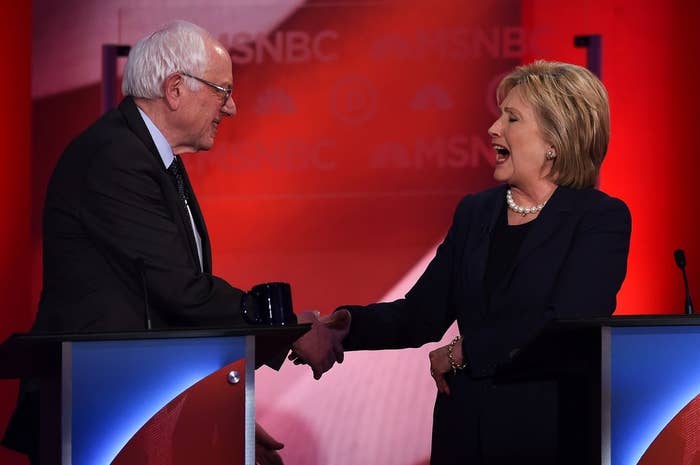 WASHINGTON — The Hillary Clinton and Bernie Sanders campaigns went on a hiring spree over the last few months of the year, but the amount of minority hires for both campaigns remained steady, according to data provided to Inclusv, a group that monitors and facilitates diversity hiring in Democratic electoral politics.
In a round of data provided to Inclusv Tuesday and provided to BuzzFeed News, the Clinton campaign self-reported that minorities currently make up 30% of its staff, down slightly from 32.2% in October of last year. The Sanders campaign reported minority staff made up 30.9% at the end of 2015, down from 33% in October.
Meanwhile, the Sanders campaign grew to 418 at the end of 2015, up from 193 in October. Black and Hispanic/Latino operatives make up 13.4% and 11.7% of Sanders' operation, respectively.
The Clinton camp had 511 staffers as of last October, but a Clinton aide said the campaign was in the process of compiling the latest accurate number on the size of the staff. In its reporting to Inclusv, Clinton's campaign did not break its data down by racial composition.
In a statement on the latest findings, Clinton's chief diversity and human resources officer said a diverse workforce remains a top priority.
"The Hillary for America campaign is committed to diversity, inclusion, and equity," Bernard Coleman said. "This commitment is espoused and demonstrated at every level of the campaign. We are deliberative in our actions and diversity is at the forefront of our hiring practices. We know that diversity spurs innovation and best helps us convey our HFA values to all Americans."
The campaigns chose to self-report the data on diversity hiring at the urging of Inclusv. The Sanders, Clinton, and Martin O'Malley campaigns all reported minority hiring data to Inclusv last October.
Inclusv, which was started by Democratic campaign veterans last year, says that while it's glad both campaigns' are sticking to the commitment to self-reporting, it had hoped for better numbers leading up to the nominating contests in Nevada and South Carolina.

Alida Garcia, Inclusv co-founder and executive director, said in an email statement to BuzzFeed News that diversity and inclusion is a daily practice that should show evidence of progress "not a talking point or a few tweets."

"While we applaud the transparency of both campaigns, it's very disappointing to see no forward progress from each on hiring, especially as their surrogates go on TV each day reiterating their priority to engage voters of color as we pivot to South Carolina, Nevada and Super Tuesday," she said.
Inclusv said it is still encouraging minority candidates seeking to work for one of the campaigns in this election cycle to upload their resumes to its website.