Clinton Proposes Reducing Mandatory Minimums For Nonviolent Drug Offenders
Similar to a bipartisan criminal justice legislation in Congress, Hillary Clinton is proposing reductions in mandatory minimum sentences, making those changes retroactive, and expanding federal judge's discretion in sentencing.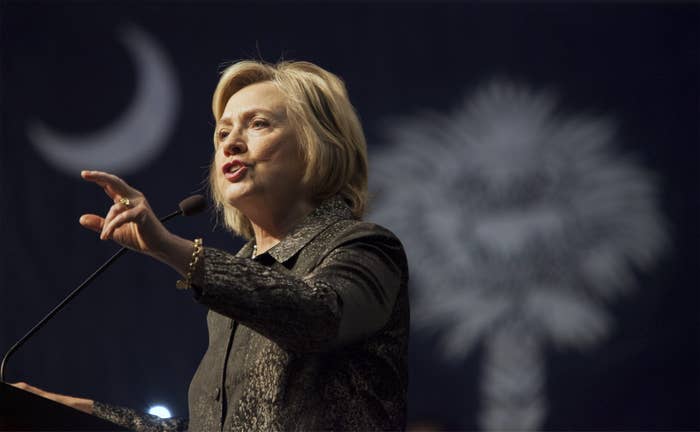 WASHINGTON — As part of her expanding criminal justice platform, Democratic presidential candidate Hillary Clinton is proposing to retroactively reduce mandatory minimum sentences for nonviolent drug offenses, a Clinton aide said Friday.
The latest proposals, part of Clinton's piece-by-piece disclosure of her plan on criminal justice, come as Clinton is set to take part Friday evening in a forum featuring the other two Democratic candidates for president, Martin O'Malley and Bernie Sanders.
On Saturday, she'll take part in a town hall with the South Carolina Legislative Black Caucus moderated by Roland Martin.
Clinton is proposing to cut in half mandatory minimum sentences of 5-20 years for nonviolent drug offenses. Those changes would apply retroactively to currently incarcerated inmates, "but only after a court balances public safety factors," according to the Clinton aide.

Clinton's proposals would also eliminate the five-year mandatory minimum sentence for possession of crack cocaine, as well as make the Fair Sentencing Act, which reduced the sentencing disparity between crack cocaine and powder cocaine offenses, apply retroactively.
Clinton also wants to lessen the number of offenses that count as a "strike" against individuals with a prior felony drug charge and increase the ability of judges to use their own discretion with it comes to applying mandatory minimums.
The proposals are very similar to a bipartisan criminal justice bill introduced in the Senate last month, which has the support of criminal justice advocacy groups across the political spectrum and the White House.
"This is an important first draft, focusing on non-violent drug offenses," said activist DeRay Mckesson of Campaign Zero, which met with Clinton last month in hopes to influence her platform based on its own recommendations. "It will be important that Clinton's platform expands to address a host of other issues such as solitary confinement, alternatives to incarceration and decriminalization."
Earlier this year, Clinton began embracing calls for overhauling the criminal justice system and distancing herself from the tough-on-crime policies of her husband, former president Bill Clinton.
"Decisions were made in the '80s and '90s to deal with what was at that time a very high crime rate that was particularly affecting poor people, people of color in the cities," Clinton said in August. "I think that a lot was done that went further than it needed to go and so now we are facing problems with mass incarceration."