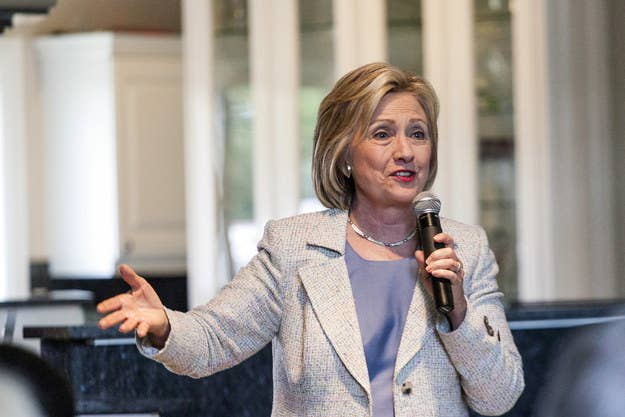 CLEVELAND — Hillary Clinton has begun to court leaders in the Black Lives Matter movement — starting at the movement's biggest gathering ever.
Over the weekend, Clinton's black outreach director, LaDavia Drane, attended the Movement for Black Lives convention in Cleveland. That visit marked the campaign's first outreach to the movement, which has seen even wider press coverage in the past week after activists disrupted a presidential forum at Netroots Nation.
That protest has been fresh in the minds of presidential campaigns and many of the at least 1,300 attendees — according to organizers — at the weekend's convention.
A Clinton campaign official on Saturday confirmed to BuzzFeed News that Drane "had one-on-one meetings and group listening sessions to engage stakeholders including ministers, community organizers, elected officials, and other individuals in Cleveland for the Movement for Black Lives." An Ohio native, Drane engaged people inside the movement and listened to a range of suggestions related to Clinton's outreach, as well as policy recommendations, the official said.

"We will continue to engage a wide array of stakeholders, including members of the black lives matter movement, when crafting policy on important issues like reforming our criminal justice system," the official said.

News of Drane's presence in Cleveland went largely under the radar. Many of the weekend's organizers, including those from Million Hoodies Movement for Justice, Black Lives Matter, and Ohio Students Association, reached by BuzzFeed News Sunday said they had not been among those who met with Drane.
"Maybe [Drane] has met with folks, but she hasn't met with us," said Patrisse Cullors, the co-founder of Black Lives Matter. Cullors added that her other co-founders Alicia Garza and Opal Tometi would have liked to meet with Drane.

As "someone who was a part of shutting down the Netroots presidential forum," she said, "I'm tight she met with folks and not us."

Clinton's campaign maintains that it is still in the middle of a long process of engaging principals in the Black Lives Matter movement, and that just because Drane met with some activists and not others, that doesn't mean the campaign won't be reaching out to them, too.

A source with knowledge of the communication said the Clinton campaign reached out to several people thought to be connected to principal activists in the movement.
As a candidate and before her announcement, Clinton has expressed her support for the movement — including once in a December speech and in an April essay when she wrote, "We can stand up together and say, yes, black lives matter" — but this is the first indication real communication between the campaign and the movement exists.
"Hillary Clinton is committed to developing real policy solutions that are informed by having listened to ideas and concerns from a wide range of voices, which is why we felt it was important to hear from those gathered in Cleveland this weekend for the Movement for Black Lives Convening," Clinton spokesperson Karen Finney said in an email to BuzzFeed News.
"Throughout this campaign, Hillary Clinton will continue to work with a wide array of stakeholders, including members of the Black Lives Matter movement," she continued. "Both Hillary and the campaign know that in order to implement real change, we need to work together in crafting policy, raising awareness, and building a coalition to ensure every American knows what it means to be secure, safe and free."