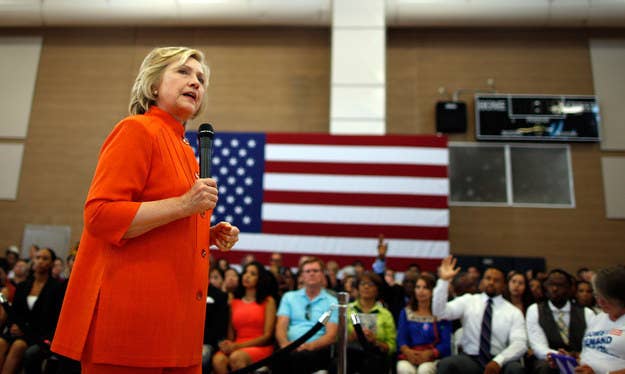 NORTH LAS VEGAS, Nev. — DeAndre McGee had his first run-in with police when he was 14. He and his friends were hanging out near a construction barricade in their neighborhood, when a police car pulled up and demanded they get on the car to be searched. A house had been broken into, the officer later said, and to him, the black boys looked like perfectly good suspects.
"Have any of you ever been to a black juvenile [facility] before?" McGee said the officers asked them. The officer, who was white, never said why they were being searched.
McGee, wearing retro wire frames and a maroon dress shirt, is now 20 and a sophomore at the College of Southern Nevada. That day six years ago came to mind when asked why — he was so anxious he started to introduce himself to her without the requisite microphone — he asked Hillary Clinton: "I wonder what do you want to do as president to address the criminal justice system and mass incarceration rates in the United States?"
Clinton praised it as a "good question" over the applause of the diverse crowd that came to see her, many of them black, proud of his course of study: criminal justice. Said Clinton, "We need young men like you who will be ready help get back into a more fair and balanced kind of system that doesn't exist at the moment."
"It's a problem because in our country we have too many people in jail and prison who committed low-level, nonviolent offenses," she said, in part. "And we have too many people who haven't been convicted of anything but can't afford bail and sometimes are there for months, if not years." She went on to say that the state level is where most of the work is needed, however, rather than the federal level, and touched on the militarization issue that dominated headlines in 2014.
Clinton faced this question during a visit to Greenville, South Carolina, last month and again, at Christ the King United Church of Christ in Florissant, Missouri, near Ferguson. There, it was framed in a way that let her impart the impact mass incarceration has had on families and communities.
In her answers, Clinton gives her standard explanation about "decisions" that were made in response to a "very high crime rate" in the '80s and '90s that was adversely affecting people of color and the poor in inner cities. (A version of this was given by Bill Clinton at the NAACP convention in Philadelphia.)
"I see heads nodding," she said, deftly. "You remember those days."

But as Clinton crisscrosses the country talking to audiences about how she wants to be the champion for everyday Americans, she faces questions from young people like McGee, who don't remember those days. In fact, for many young people, like the Black Lives Matter activists who confronted her after a town hall in Keene, N.H., Clinton is an avatar of the system that she says she and Democrats and Republicans are trying to fix. Daunasia Yancey, a key organizer of the Black Lives Matter group in Boston who is in her early twenties, was a baby at the start of Bill Clinton's administration.
Yancey and her fellow activists released on Monday the video of their, at times, tense encounter with Clinton earlier this month — much of which concerned the question of past policies (from the activists) and comments about moving forward with changes to the law (from Clinton).
But Clinton's response had a different wrinkle on Tuesday, and they echoed remarks she gave on race, at the U.S. Conference of Mayors in San Francisco.
"We know for a fact that if you take an African-American young man and you take a young white man and they do the same thing, the rates of arrest, of incarceration, of conviction for the young African American man is much" higher, Clinton said Tuesday.
McGee said of all the candidates he's heard speak, that Clinton has spoken most effectively on criminal justice — and that he'll probably sign up to volunteer for her; he'd been inspired in part by the story of a surrogate named Elisha Morgan, a young black woman, who introduced Clinton at the town hall.
But he said he wants to hear her debate the issue with fellow Democrats. Both of the other top candidates in the primary — Bernie Sanders and Martin O'Malley — have publicly complained about the number of debates sanctioned by the Democratic National Committee are not enough; there are only six, but O'Malley was said to have lobbied Sanders to push for more.
Clinton's talk about yesteryear isn't enough for the activists — nor did it sit well with McGee, who said he doesn't necessarily buy into her explanation.

"I don't see any difference between today and the '80s and '90s," he said. "I think the system has gotten more advanced, more smart and maybe more politically savvy, but there's still evidence they use racist motives. I don't see any difference."
McGee's comments echoed a general refrain from the Black Lives Matter movement: that times haven't changed enough in a few decades to explain why 2.2 million people are incarcerated in the United States, many of them convicted of non-violent or low-level crimes.
"She needs to say, 'This is what's really going on today, this is the honest truth about it and as president this is how I'm going to address the problem.'"
When Mike Brown was killed in Ferguson, Missouri, a year ago, McGee changed his major from political science to criminal justice. He said he found out that Clinton was speaking at the Pearson Community during a men's Bible study in the home of one of the members of his church. "I didn't think she was going to call on me," he said.
As for Black Lives Matter activists, who have made it a point of confronting the candidates on the issues — and were said to be in attendance Tuesday, but did not interrupt Clinton — McGee said there needs to be a different approach.
"I think they're on point in regards to not compromising on the issues," he said. "And I think their intentions are good, but they way they're going about it, by disrupting rallies...that's not the way to go about it."
Why?
"Because we need change. I see a lot of injustices going on in these communities, especially minorities," he said. "Growing up in Vegas and being a victim of police harassment myself, I felt the urge to ask her that question because that needs to be addressed and I feel like it's the civil rights issue of our time. I want to be a part of the solution."