Chris Christie Can't Help Himself From Being Himself In Florida
As an ambassador for governors all over the country, the New Jersey governor can't help but slip into his fallback mode: ruthless. On the trail with Scott and Christie.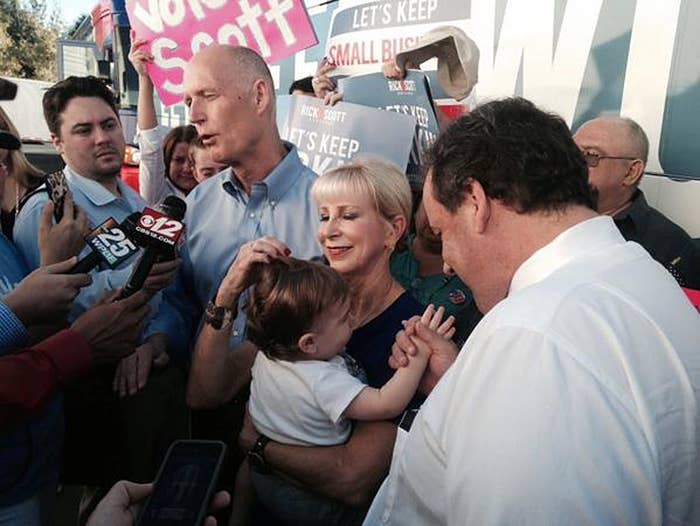 ORMOND BEACH, Florida – He was here to spread the Gospel According to Rick Scott.
Love thy family and thy neighbor as thyself. Get a good education and a good job. Pay your property taxes like a good Floridian and, when you're good and ready, retire, with dignity, in a place just like this tanned, sleepy little town of 40,000. To hammer it home, New Jersey Gov. Chris Christie even went to worship service Sunday, an event his office and the Republican Governors Association closed to press.
But over the course of two sun-drenched days in South and Central Florida with Gov. Rick Scott early this week, Christie kept falling into the pull of his abrasive, no-nonsense style. Scott's genial manner plays well in parts of Florida where he is most popular: rural, mostly elderly, and highly conservative. Christie's a talented retail politician, boisterous and natural — but eternally forceful. And on Christie, playing the supporting part seemed to wear thin.
When a reporter in Plantation asked Scott if he "fully subscribed" to comments that Christie made about the minimum wage at the U.S. Chamber of Commerce in Washington, the Florida governor launched into a rehearsed stem-winder about opponent Charlie Crist being out of touch and his record on losing jobs. "I've worked minimum wage. I know what it's like," he said. "Charlie grew up rich. He isn't worried about your family. Think about it: he raised your tuition, he raised your taxes, he's never had to worry about doing some of these things … I grew up in public housing so I know what it's like—"
Christie cut him off.
"Listen — I'm standing right here, okay?" said Christie, fixing his eyes squarely on the reporter. "So the fact is I never said my comments were misunderstood. What I said, I mean. Which is that there are not families who are sitting around tables right now across America hoping and dreaming to get a higher minimum wage. What they want are better paying jobs to give their children better opportunities than that."
After a rare live appearance on the Today Show in the morning, Christie will travel to Maryland to campaign with Maryland gubernatorial hopeful Larry Hogan on Tuesday, then a whole slate of governors and candidates across the country. On Thursday, he'll be back in Florida with Scott.
"I have said that this is an extraordinarily important race in the country," Christie told BuzzFeed News. "By the time I get done here, I will have been here more than any other state in the country." (When asked by BuzzFeed News if he'd be back on Election Day, he said it was unlikely. "I'm barely home the rest of the time so I'm going to go home then.")
The stakes are high for Scott. Florida's political races are historically close — and polls show the race between Scott and Crist is extremely so.
The stakes are high for Christie, too. He is telling supporters in Florida he is taking seriously the decision to run for president. If he does become the 2016 Republican nominee for his party he knows how crucial it is to have the 270 electoral votes needed to win the election — and to have Scott in office in Tallahassee.
It's why as much as Christie has been by Scott's side to advocate for him — he has also helped shield Scott from vulnerability to negativity. In a rousing bit on the campaign trail here recently, Christie told audiences up and down I-95 are going to give Crist a title on Nov. 4: "Loser!"
In a fiery speech before a rowdy crowd at a strip mall nightclub in Boca Raton, Christie was most impressive. "New Jersey South," he said, "your governor is here!"
Florida voters have a choice, Christie said, laying out his own specific contempt for Crist like Scott never would — or could. "When Charlie Crist said it's not about him, you know how you know he's lying? His lips are moving, everybody! That's how you know Charlie Crist is lying. There's lots of races in this country where all the people in the race are good people … that's not what the instance is here."
Scott waited for the rapt crowd to die down. "This is New Jersey South," Scott said, as if to say, What can I say?
Dr. David Ritter, an anesthesiologist in Boca Raton, said he was glad someone like Christie could come along to give voters a succinct message. "He's not afraid to he has no problem with saying what he thinks. He means everything he says," his wife, Maribel chimed in. "I like that. He's straight up."
"He's New Jersey and he doesn't seem super conservative," Dr. Ritter said, alluding to Christie's speech. "That works against him with some conservatives – I certainly have some reservations for that reason – but you've got to support who can win because you don't get everything. Otherwise you end up with Barack Obama. You need somebody who's passionate."
Boca Raton Mayor Susan Raynie said she knows the impact Christie can have on the election.
"He has the respect of residents here, people trust him," she said of Christie. "He's a free spirit and I think that plays well here and makes him a great complement to Rick. Personality-wise I think Christie is a "fire and brimstone" kind of guy and Rick is a bit more reserved. Does that mean one is more talented than the other? No. I think it's just a matter of personality."
On Monday morning in Wellington and again here in Ormond Beach Christie said that he was a "warm, compassionate guy," on his way to telling voters to give Crist to the title loser. The laughter that followed the line appeared to annoy Christie — though it was unclear if because it disrupted his one-liner's timing, or because he may one day need to be known as a nice guy.
"I think Christie may be a little bit more confrontational than Scott," Florida Rep. Bill Posey told BuzzFeed News, adding that because of Scott's constituency — "a state with more retired people in it" — he may need to be bit more reserved. "But it all balances out. Scott will do whatever it takes. They're both very aggressive with their agendas and try to drive the train and not ride in the back."
The governor's wife, Ann Scott, who agreed to an interview before her spokesperson stepped in, suggested her husband and Christie were more alike than people cared to understand.
"I think they both shoot straight from the hip," Scott said. "They both are representing the people of their states and working hard to make a difference and turn the economy around."
And if Christie can't help himself from being forceful, he at least seemed to be trying to offer a softer touch at multiple points during the swing.
After Christie stood his ground against criticism that his policy for health workers returning from West Africa had led to a nurse, Kaci Hickox, to argue she had been mistreated, he changed tactics a little later in the day. Christie commended Hickox's work, telling the press gaggle at a zoo in Melbourne there was confirmation that she had been treated well — and that New Jersey even footed the bill for her travel to Maine.
Then there was Scott's third grandson, Sebastian, whose lack of patience has been a favorite subject of Scotts, and the very mention of him drew "awwws."
And there Christie was on Monday morning, playing it up for the cameras, smiling, as he held little Sebastian's arm.