CBC Chair: There Isn't Enough Clear, Centralized Leadership In Ferguson
"The problem in Ferguson is that there's no consensus on leadership in the community," says Rep. G.K. Butterfield.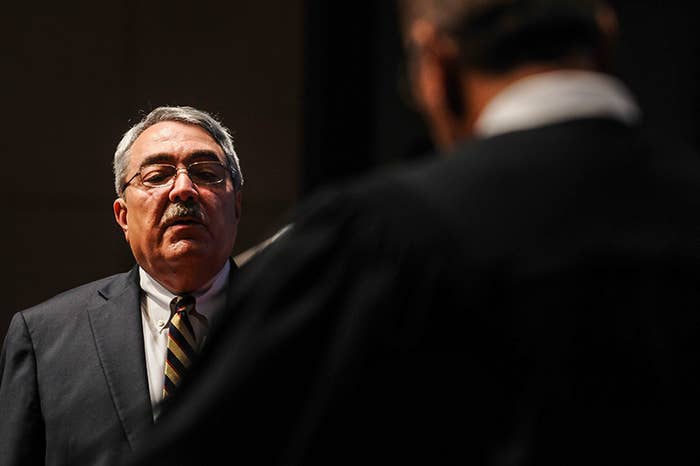 WASHINGTON — The chair of the Congressional Black Caucus said Tuesday a recent trip to Ferguson, Missouri, revealed to him that there's no "consensus on leadership" among the activist groups represented in the protests.
Rep. G.K. Butterfield of North Carolina led a delegation of 10 CBC lawmakers who attended a special church service at Wellspring Church in Ferguson to honor Dr. Martin Luther King, Jr. over the holiday weekend.
Butterfield said the CBC will wait for the Justice Department's investigation into the shooting death of 18-year-old Michael Brown by officer Darren Wilson before it rolls out a "legislative package" he says will serve as a moral compass for young protesters, "because many of us have been through that before."
"The problem in Ferguson is that there's no consensus on leadership in the community," Butterfield, who began his chairmanship with the 114th Congress earlier this month, told BuzzFeed News.
"There are different factions within the community who are exerting leadership. It's okay to have different leaders but there has to be better coordination," Butterfield said. "We pledged to them as the CBC that we're going to work to try to bring the different groups together."
In recent weeks, Oprah Winfrey drew scrutiny for public comments she made describing as a lack of organization and tangible demands amongst groups there.
"I think it's wonderful to march and to protest and it's wonderful to see all across the country, people doing it," Winfrey told PEOPLE. "What I'm looking for is some kind of leadership to come out of this to say, 'This is what we want. This is what has to change, and these are the steps that we need to take to make these changes, and this is what we're willing to do to get it.'"
Protest organizers roundly slammed her comments, calling her out of touch with the mood on the ground and elitist.
And in December, young protesters clashed with the Rev. Al Sharpton over ownership of the protests. Sharpton quickly hit back, saying that young protesters were disrespecting the work he and other old guard organizations like the NAACP had established.
On Tuesday, Butterfield conceded that President Obama struck the right tone on Ferguson, but wishes he could have spent more time on the issue in his speech.
"I wish he could have spent more time on Ferguson, but he had so many points that he had to cover. The mistrust between African-American communities and law enforcement agencies is real."