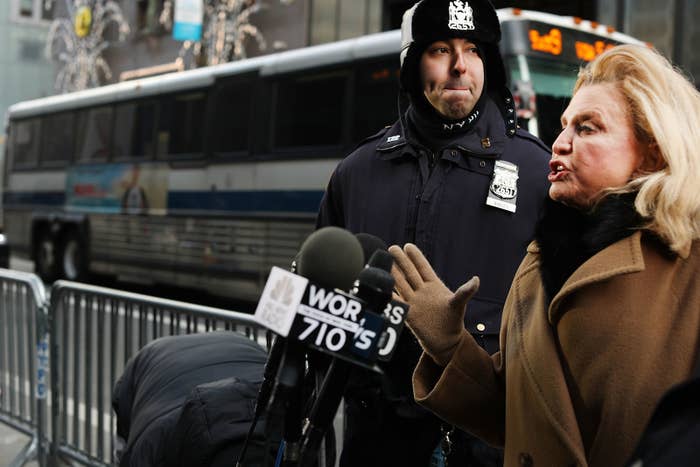 Democratic Rep. Carolyn Maloney downplayed her challenger Suraj Patel's fundraising in an interview on Thursday, saying his campaign disclosures contained a large number of people from his home state of Indiana and "a huge amount of the name Patel."
Ahead of this summer's New York primary, Patel — a young businessperson running as a progressive — has so far out-raised Maloney, the longtime incumbent in a New York City district that has been redrawn in recent years to include trendier parts of Brooklyn. He announced last month that he had raised more than $550,000.
"Well, it's mainly from Indiana, where he's from," said Maloney when asked about Patel's fundraising success. She added, "mainly a huge amount of the name Patel, which is his name."
Maloney's campaign has made an issue of Patel's being from Indiana and raising money from outside New York. He serves as the president of the Indianapolis-based SUN Group, which acquires and develops hotels in the United States and is owned by his family. Last month, his campaign told Politico that four immediate family members and 10 other family members have donated to his campaign. ("He cannot depend on his wealthy Indiana family indefinitely and he will need a lot more than that to create an identity, record, and reputation to sway the people," a Maloney spokesperson told Politico. "No one knows him and everyone knows Carolyn's record for fighting for the district.")
Asked what Maloney meant by the remark, on Saturday, Maloney spokesperson George Arzt told BuzzFeed News in a statement that Patel is "pretending like he's running a local grassroots campaign, but the truth is only 1.3% of the half-million dollars he's raised comes from the district."
Maloney made the fundraising comments in an interview about a range of topics, including the launch of a commemorative coin by the US Mint to increase breast cancer research. The last two times Maloney has been challenged by a Democrat, she's won by more than 50 points. "I've been to a lot of events where I've gotten continuous support from people I [either] actually represented or worked on their problems or tried to help in some way," said Maloney.
Patel, 34, worked on both of Barack Obama's presidential campaigns as an advance staffer and currently lectures on business at New York University.
Asked about Maloney's comments about his fundraising, Patel responded sharply, saying he wanted Maloney to know that not all people with the last name Patel are related.
"I guess I didn't realize Rep. Maloney hired Steve Bannon as her campaign strategist," he said.
Patel said he welcomes a debate on campaign contributors, mentioning that Donald Trump has previously donated to Maloney. (The donations were made prior to 2010; Trump infamously also gave to the Clintons, Nancy Pelosi, and other Democrats during that general period.) "Let's let New York decide whether it's more offensive to raise money from Patels and real people like I do or from corporate PACs and Donald Trump like she does," he said.
"I'm a proud first-generation Indian-American," he said, "and grateful to have the support of Americans of all backgrounds who believe we need new energy and new ideas in Washington."