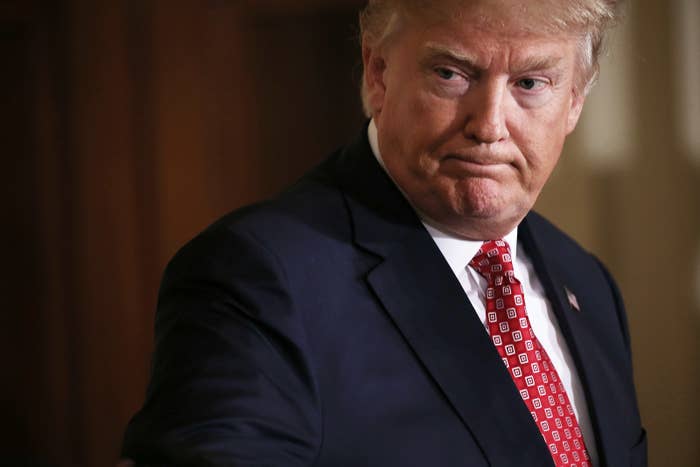 WASHINGTON — Donald Trump and his top aides say their best shot at popularity may be winning over black people.

It's a theory that looks good on paper: Black workers, and black men in particular, have a lot of the same characteristics as the underemployed and alienated whites in places like Wisconsin and Pennsylvania who made Trump president. The White House has suggested that the same policies — trade barriers, domestic spending — could provide good jobs from both groups, driving down black youth unemployment, which currently stands at 27%.
Trump, who received 8% of the black vote in 2016 and subsequently thanked some black voters for staying home, told a Black History month reception that he's looking for as much as 51% of the black vote in 2020. His top political aide Steve Bannon recently said if they could win 40% of the black and Latino vote, they'd be in office 50 years.
But Trump remains so toxic among many black Americans that he's having trouble getting some black football players (and one white one) to celebrate their victory at the White House. He smeared the first black president with birtherism. His attorney general is a longtime enemy of black civil rights groups, who fought to block his nominations.
And his shot at a new coalition rests on overthrowing the old American truth that economics aren't enough: attempts by everyone from the Communist Party in the 1930s to the Democrats in the 1980s to the Republican Party in the 2000s to build a class-based coalition has foundered on the shoals of race.
"If he got 51% of the black vote, it would the only justification I could think of to support Sessions investigating voter fraud in the black community," scoffed the Rev. Al Sharpton.
Trump's own connections to the black community are complex, and don't run either through the traditional civil rights leadership — which has loathed him at least since he called for the execution of the subsequently vindicated Central Park Five; nor the small black conservative movement, whose free market politics have never been compatible with the kind of massive stimulus spending he contemplates. He has long enjoyed friendships in the past with hip-hop moguls like Russell Simmons, who now disagrees with Trump's politics; he is also, for instance, friends with the celebrity television correspondent and former 106th and Park host A.J. Calloway. Kanye West and Steve Harvey visited him in Trump Tower.
And his message has also appealed to some black politicos outside the traditional Beltway politics he exploded.
One representative figure is Bruce Carter, an organizer and strategist who supported Bernie Sanders over Hillary Clinton during the primary before switching over to Trump. He says he thinks Trump will get 40% of the black vote in the next election, "because of the success rate that will happen over the next four years."
In a memo circulated shortly after the election titled, "Mission Accomplished: African-American Political Slavery has Ended," Carter said that black voters pay attention when a candidate is talking specifically about opportunities to invest in their communities. "There are no permanent allies or enemies, only permanent interests," he wrote, quoting Henry Kissinger.
"We do believe some of Mr. Trump's policies that have been articulated so far could be very consistent with the interest and needs of the African-American community across the United States," said another figure from outside the Beltway, head of the South Carolina Black Chamber of Commerce, Stephen Gilchrist, whose politics are more traditionally Republican: Black small businesses owners, he said, could benefit from looser regulations and more access to capital.
"If those things happen, 2020 could be competitive year when it comes to the vote of the African-American community," he said.
And the black groups that supported Trump see even his words as a positive step. They view the mere mention of making gains with black voters as not only as shrewd politics, but as a real chance their expand their base and a positive step away from the Democrats being the preferred party of a majority of black Americans.
"People can say that they want to say, but 40% would be unprecedented in the Republican Party," said Chris Prudhome, the president of Vote America Now, a conservative group engaging young voters and voters of color on issues like criminal justice and educational opportunity. "Just the fact that he's saying that and he's addressing African-American issues — how can you say that you don't want to be a part of it?"
But even among the black conservatives who have been trying for decades to chip away at the monolith, there are doubts that spending in black communities — if infrastructure projects do materialize — will be enough.
Few are convinced economic momentum alone would be enough to change voters' minds.
"Those are steps in the right direction but [black voters] still see it as a party that doesn't welcome them inside," said Gerard Robinson, an education policy expert with the conservative American Enterprise Institute. Robinson was among the leaders who met with Trump for the listening session, encouraging him on strides the new administration could make on education.
Trump's early nominations — there is a single black cabinet member, Dr. Ben Carson, in the whitest, most male first cabinet since Reagan — worry others.
"The administration has to look like America," said strategist Jarvis Stewart, who spent the better part of the campaign season consulting progressive groups on how best to reach young black voters. "If their political operation anticipates being more inclusive to attract the African-American vote... it has to start with policy initiatives. And they can't leave out criminal justice, voter ID, or health care. They are all equally important to black voters as the economy."
During his campaign, Trump famously asked black voters what they had to lose. Conflicts over voting rights and policing may reopen that question. And for now, liberal organizers say what they see is a community that has been energized — against the new president.
"We know Donald struggles with reality, but he shouldn't confuse photo ops with Kanye West, Steve Harvey and the pitiful black folks that work in his administration with support from community," said Rashad Robinson, executive director of progressive Color of Change. "At the end of the day we all know that Donald and the folks he takes orders from like Steve Bannon and Kellyanne Conway are way more interested in advancing white supremacy and selling dresses than winning over black voters."