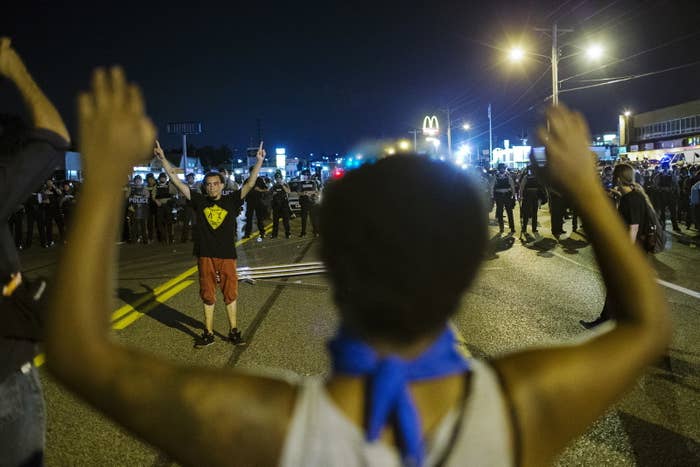 WASHINGTON — A majority of U.S. cities with police union contracts and nearly every state with a version of the Law Enforcement Officers' Bill of Rights have at least one major barrier to holding police accountable for misconduct, a new report claims.
The data visualization project, released by the Black Lives Matter initiative Campaign Zero, looks at jurisdictions that dismiss police complaints, restrict or delay the interrogation of an officer, give officers compromising access to information, limit oversight or discipline, and either pay for, or erase records of, police misconduct.
Campaign Zero is made up of activists Samuel Sinyangwe, Brittany Packnett, Johnetta Elzie and DeRay Mckesson. The review, which includes a state-by-state breakdown of each state's restrictive measures, is part of a broader movement to increase transparency in police departments around the country in an effort to reduce police violence.

"In terms of results, I hope this information empowers communities to effectively push city leaders to remove these types of barriers to accountability in their contracts, as we are seeing happen with newfound pressure to renegotiate contract provisions in Chicago and Seattle, for example," Campaign Zero's Samuel Singyangwe said in an email statement to BuzzFeed News.

The report reveals several stipulations written into contracts or state law that Campaign Zero claims hinder investigations into police misconduct. In Florida, for instance, there is a180-day statute of limitations on investigations or "disciplinary action, suspension, demotion, or dismissal may not be undertaken by an agency against a law enforcement officer or correctional officer for any act, omission, or other allegation of misconduct" according to the state's policy language.

Other findings in the report include:
*In Nevada, an officer cannot be suspended without pay during the course of an investigation.
*Cleveland's police union contract erases records of discipline after two years, and only six months for written discipline.
*Louisiana statewide police bill of rights imposing a 30-day delay on interrogating officers.
*Florida police bill of rights giving officers access to all available existing evidence in a case against them before being interrogated.
*And in Wichita, Kan., the police contract gives officers access to the names and addresses of all witnesses before an interrogation, which critics say fosters intimidation and in many cases discourages witnesses from coming forward with police complaints.
In some cases of states with an LEOBR law, officers are granted access to recorded interrogations and, in the case of Rhode Island, an officer is allowed to learn information about the complaint, such as names of the complainants or nature of the complaint before interrogation.
On Tuesday, Campaign Zero also released a map charting the progress of police reform legislation that has passed or is under consideration at the local, state, and federal levels.
The group has also introduced a new tool that allows people to see how state representatives voted on bills related to policing and guides voters on how to contact representatives to push them to take action.

Said Sinyangwe, "I hope this creates broader space for a conversation about what a 'model' police union contract could look like with the community at the negotiating table — a contract that reinforces rather than undermines the public interest in ending police violence."