Prominent black Democrats — and the premier group that supports black House candidates — are defending and campaigning on behalf of an incumbent lawmaker against the biggest challenge of his career in Massachusetts.

The congressman is a white man; the challenger is a black woman.
That situation has frustrated backers of the growing movement within the Democratic Party to support black women candidates, putting key figures in the party at odds — and highlighting generational divides about race and gender inside the party over a blue state that has rarely backed black candidates.
The core conflict started earlier this year when the Congressional Black Caucus political committee endorsed Rep. Michael Capuano — the 66-year-old 20-year incumbent considered by lawmakers within the caucus as a true ally to black interests — over Ayanna Pressley, a telegenic former aide to Sen. John Kerry and the first-ever black woman elected to the Boston City Council.
The decision, conducted by secret ballot, according to a source with knowledge of the situation, wasn't unanimous.
Nor was it a choice between two candidates, but rather a decision of whether to endorse Capuano or to stay out of the race altogether, two sources close to the matter said. "It was not an easy internal conversation, and the vote was not unanimous," a person close to the group said. The group's endorsement has met resistance, and reveals a sharp divide in its mandate to "increase the number of African Americans in the US Congress" and to also "support non-black candidates that champion our interests." Further complicating that debate is the assuredness of Pressley, 44, who was long ago christened the Next Big Thing in Massachusetts politics.
To #TrustBlackWomen advocates, the trajectory of Pressley's career is too familiar: The Massachusetts state party hasn't ushered her into, or groomed her for, statewide or federal office, even as national Democrats, such as EMILY's List, have lavished praise on her.
Meanwhile, on the trail, Capuano is offsetting the challenge Pressley poses by calling on his black friends.
Capuano welcomed Rep. John Lewis to Boston to defend his progressive voting record and serve as a legendary validation of his service, for example. "People who have been around for a while, they know their way around," said Lewis, according to the New York Times. "They know where all the bodies are buried and they know how to get things done."
Black lawmakers are hardly alone among national leaders who are not-so-gently asking Pressley to wait her turn. "Everything about this candidate and her candidacy makes me proud," former Massachusetts governor Deval Patrick said about Pressley in a written statement officially endorsing Capuano. "But Mike was with me in the trenches."
And top Democrats told BuzzFeed News that it cannot be overstated that Capuano has seniority, at a time when Democrats think they could flip the House. The Massachusetts Democrat also has a black chief of staff, a rarity on Capitol Hill. Robert Primus, people close to the CBC said, is a highly respected figure on the Hill and a big reason why Capuano himself is so well-regarded.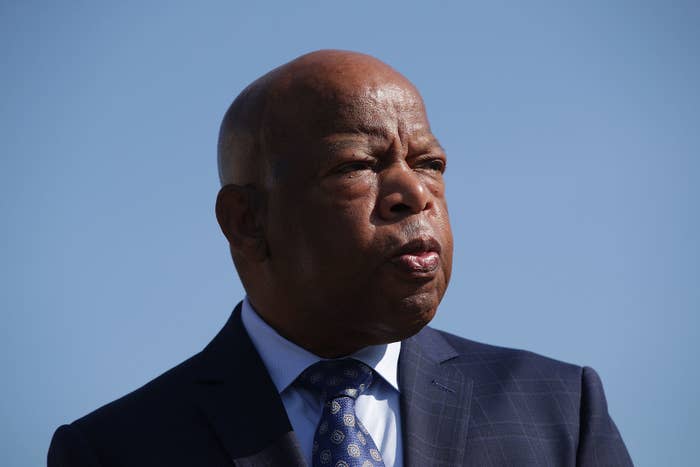 Still, the situation doesn't sit well with everyone, particularly black women operatives. You won't easily find a political figure in Washington more deferential to the cause of black lawmakers than Angela Rye, the celebrity political activist and commentator who was executive director of the CBC during the 112th Congress. She did not respond to an inquiry about her motivations, but in Atlanta recently while getting out the vote for Stacey Abrams — or as Rye called the Democratic nominee for governor, "black Stacey" — Rye addressed Lewis's and CBCPAC's endorsement. Rye, who sits on the organization's board, explained that while she personally didn't agree, tough political decisions made out of personal fealty are a part of politics.
"They know him," said Rye, "but I know Ayanna."
Likewise, Daria Dawson, another member of the CBCPAC's board, told BuzzFeed News that the board's first obligation should be about electing black lawmakers to office and expanding the CBC's influence in Congress. "I did not support this endorsement," Dawson said in an interview. "As a black woman who has been involved in politics for over a decade, it saddens me that a viable candidate such as Ayanna Pressley has not received the backing of prominent elected officials or from institutions associated with those elected officials. At this time when electing more women and candidates of color would be the key for Democrats to win back Congress, I would hope that there are more candidates of Ms. Pressley's caliber on the ballot, and that full consideration will be given to her candidacy."
Dawson touched on the difficulty black women have when doors aren't opened.
"As a black woman who has been involved in politics for over a decade, it saddens me that a viable candidate such as Ayanna Pressley has not received the backing of prominent elected officials."
That subject is one Higher Heights for America cofounder Kimberly Peeler-Allen knows well; her group works to advance the cause of black women in politics. Peeler-Allen is preaching that Pressley is ready now, and that now has to be the time if the group wants to reach its goal of electing a record number of black women in 2018.
Peeler-Allen told BuzzFeed News that the challenge before Pressley and her supporters — running against strong, establishment support out of Washington — is something to which the group is accustomed. "The concept of a black woman running without institutional support is not an anomaly; if anything it's the common factor," she said. "That is nothing new for us. For Ayanna to run against the Democratic incumbent is not upending any status quo. We've rarely gotten institutional backing that we thought would be with the incumbent."
If you have not heard the one about if white women had voted for Clinton in the numbers black women had, she would be the president, you just haven't been following Democratic politics closely enough. And what the people concerned with #BlackWomenLead and #TrustBlackWomen are aiming for is representative power in politics commensurate with their voting power. But there's an irony in Trump era: Some Democrats are less likely than ever to quash their interests in favor of electability.
The timing is a sensitive thing for Benjamin Branch, the executive director of the CBCPAC, who was careful to say that the board's vote was not meant to be a swipe at Pressley.
The group has taken its lumps in recent years; CBCPAC was critiqued for endorsing Hillary Clinton in the Democratic Party, taking heat in public and behind the scenes on Capitol Hill from young staffers who liked what Bernie Sanders had to say. One source, speaking to BuzzFeed News on the condition of anonymity to speak openly, said CBCPAC standing in front of Pressley was reminiscent of the group's decision not to endorse Maryland Rep. Donna Edwards in her run for US Senate in 2016, which annoyed young activists and was the source of some negative press. "I don't like the optics of us getting behind a white man who is running against a black woman who has viability in this race," the source said.
Branch doesn't see it that way. Instead, he sees the tension over Capuano and Pressley, particularly the critiques of his organization as result of its endorsement of the congressman, as a "distraction." Simply taking the group's posture on just one race and then characterizing the CBC as out of touch is not an accurate assessment, he said.
"There has to be a focus on a unified Democratic Party if we are going to take back control of Congress," Branch told BuzzFeed News in an interview, encouraging people to look at the whole picture. "You're seeing a lot of candidates we have supported, like Colin Allred, Lauren Underwood, and Joe Neguse, who are young and progressive, that have a real chance to win, and we're trying to focus on support for them."
Pressley's reaction to the swell of support going Capuano's way has been to turn her attention to the district, a majority nonwhite area where she says constituents can't wait for adequate representation; she likes to say that she knew all along she was facing political headwinds trying to unseat a Democratic incumbent, and told the New York Times she derives support from people in her district, calling that support "my CBC," to which a top Democrat replied to BuzzFeed News, "Going negative is not going to make you a whole lot of friends."
"You don't abandon a friend just because a new friend shows up."
Marcus Mason, another pro-Capuano board member of the CBCPAC, echoed Patrick's sentiment. "For a lot of the issues that we fight on, it's invaluable to have a Mike Capuano jump into the breach with you," said. "Sometimes, even in Democratic politics, folks aren't always quick to jump into the fray... Sometimes they need people that look like them and come in and talk about affordable housing. When he comes in and validates these problems it helps other people get on board and it's not, 'Oh, the CBC is wailing about affordable housing again.' I've watched him fight and lock arms with CBC members and stand in the trenches with them. You don't abandon a friend just because a new friend shows up."
One black former lawmaker, who spoke on the condition of anonymity to explain the affinity for Capuano, said he, too, had heard great things about Pressley, but that the broader support for Capuano is out of obligation. "It's hard to abandon people who have been allies," said the former lawmaker, who added that Capuano earned his support over many years, including being a champion for the Congressional Black Caucus's alternative budget. "I think it's a very tough call because he's been very supportive of the CBC and one of the people we've worked with on the front lines."
What's rankling Democrats behind Pressley, more than seemingly anything, is that she's a viable candidate with a track record in a majority-nonwhite district, looking to join a body of lawmakers they'd like to see get an infusion of fresh blood and new ideas.
"I always get aggravated when people say, 'The Democratic Party has no bench," said the source turned off by the optics of the CBCPAC's backing of Capuano. "Well, no, there is a bench. But the problem is that some people don't want to step aside in order to let that bench step into the spotlight."