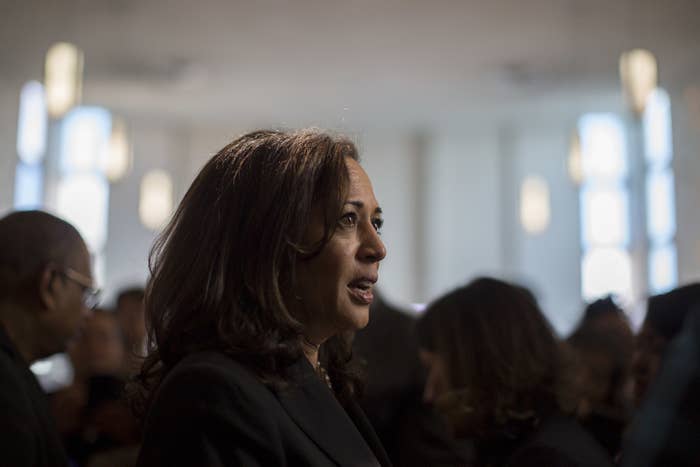 There was some nervous energy late Thursday night inside a self-described "industrial chic venue" near the Washington Convention Center, where this year's Congressional Black Caucus Foundation conference is being held.

Guests mingled and waited alongside the jumbo-sized covers of Ebony Magazine that adorned the walls. Then Senator Kamala Harris emerged from a corner and started straight toward everybody.
"Oh shit," someone said, struck by how she had seemed to appear out of nowhere. "There she is."
The electric response inside the room — a joint event between Ebony and Universal Music Group, sponsored by Airbnb, meant to celebrate Harris, and attended by a warm and receptive group of Democrats — is just how it is in Washington this week for the junior senator from California. Black Democrats want to talk to you about Kamala Harris.
Former Baltimore mayor Stephanie Rawlings-Blake thinks this popularity is because she already has the profile of a national leader — and one who, Rawlings-Blake says, has an understanding of the problems women and a broader set of people face.
"I'm very optimistic that we have someone who is so grounded in the community who wants to seek higher office," she said. Asked if she'd support a Harris run for president, Rawlings-Blake said, "I'm encouraged."
The CBC Foundation conference this year is marked by outright aversion to Trump and some loose but tangible anxiety about the 2018 midterm elections. ("I think," one black Democratic strategist told BuzzFeed News, "there's a pretty good chance we get our fucking clocks cleaned if we don't figure this out.")
But the conversation about Harris here, however, has none of that pessimism. People are willing to talk openly about why the reasons they liked her in the first place are the same reasons they hope she runs for president.
"I think Kamala is an exciting possible candidate. ... She is taking her role in the Senate seriously and putting issues like health care and immigration at the forefront," said Gregory Cendana, a Democratic strategist with California roots. "She's the kind of leadership that the Democratic Party should be lifting up at all levels of government."
"I think she's phenomenal," said Indiana Rep. Andre Carson, who was warmly greeted by Harris. "I think she represents America's future and she has a message. I think it's always time to talk about pushing back against this administration's destructive policies. So whoever's on the horizon we as a party have to gear up and prepare for warfare. I think Kamala represents that promise for America."
On Friday, at another event, while receiving an award from the Black Women's Agenda, Harris said she was a "proud graduate of Howard University" and received thunderous applause from an audience full of women she addressed as "sista girls." She addressed a young woman on the dais, and said that when she's the only one in the room who looks like her, to remember that "we are all in that room with you."
The enthusiasm for Harris, and a Harris presidential run, among black Democrats is already palpable, as the party continues to sort out its ideological and messaging direction after the divisive Sanders–Clinton primary and shocking November defeat.
"There's going to be a lot of buyer's remorse" in 2020, Wisconsin Rep. Gwen Moore told BuzzFeed News. "People are going to be looking for someone who is authentic, genuine, and who's smart and someone who they can rally around."
Moore, who attended the Thursday event with two of Harris's constituents who were also Ready for Kamala, said that she thinks Trump got elected because people who felt dispossessed and left out of the political process. She said she sees in Harris an ability to draw those types of voters because of the genuineness she channels in the public eye.
"Certainly women should be disappointed in the president they got, and Kamala is someone who is not just a woman, but being from California represents an amalgam of people," she said. "She's not bourgeois and her rallying cry is for people who are disenfranchised. She's not afraid to address the plight people face or injustice. I love her."