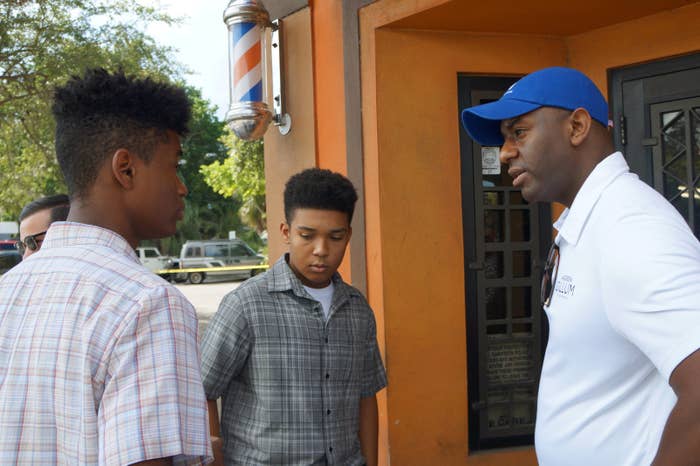 Andrew Gillum walked outside of St. John Primitive Baptist Church, and seemingly everyone was trying to get a piece of him. For a man whose main currency was his own magnetism, he could ill afford as the other candidates in the primary did, to get out of Dodge.
He stopped for pictures with young boys after being introduced to them as their next governor. He took selfies and commented on random policy positions with thoughtful answers. Suddenly, Gillum's eye turned to an older black woman on the verge of tears, holding a dog and a packet of papers inside an envelope. He paused and turned his attention directly to her.
She had nowhere else to turn, talking through tears about an issue that she couldn't resolve that had led to a dispute with an attorney despite her trying and trying. Gillum calmed her down and listened intently, then he instructed one of his aides nearby to have her get in contact with their campaign to see if it could help her.
It was a small gesture on the campaign with too many voter contacts by the candidate himself to count. She had any number of candidates to choose from to go and talk to; they were all there. She chose Gillum and he listened.
Many in the Florida Democratic political ecosystem and media in Florida missed it. It could have been that pollsters, which had Gillum at third or even fourth for most of the campaign, weren't sampling enough black voters — or that Gillum did in fact surge, as his campaign said to a disbelieving political press corps.
But black Floridians all over the state, from Duval County down to Miami-Dade, echoed a sense of duty to make sure that Gillum got elected, citing his charisma, an effect of warmth and empathy, a kind of compassionate progressivism that sees everybody which defined his campaign and in the end catapulted him to victory Tuesday.
Taken together, it was what had a Latino man chasing Gillum's campaign bus down a highway in order to hand him a $300 check. It's what excited Wanda Bonney of Clearwater to say she was going to drive her entire family to the polls, even if it took all day. It was the reason that young people packed out a downtown Jacksonville bar with just a few hours' notice. Two black men riding in a large truck honked and cheered passing Gillum's bus driving from Daytona where black ministers laid hands the candidate. These things, explained communications adviser Kevin Cate, just happen all the time.
Ignoring those people, the people Gillum saw every day, was a good way to ensure not seeing what happened on Tuesday. It's also the case black Democrats have been trying to make all along. Both Gillum and Stacey Abrams' success signal that theory that the voters the Democratic Party calls "low-information voters" or "unlikely voters" can change the course of an election when resources are put into campaigns to engage them. The theory may or may not translate into success in November, but their victories in primaries could quiet the chorus of politicos who believe party the should be trying to win back disaffected Republicans. Democratic activists like Steve Phillips contend that turning the voters out that voted for Abrams and Gillum is actually a numbers game, and the only real viable way forward if the party wants to win. "Something is happening in this country," Phillips said in an email to his followers Tuesday night, "and it's something very, very good."
Few reporters noticed when Gillum was the only candidate to show up to a candidate's forum of the Hillsborough County NAACP, where he ended up winning a whopping 40% of the vote. "It's so lonely over here! Where is everybody at?" he joked before asking the moderator how short he should keep his answers. "[I] wouldn't want to intrude on anyone else's time." There were four empty chairs with the candidates' names beside him.
In interviews with black voters, Gillum represented a political cause worth getting excited over in an environment in which politics are toxic and mostly about Donald Trump. Over and over, they talked about how the moment felt like 2008 all over again. All throughout the campaign he identified himself as the only nonmillionaire in the race, and having someone in office who represented their experience and values, at long last, meant that it was Gillum's time.
"The reason I point that out is I actually do think that it matters that our leaders have more than a talking point sense of what it's like for everyday folks in my state right now," Gillum told BuzzFeed News in June. "I'll never forget watching my mother and father decide which bills they could pay. I remember — I'll never forget arguments that I would overhear with my parents and my mother saying, 'Where are we going to get that from?' And literally hearing them pray that God would make provision the next week, that they would get just enough to put a little bit on the lights so the wouldn't get cut off. And on the occasions where they would get cut off, praying it wouldn't happen over the weekend and that by the end of the week we had what we needed to get them turned back on.
"While that isn't my life today, it's still very fresh in me," he continued, "and so when I'm talking to families who are struggling to make ends meet, which is 46% of the families in our state, it's present with me, and the image of my parents immediately floats back to my mind."
He sat in with demonstrators at the governor's office to get answers for the family of Markeis McGlockton, and when McGlockton's killer was arrested and charged, said, "I am proud to stand shoulder-to-shoulder with them — and even sit-in when called upon — to make sure Britany Jacobs, Monica Moore-Robinson, Michael McGlockton, and Markeis's children get the justice they deserve."
Gillum was with a group that included Jacobs, who was waiting to speak the governor's office about what she and her family had gone through. Gillum called the governor cellphone and spoke to an aide, but no one would meet with her, so she left. When the activists were going to sit in, in a gesture of protest, the Rev. R.B. Holmes advised Gillum to leave since he was running for governor: "Brother Mayor, you're running for governor, you need to go." He hesitated briefly, then sat with other community leaders on the on the floor.