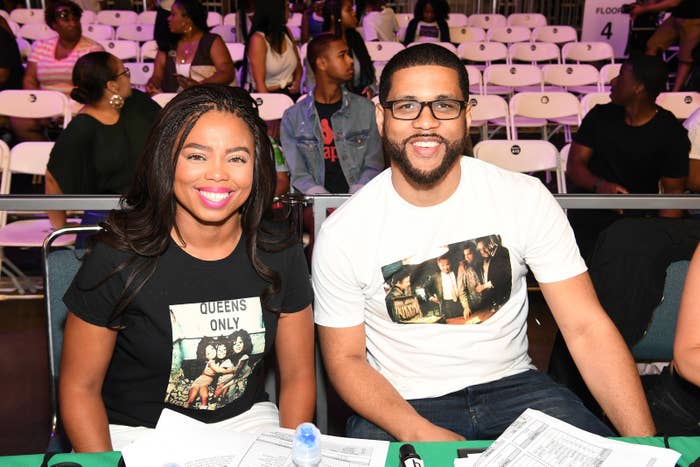 The leader of a group advocating for black sports journalists says he disagrees with ESPN's decision to suspend Jemele Hill for two weeks.

Sherrod Blakely, a Boston-based basketball writer and president of the National Association of Black Journalists Sports Task Force, told BuzzFeed News in an email that he disagreed with ESPN's decision to suspend Hill. He said that NABJ's relationship with ESPN — the network is, for instance, listed as a partner to NABJ's conference this year, and the network and organization cosponsor an internship — has no bearing on decisions as it relates to Hill.
"How many people ESPN employs that are members of the NABJ Sports Task Force didn't play a factor in the positions I have taken in the past in relation to Ms. Hill or our other members, and that will not change," Blakely said in the email to BuzzFeed News.
NABJ President Sarah Glover did not respond to an email inquiry from BuzzFeed News regarding why NABJ hasn't commented publicly on Hill's suspension.
Black journalists in sports media are grappling with how to address Hill's situation — that of a prominent journalist disciplined for sharing strong opinions on race, sports, and the sports industry. President Trump's Tuesday morning declaration that Hill's presence on ESPN is the reason why ESPN's rankings are tanking, a source inside the organization said, has made other black journalists even madder than they were over Hill's suspension.
ESPN is one of, if not the, largest employers of black sports journalists. But Blakely signaled that the task force is prepared to deal strongly with ESPN should it come to that.
"As far as advocating for Ms. Hill, I believe my track record speaks for itself," wrote Blakely. "When Ms. Hill was being attacked on several fronts, including [from] the White House, the Sports Task Force was the only group who made it clear to all that she had our support which led to me quickly garnering the backing of the National NABJ board to support our position."
After Hill described Trump as a white supremacist, the task force along with NABJ commented on Hill's standing as a well-respected veteran journalist and a consummate professional. "That withstanding, the National Association of Black Journalists supports Hill's First Amendment rights on all matters of discussion, within and outside the world of sports, as they do not impinge on her duties as a host and commentator," the NABJ statement said.
Current ESPN employees declined to speak on the record about Hill or Trump. But privately, many black journalists have expressed dismay at the difficulty of providing sports coverage in the current climate when black athletes are under attack for protesting inequality, police brutality, and racism — all deeply personal issues animating the national conversation and the subtext of the current NFL season.
Blakely's statement is important; several journalists expressed anger at having no outlet for their frustrations because they weren't authorized to speak about them publicly or on social media.
NABJ had not yet given a public position on Hill's suspension, leading some to speculate that they would not be weighing because Trump calling Hill out by name escalated the situation — or that the importance of ESPN would affect their willingness to do so.
"Any media association that partners with NABJ knows one of our goals is to represent our membership," said a former board member still close to the organization's leadership. "I'm confident that our relationship history with ESPN will continue to evolve. I am sure Jemele would say she does not want to have any negative impact on the Mentor Breakfast that ESPN has sponsored for years because of what it does to help our young, aspiring journalists. But I know the Task Force leadership will address any concerns with the ESPN if the occasion arises."