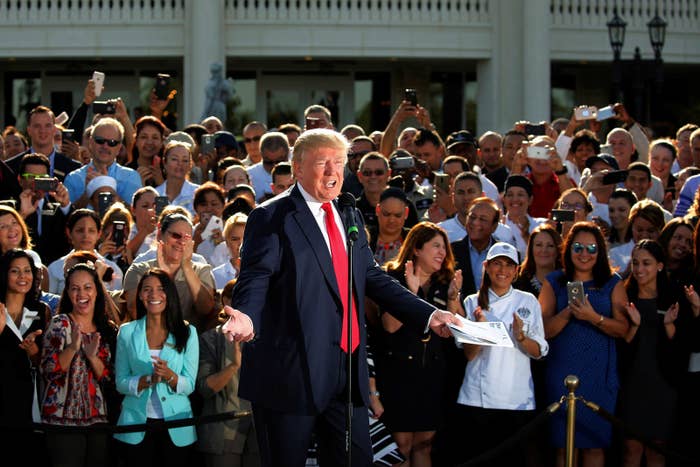 WASHINGTON — Sharila Taylor, a black Republican candidate for state representative in Cleveland, wants to talk to voters about her ideas reentry, entrepreneurship, early childhood development, and urban development.

In turn, they want to talk to her about Donald Trump.
In the final two weeks of the election, dozens of black Republican down-ballot candidates are running to keep seats on city councils, in state houses and trying unseat incumbents. But Donald Trump's erratic behavior on the campaign trail — particularly his black outreach and slipshod rhetoric about black voters — poses a severe challenge to black Republicans who need black votes and are fixtures in communities that are primarily black.
It's a philosophical challenge to the Republicans, loyal conservatives who are mired in — and perhaps resigned to — a battle to preserve majorities in the House and the Senate, or especially in even more local races in states, but who have to deal almost daily with every last outlandish thing Trump says.
But Trump's campaigning also carries a political reality for black Republican candidates fighting hard in majority Democratic districts.
In an RNC-funded initiative taking the Republican message to barbershops, Taylor gave her platform and pitch — and asked for the vote. A barber cutting hair asked a question that amounted to, "What about Donald Trump?"
According to people in the room, it didn't go well.
"I usually don't speak about Donald Trump, but my reply [there] was, you know, about bringing it back to the state level," Taylor told BuzzFeed News by phone. "We have a lot of the same views on fixing the inner city, bringing back jobs and growth. Not everyone wants a job. Some people want to be business owners. But we have a lot of the same views on fixing the inner city."
The Republican National Committee is jumping in. A Republican source said during a black engagement call last week, senior strategist Ashley Bell said the RNC was coming up with a television ad to highlight the positive happening in black communities, an aspect the Republican nominee has seldom acknowledged.
The messaging of the ad, Bell said according to a source, would note how conservative principles can help lift up the black community.
But candidates wonder if too much damage has been done to the party's brand where they rely on the votes of people who typically lean Democratic. Trump once identified a black man at a rally as, "my African-American." He's referred to black voters as "the African-Americans."
"They are anti-Trump, by and large," said Lenny McAllister, who is running for Congress in Pennsylvania. "They believe that he is correct in saying that Democrats take the black vote for granted and have done very little to earn it. However, they mostly also believe that he is not the right candidate to 'bring' black folks and Republicans together."
McAllister contends that some of these same voters will vote split ticket — "for the first time ever for some of these folks" — to elect Pittsburgh's first black congressman, and against Trump.
Meanwhile, Taylor is voting for Trump, but fights away questions about him by saying he can't speak to the issues in local communities affecting voters everyday.
When it comes to Trump, "I honestly try to remind people that it's about the state-level politicians. What we really need here in Cleveland can be accomplished at the state level."
Glo Smith, who is running for Congress in Florida told BuzzFeed News voters she's undecided in the presidential. "I'm running in Florida's 5th district and that's where my concern is," she said.

The choice in the election is "a personal issue."
Republicans in Washington say they've been surprised by the amount of support she's gathered as a relative newcomer, but she's asked about Trump all the time.
"I've been told, 'Stay out of the presidential, run your race,'" by Democrats supporting her, Smith said. "I have my own race to run."