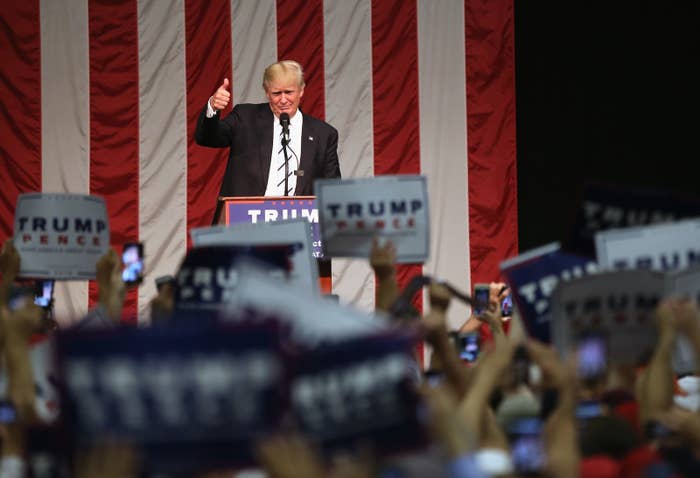 WASHINGTON — In many ways, Donald Trump's speech in Wisconsin addressing disillusioned black Americans was exactly what black Republicans had been looking for: a measured, read-from-teleprompter speech on which to hang their hats, a rhetorical justification from the candidate that, for all of his professed affinity for his African-Americans, he still cared about trying get their vote.
"I'm asking for the vote of every African-American citizen struggling in our country today who wants a different and much better future," Trump said. "It's time for our society to address some honest and very very difficult choices. The Democratic Party has failed and betrayed the African-American community."
But black Republicans are privately fuming about the emphasis Trump insiders place on white turnout and watching for — in the words of one senior Republican strategist — "heated rhetoric" they believe is designed to turn out a segment of the white vote that is anathema to their strictly conservative and racially proud wing of the Republican Party. Black Republicans once intrigued by the prospect of a Trump candidacy are now thoroughly perplexed by it. That frustration is expected to be a central theme of a national call Thursday night featuring operatives from the campaign and the Republican National Committee as well as black Republican down-ballot candidates and activists.
"There are ways to reach black voters," a Congressional aide said. "And promising to restore law and order ain't it."
The new leadership inside the Trump campaign is not expected to be part of the call, being billed in an email circulating as the "RNC African American Engagement Update."
"I think they want to see a sign that he's trying," said one well-known Republican who was granted anonymity to speak freely. "Any sign. Every politician does it. It's not rocket science. Kiss babies. Shake hands. You hope and you hope but at some point you wonder, 'Is this going to happen?' It's three weeks [after the convention] and we're still talking about it.'"
The RNC said it remains committed to black outreach — the committee hired three black consultants earlier this month. "Under Chairman Priebus, the RNC has made a commitment and invested resources into engaging and building relationships across the African-American community," RNC spokesperson Telly Lovelace said in an email to BuzzFeed News. "We remain committed to this effort. Through programs such as the Republican Leadership Initiative, we will continue to work with and train those African-American Republicans ready to support Republican candidates this cycle and beyond."
But black Republicans are frustrated with the overall climate. Hillary Clinton has dominated ad spending in swing states with significant black communities. She's hiring field staff and organizers on the ground. Her running mate is impressing crowds at the annual meetings of the National Urban League and Progressive National Baptist Conventions. With black voters, Trump remains at or near 1%. And no one, not even on the campaign, seems to know how many black staffers actually are working for Trump.
In June, a group of Republicans displeased with the RNC's minority outreach sent a letter to the RNC, writing that Trump had "caused massive defection, disgust, and disinterest with comments and behaviors that are offensive to the very demographics groups we need to win this election" and that their research showed the "unrealized potential for the GOP to do better among minorities in this election cycle."
The letter annoyed prominent black Republicans all over the country; even as many agreed with its content, they let it be known that there are better, less public ways to deal with frustration. The Trump campaign's outreach efforts haven't gotten better, the source said, and the campaign is showing little promise that it will. It led this source to believe that there is a movement by some black Republicans to endorse Clinton.
"'Black Republicans for Hillary,'" the source said, moving their hands apart, looking up as if to see the words on a marquee. "Look at what Clinton's doing. Are we doing any of that?"
Charles Badger, an anti-Trump aide who worked for Jeb Bush in the Republican primary, told BuzzFeed News he's voting for Clinton. "I don't know of any effort. But I've personally offered my help to her people. Told them I'll do whatever they need."
"Trump's 'What have Democrats done for you lately, black people?' act is old," Badger continued. "[It's been] done better, by better, many, many times before. It's so old and tired, not to mention insulting."
Niger Innis, the Congress of Racial Equality's national spokesperson, said he'd never vote for Clinton, but agreed on black outreach that Trump "needs to ramp it up for sure."
Trump asked for the black vote Tuesday. But some black Republicans said the message didn't jibe with how black people have been treated by members of the campaign. Several black Republicans referred to an incident involving Sean P. Jackson, a young Floridian Republican strategist. Jackson, whose plan to reach black voters has reached the inboxes of select black conservatives in his state and nationally, recently told friends that the Trump campaign's chief Florida strategist, Karen Giorno, told him during that primary that Trump didn't need his "classification of people" to get elected.
At a recent event in Florida, two sources said Jackson was approached by Secret Service and escorted out of the event. But when he confronted Giorno to vouch for him, a source said she declined to acknowledge Jackson, the chairman of the Black Republican Caucus of Florida, a group that once hosted Dr. Ben Carson.
Giorno did not respond to an email seeking comment.
According to Jackson, he first reached out to Giorno in January. He said the state's Republican leadership needed to "get on the ball" when it came to trying to reach black voters. Jackson said Giorno got annoyed when Jackson sent an email to her and then-campaign manager Corey Lewandowski. "I made it clear we had to start sooner than later. You can't afford to come 100 days before the election and expect to do anything. It just won't happen. They will look at you like an opportunist."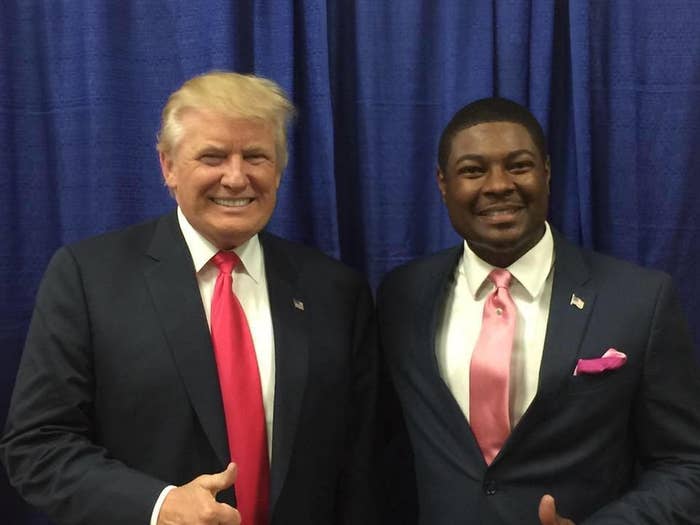 But according to Jackson, Giorno told him in person during the primary that Trump didn't need black voters to win, "I was just floored," Jackson told BuzzFeed News. "I didn't know what to say to it. I'm, like, she actually said that to me."
The Trump campaign denies the encounter. On Monday, a Trump spokesperson said "the campaign is committed to earning votes from all communities, and especially the African American community and that it denies "any accusations made by Sean P. Jackson and his baseless claims have no merit."

"Mr. Jackson's complaint with the campaign stems from being disgruntled when the campaign did not retain his services," the spokesperson said in an email. "The campaign has continued its outreach to the African American community and has made several key hires to strengthen our engagement program."
Black conservatives were buzzing about the Jackson incident because Jackson had worked closely with the Trump campaign and was a fixture at the RNC in Cleveland, which was low on young black delegates, surrogates, and media personalities.
That dearth is frustrating to many black Republicans, as is Trump's failure to speak before black organizations like the NAACP and Urban League. One strategist observed, "He's from New York. He must have been to the Apollo at some point and knows that black people will boo your ass off the stage if you don't come correct. But it's no excuse. He has to address black America."
On national calls like the one happening Thursday night, there is usually a point at which the principals open the line for questions. People briefed on the organization of the call said they expect people to vent about the lack of awareness over what the Trump campaign is doing to reach voters and the lack of a sense of how they can help. One aide described a recent Latino engagement call as "very lively — if you had an issue, that was the time to get it out."
A frustrated aide working in a battleground state said they hoped the call produced talking points that go beyond attacking Clinton on Libya and her emails. "It seems like you can get talking points on that all day," the aide said. "But when it comes to black youth unemployment, or addressing job creation or education or HBCUs, there's nothing. What is Trump going to do for HBCUs? Clinton has a plan. Where's his?"
Annoyed Republicans are also worried that certain representatives from the campaign are not a good representation for either the campaign, the nominee, or the party. Senior Republicans described the duo of "Diamond and Silk" as the kind of schtick serious black conservatives dislike. "White conservatives love them," one senior Republican who cringed at their encounter with the journalist Roland Martin at the RNC, and who is voting for Trump, said, "because they're saying exactly what they want them to say."
For now, there's a desire to see Trump run a more conventional campaign, but wide pessimism that he actually will. "At some point you have you think he's going to pick up the traditional playbook and fight for black votes," a black Republican said. "Because right now, if he were to win this election based on the white vote it would just be, like, wow. They were right. They didn't need us. I guess I'd be a registered Independent."