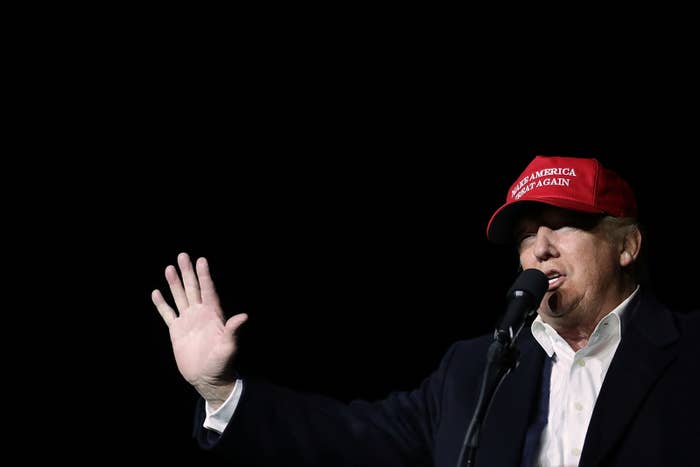 WASHINGTON — Black Republicans are planning a transition team breakfast at Trump Tower in the event Donald Trump wins on Election Day, three Republican sources tell BuzzFeed News.

Its architects are the RNC's Elroy Sailor, former George W. Bush administration official Kay Cole James, and Ken Blackwell, according to a source familiar with the planning.
The question over potential black appointments in a Trump administration is an extremely important topic to black Republicans supporting Trump. A half-dozen said they were either going to New York for the potential breakfast or were thinking about it — and while uncertain about Trump's prospects for victory, said that they believed they needed to get in his ear immediately.
Two Republicans, who asked to speak anonymously about the mood of black Republicans, said one strand of thought inside their insular, but influential wing of the party concerns black voters in swing states who are secretly voting for Trump. It's not immediately clear how many black shadow votes there are out there, but black Republicans — generally — see view tightening polls as a good sign. They also want to increase the level of engagement in some of the local communities.
Trump has been a source of immense frustration to Republicans interested in expanding the party's base beyond older white voters.
In the final days of the election, some black Republicans have been trying to make a closing argument of their own to voters in battlegrounds. Privately, they are pushing to increasingly frame Tim Scott, 51, as a national leader on issues important to black voters, and as a credible, senior voice in national politics.
Scott tested out this role Saturday. The junior senator from South Carolina held forth last week with thousands of black voters in Ohio, North Carolina, Pennsylvania, and Florida on a 30-minute tele-town hall sponsored by the Republican National Committee. The party's data specialist, Shannon Reeves, led an effort identifying persuadable voters, or voters at least open-minded to voting Republican.
"We see him as someone who can take the mantle and really be viewed as somebody that can be a national leader," a Republican source from a southern state said.
The call focused on accomplishments of Republican state legislatures on matters of criminal justice, Scott's speech on the Senate floor on race, as well as his own and others' legislation with respect to body cameras.
"This Saturday the RNC was proud to have U.S. Senator Tim Scott join us in giving our closing message to thousands of targeted black voters in Florida, Pennsylvania, North Carolina and Ohio via a live tele-townhall answering questions directly from the black community," said Ashley Bell, the RNC's senior strategist and national director of African-American engagement said in an email to BuzzFeed News.
Scott highlighted what southern Republican legislatures are doing to reduce effects of mass incarceration in places like Georgia and the Palmetto State.
"It's a tough job to do it because we haven't been present," a source said.
Bell, however, points to the African-American RNC Advisory Councils, which he says has allowed the party to take its message to HBCUs across the battlegrounds from Cheyney University in Pennsylvania, to Edgar Waters in Florida. The RNC just released a positive ad, which highlighted the black community and asked for the vote of black Americans — and did not mention Trump specifically. Many see this as a start.
"We are building not just for this election but for the future — which is why the RNC donated $2,000 last week to the newly re-chartered Howard University College Republicans," Bell said in an email to BuzzFeed News. "In every battleground state, we have held successful barbershop chats where the RNC has sponsored Q&As at black barbershops allowing our campaigns to engage with black voters."
But it's anyone's guess if Scott is the leader that can bring black voters into the party. He's been outspoken on matters of race, and RNC officials are pleasantly surprised with his level of name ID in many of the places they visited engaging black voters in swing states.
But on the call, he reportedly didn't mention the party's nominee — not even once.