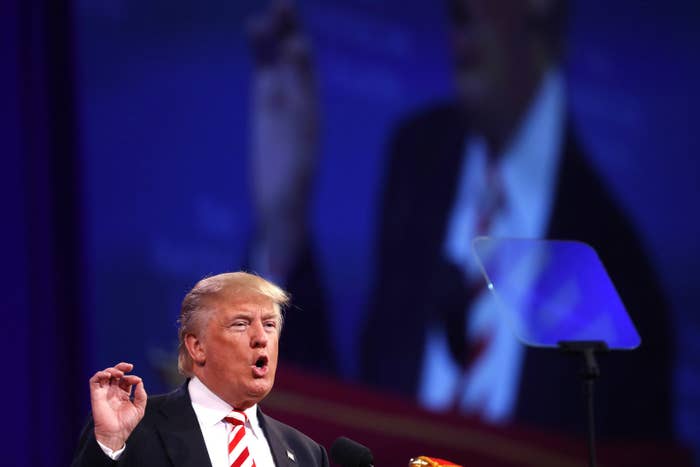 On Saturday, Donald Trump will sit down for an interview with Wayne T. Jackson, a pastor in Michigan as part of his tentative black outreach efforts — and black Republicans are fuming.

For one thing, they say, Jackson isn't conservative and doesn't support Trump. But Jackson also presided over a ordination ritual some time ago that became a source of viral controversy.
The video published in 2013 shows Jackson mounting two male bishops on the ground as part of an "consecration" ceremony; the video drew scrutiny, with some criticizing it as sexual, and others saying it wasn't sexual, but had no place in the church. Now it's leading some conservative black Republican evangelicals and strategists to question the Trump campaign's commitment to black outreach.
In interviews with black Republicans, several speaking on the condition of anonymity said they didn't understand why the Trump campaign decided to go with Jackson, an unknown in black Republican circles. "We feel like they're being ignored, that the campaign just doesn't want to work with us."
RNC strategist Telly Lovelace fielded a flood calls from black Republicans wanting to express their displeasure with the campaign's decision. Lovelace, two sources said, responded saying it was just that — the campaign's decision. Reached by BuzzFeed News, Lovelace declined to comment. A phone call to Jackson's church was not answered and the voicemail inbox was full.
Jackson's interview with Trump will be shown on Jackson's Impact Network, which bills itself as as the only black "founded and operated national Christian TV network." Jackson's church is no longer called Impact Ministries International (churches often change names). Now called Great Faith Ministries, Jackson says he doesn't support Trump, but that he owes it to his viewers and to Trump to allow him to address black voters. He told The Detroit News he plans to ask Trump if he is a racist.
Black conservatives have a litany of names they believe the campaign should have reached out to, including Rev. Gary Plummer, a prominent Detroit pastor who is the director of missions for the Church of God In Christ, and Rev. Roland Caldwell of Burnette Inspirations Baptist Church. At the same time, they understood that part of Trump's strategy is to not spend the ad dollars in favor of free media like what Impact Network offers.
"You've got people in Detroit like Rev. Keith Butler who is a known entity national and locally, with credibility and credentials with Republicans," said Raynard Jackson, the founder and chairman Black Americans for a Better Future PAC. "For the campaign to go with to self-professed Democrat who stated that he is not a Trump supporter of Trump is problematic."
The selection showed the Trump campaign didn't vet properly, said Rev. Ralph Chittams, the senior vice chairman for the Republican Party of the District of Columbia and an associate minister with the Forest Hill New Redeemer Baptist Church. Trump's campaign did not immediately respond on Thursday to an email message seeking comment on either the sentiment in this story or the video.
"In my network, our question is why would Mr. Trump, in his first foray reaching out to the black community go talk to this clown, the humping Bishop?" Chittams told BuzzFeed News. "To me, there's no sexual connotation to what he did. But find me one seminarian who doesn't think it wasn't pure and utter foolishness that has no Biblical foundation whatsoever."
Evangelicals have long criticized the ordination ritual, saying it had no biblical grounding.
In the ceremony, Jackson tells the men, "You got to be buried… you got to die." With the contemporary gospel song "I Give Myself Away" playing in the background, the men first laid face down on the ground. In the video depicting the ritual, Jackson circles them a number of times, appearing to grab their ankles. When the two men were covered, face down, in white sheets, Jackson then covered them in another red sheet, and promptly laid on top of each of them, one at a time, to the audience's approval. After being helped up, Jackson removed the sheets.

Jackson defended the act to Fox 2 Detroit as nonsexual, saying the bishops were being consecrated under his authority. "For somebody to take that and try to use that, you know, in a perverted way, we pray for them. We walk in love," he said in an interview with Fox 2 Detroit. He lambasted detractors, saying, "if you're ignorant about something, you need to shut up."
Some evidence shows that Jackson's supporters worked to have the videos removed from the internet. Before one, on a YouTube channel titled "Exit Churchianity," a script reads "Attention Wayne Jackson defenders: A false DMCA complaint was filed against this video, so I filed a counter-notice to pursue legal action. In response, YouTube RESTORED this video. So if you try to censor criticism of this video by filing a false DMCA complaint, I will pursue legal action against you. LET IT BE KNOWN."
Republican operatives and evangelicals say there is real outreach to be done with black Republicans.
"We're all catching all kinds of grief simply by being members of the party of Lincoln. Come talk to us," Chittams said.
Raynard Jackson said it's embarrassing to loyal black Republicans that the Trump campaign would look past Marvin Winans of Perfecting Church is "political malpractice."
Added Chittam, "We want to support the nominee, but that nominee needs to talk to black conservatives and Republicans, and not this Democrat. He needs to come to talk to us and earn that support. Give us the reason to support you."