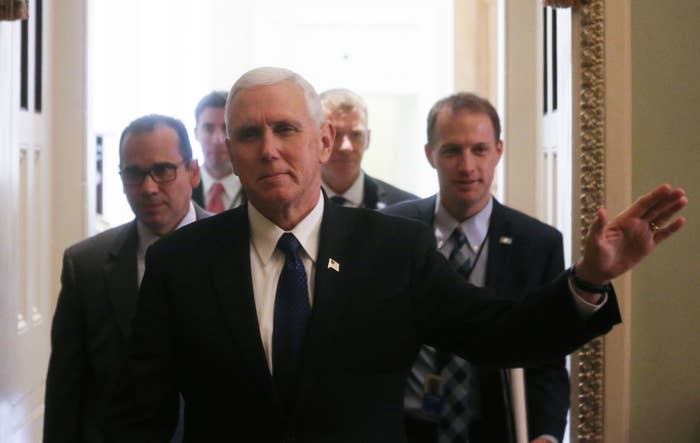 WASHINGTON — Vice President Mike Pence will deliver remarks at an awards dinner Thursday at the United States Military Academy and participate in a round table with black cadets.
A White House official said black Republican leaders desiring to meet with the vice president will not be part of the round table.
Black Republicans are currently in a frenzy over the issue of inclusion in the current administration, where appointments of longtime black Republicans are few. One person familiar with the meeting but not authorized to speak on the record in part because the meeting hadn't been made public, said she was frustrated over of the lack of "committed and dedicated" black Republicans making an imprint saying, "It's time to ask, where is the substance?"

On Thursday, Pence is also supposed to address West Point cadets, acknowledging the achievements of black Americans as part of the White House's continued commemoration of Black History Month — which it's dubbed, ostensibly, as "National African-American History Month." It's unclear, however if he'll meet with West Point cadets that caused a furor online when they posted a picture, fists raised (intended as a show of solidarity with the black struggle for equality), in their uniforms.
For some the engagement harkens back to Pence's time on Capitol Hill where, according to one prominent black Republican leader, he enjoyed a strong rapport with black Republican members of the party.
Pence has been a magnet for criticism from protesters and Democrats online — he recently came under fire from critics who accused him of whitewashing Black History Month for the following tweet: "As #BlackHistoryMonth begins we remember Pres. Lincoln submitted the 13th Amendment ending slavery to the states, #NationalFreedomDay." The tweet prompted critics, largely black Twitter users, to mock him for honoring a white man with regard to black history.
(The amendment itself has also been a source of scrutiny recently among activists and cultural writers: The film director Ava Duvernay released a documentary titled 13th, which explores the amendment's language declaring slavery illegal "except as punishment for a crime.")
What followed was the social media hashtag #PenceBlackHistory; users derisively posted exaggerated black history facts that largely gave white people credit for accomplishments black people had made.
But black Republicans approached Pence's office — not the other way around, the sources said repeatedly. On the right, there are few such tensions, and people are pleased by the Pence meeting. In fact, the meeting, sources said, is a reversal of a feeling many feel is best encapsulated by an old black Republican maxim: that the best way to be seen as black Republican is to be a black Democrat.