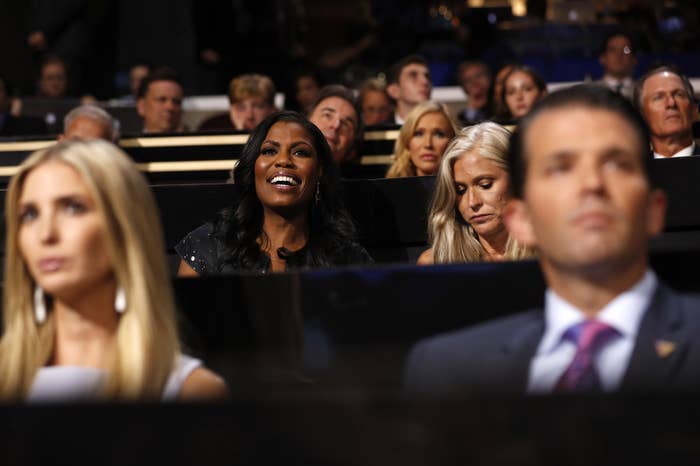 CLEVELAND — Black Republican delegates overwhelmingly support the Trump campaign putting Omarosa Manigault — the former Apprentice contestant — in charge of black outreach, despite lingering questions over her party identification and influence with black political and civil rights leaders.

There hasn't been a formal campaign announcement regarding Manigault's hiring; Manigault herself made the announcement on an appearance on MSNBC in which she defended the campaign's ability to draw in black voters.
But black delegates say Manigault is the right operative for the job because of her close relationship to Trump, taking priority over concerns she worked in the Clinton administration and isn't seen as having conventional political connections in black America.
"We get hung up on how long someone's been a Democrat," Michael Barnett, the Palm Beach County Republican Party Chair said in an interview with BuzzFeed News. "People see the light on their deathbed or early in life. But if you really believe in our mission and candidate then everybody's welcome."
Barnett, who met Manigault earlier this month at the National Diversity Coalition for Trump's meeting at the RNC in Washington, said she "seemed like a real sweetheart" and that she good idea how to bring minorities into the campaign and supporting Trump.
"The reality is we're not going to move forward with the same party," he said. "Trump is building a real coalition and it's going to take independents and Democrats to make America safer, make us more financially, economically secure. It's a message that we're gravitating to and promoting."
Some delegates that met Manigault described here as an affable, charismatic, and task-oriented. But nearly every black Republican supporting the campaign said the same thing: Her most important attribute is her close personal relationship with the candidate.
"She is a very strong and sound businesswoman," Sean Jackson, the chair of the Black Republican Caucus of Florida said. "She's politically savvy and she knows the intricacies and the ins and outs of Washington, D.C., and she's very good when it comes to strategizing. But most important is her relationship with Mr. Trump of over 13 years. She knows the heart and character of this man and that makes it easy to vouch for him to black voters."
Kory Boone, a delegate from Maryland who is chair of its young Republicans, said he was optimistic the hire meant outreach was moving forward. But Boone said he was unsure how effective Manigault would be in the position because establishment candidates for it usually fit a certain mold — like being connected in the civil rights community.
"I'm not sure who her friends are, what circles she's involved with, or if she's a part of any black orgs, so I'm not sure how effective she'll be effective she'll be recruiting African Americans," Boone said. "If she was a member of NAACP or Urban League, I would say she has some influence. Not to say that's the only way to reach black people but it helps."
Manigault is perhaps best-known for her villainous turn on NBC's The Apprentice.
"What people realize when they first meet Omarosa is that she's sincere and down-to-earth," Jackson said. "It is very easy for anybody to meet Omarosa and instantly fall in love with her."
Parson Hicks, a delegate from Massachusetts said she was happy that Trump finally put someone in the position and that she was excited to see it was an area Trump was beginning to focus on — even if Manigault lacks the campaign experience.
"What I know is that Donald Trump surrounds himself with people that he trusts," Hicks said. "I do think that for someone in that position it's helpful to have some of that experience, but I imagine she'll people around to help her. Like any position, you have the best people around you to help."
"But what we've seen from Trump is that he values people who he's worked with. I think he knows there aren't too many people in the establishment who care for him."