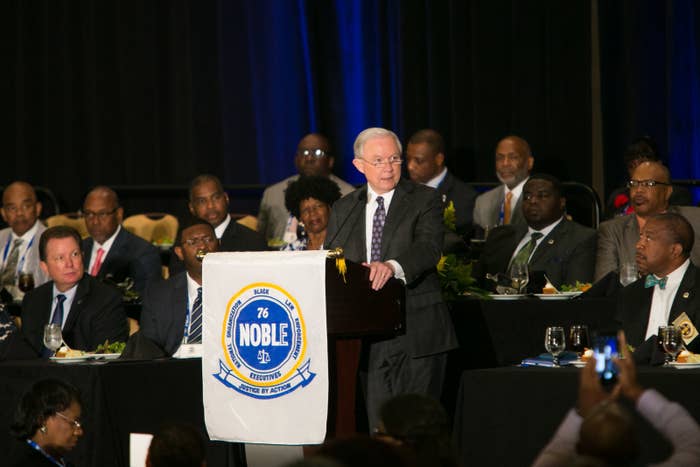 Attorney General Jeff Sessions acknowledged in a private meeting that President Trump's comments to a law enforcement group in New York "didn't do a lot to support what we're attempting to do," according to Perry Tarrant, the president of the National Organization of Black Law Enforcement Executives.

Sessions — whose future as attorney general is, by the president's own account, uncertain — spoke publicly on Tuesday in Atlanta to black law enforcement officials, then met privately for 25 minutes with the law enforcement advocacy group eager for a seat at the table when issues that impact law enforcement are decided at the federal level.
Trump annoyed many in the law enforcement community when he said late last week that officers need not "be so nice" when handling people taken into custody. According to a source inside the room, Sessions noted that Trump was not a member of the profession and said he made the comments in jest, as White House press secretary Sarah Huckabee Sanders has also contended this week. (NOBLE was among the national organizations who responded to Trump, saying they did not share his views.)
Reached Tuesday evening, a Justice Department official referred BuzzFeed News to Sessions' public statements.
Tarrant described Sessions as authentic, talkative, and thoughtful during the exchange, saying that he former senator spoke at length about his background as a lawyer and prosecutor, seeming to want to make the connection with the NOBLE leadership board.
Tarrant also said that his group sought to gauge the attorney general's interest and support of their public stances on consent decrees and use-of-force guidelines. A source familiar with the planning said Sessions' office initially requested the meeting and wanted to do lunch.
On Tuesday afternoon, Sessions focused his remarks to the group mostly on the theme of reducing crime. "We have your back," Sessions said according to the Atlanta Journal-Constitution. "We're in this together."
In the meeting, Sessions was asked if he was familiar with two of the group's main priorities. The group wanted to know what use-of-force guidelines he supported or if he had have concerns about what Tarrant describes as the "model policy" the group wants to see implemented. That policy emphasizes officer training in de-escalation and problem-solving tactics, and promotes the use of less lethal tools like pepper spray and tasers.
Tarrant said comments like Trump's can have a "chilling" effect on processes that can result in more safety for officers and civilians alike, but that Sessions was receptive to the concerns of NOBLE, which is set to have a changeover in leadership.
The group and Sessions agree that there is a problem with the over-application of some consent decrees, which can tend to be a financial burden. Tarrant agreed with a Sessions sentiment that inside police departments it can be "demoralizing" to be told that you're not good enough.
"I think he has a better understanding of NOBLE and our bandwidth and tenacity and commitment to being the conscience of law enforcement" in the United States, Tarrant said.