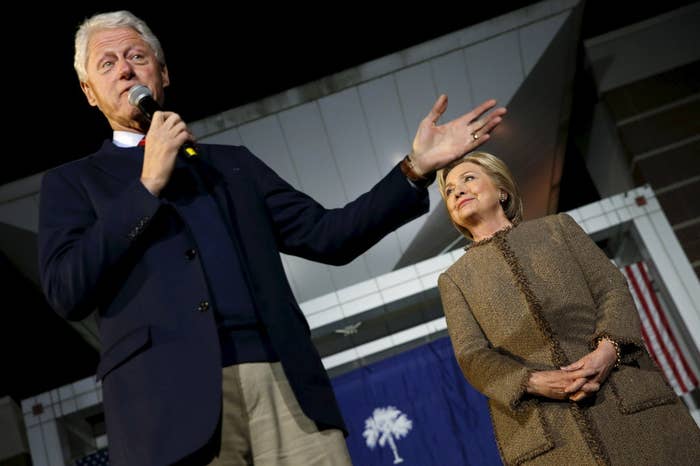 WASHINGTON — Bill Clinton's squabble with Black Lives Matter protesters in Philadelphia has riled a bloc of activists inside the movement who are dubious about electoral politics — and are vowing not to vote this year.
The activists say history has shown the ballot box to be an insufficient vehicle for radical freedom. They continue to be underwhelmed by the candidates. And now they are just furious with Bill Clinton.
If Hillary Clinton wins the Democratic nomination, some organizers envision a long crusade this summer against what they call the Clintons' anti-blackness, including a public campaign to tell black Americans not to cast votes for her.
The position isn't new in the decades-long debate about civil rights tactics. And the idea that young black activists will tell people not to vote upsets the other side: the Civil Rights-era generation of activists who fought for the right to vote.
The former president, who defended the 1994 crime bill and his wife's usage of the term "superpredator" in front of protesters in Philadelphia, saying the bill reduced crime, is the target of pointed, but hardly new, activist criticism. "I don't know how you would characterize the gang leaders who got 13-year-old kids hopped on crack and sent them out on the street to murder other African-American children," Bill Clinton said. "Maybe you thought they were good citizens. She didn't. You are defending the people who kill the lives you say matter. Tell the truth."
Activists told BuzzFeed News they are not participating in the election, saying Bill Clinton's assertion that the movement is defending drug dealers who had killed the people they say matter exhibits a lack of understanding of what the movement is about.
They are frustrated that, despite Hillary Clinton's engagement with movement leaders, Bill Clinton's comments seem to ignore or reject a core tenet of the movement: that every black life — even the criminals, drug dealers and nonviolent offenders his administration's put away for lengthy periods of time — is valuable.
"The presidential election has revealed that there is still a tremendous amount of work that remains and we need to rethink the way in which we engage with the American political process," Pete Haviland-Eduah, the co-policy chair for Million Hoodies Movement for Justice told BuzzFeed News. "President Clinton's comments have highlighted that less has been done by establishment politicians to truly understand these folks then some may like to believe. Its is clear that the candidates are hearing the movement, but I'm not sure if they are really listening."
Dante Barry, the founder of Million Hoodies Movement for Justice, expressing his frustration in a series of Facebook posts, seemed to suggest that Bill Clinton's comments about the movement would trigger a change in course.
"Between Hillary Clinton's bogus apology for calling young [black] people super predators in the 90s, [to] Bill Clinton's crime bill, to Bill Clinton's comments today," Barry wrote. "This is nothing new. They are anti-black. They believe in anti blackness. This is a fact."
"You either love Black people or you don't. If you don't, be prepared to feel the fire under your feet because...we coming."
The diffuse, decentralized movement has been quietly strategizing about how to build sustainable systems by bringing the people on the fringes to the forefront of organizing around issues like police brutality, safety for transgender women, and the Flint water crisis.
In this evolution — from "the street to Slack," as one organizer put it — the movement has largely, but not exclusively, sought to characterize the political process as 'exclusionary,' while activists have struggled to make the movement radically inclusive. On organizing calls, activists speak of broken promises and political pandering, even as the campaigns have reached out to groups in the movement with varying levels of success.
But Civil-Rights era leaders and politicians who are sensitive to the movement for black lives reject the idea that protesting elections is a good thing.
"What we say to young activists who are not involved [in the election] is the things we are concerned about will either move forward or go backwards based on who's elected," the Rev. Al Sharpton told BuzzFeed News after a meeting he and other civil rights leaders attended with President Obama. "All of us should vote, otherwise what Mr. Obama has done as president cannot continue."
That day, a Black Lives Matter Chicago organizer named Aislinn Pulley declined her invitation to the meeting, saying that she "could not, with any integrity, participate in such a sham that would only serve to legitimize the false narrative that the government is working to end police brutality and the institutional racism that fuels it."
Rep. Jim Clyburn, the third-ranking member in the House and a founding member of the Student Nonviolent Coordinating Committee (SNCC) in the 1960s, criticized that stance, and the position some activists have begun to take on the 2016 election.
"If you really want somebody to have sensitivity for your issue, you can't refuse to sit down with them," Clyburn told BuzzFeed News in an interview. "If the White House offered you an invitation for you to sit down and talk about what you want to talk about, and you say you aren't going to talk — well, you'd get mad if you ask for a meeting and the White House turned you down."
Clyburn said he hears about a supposed tension between BLM and Civil Rights-era leaders, but he said he doesn't feel it, and that he, in fact, feels connected to them, saying he views them as the SNCC of the 21st century. Tactical disagreements are part of organizing, he said. "People today are a bit nervous about Black Lives Matter. I'm not nervous at all. I embrace them. I do what I can to be helpful to them and I don't have any problem with what they're doing."
But Clyburn said SNCC was heavily involved in presidential politics and said BLM would be making a "horrible mistake" by boycotting the election.
Clyburn said he remembers similar calls to boycott the election in 1968 and 1980 that he believed siphoned off votes and gave the elections to Richard Nixon and Ronald Reagan, respectively.
"We should not be emotional about this," Clyburn said. "Young people ought to sit down and think about the consequences of your actions. I think you're shortchanging yourselves and the future when you say you're going to boycott presidential elections. That's the dumbest ass thing I ever heard in my damn life.
"Because somebody next Jan. 20 is going to be sworn in to be president for the next four years, and probably for the next eight years," he continued. "And your boycott of it could cause the most progressive person in the lot to lose the election."