Black Lives Matter Asks Presidential Candidates: What Side Are You On?
Saturday's protest at Netroots was just the beginning. And activists say the Clinton campaign hasn't engaged them, and her Facebook answer is not enough.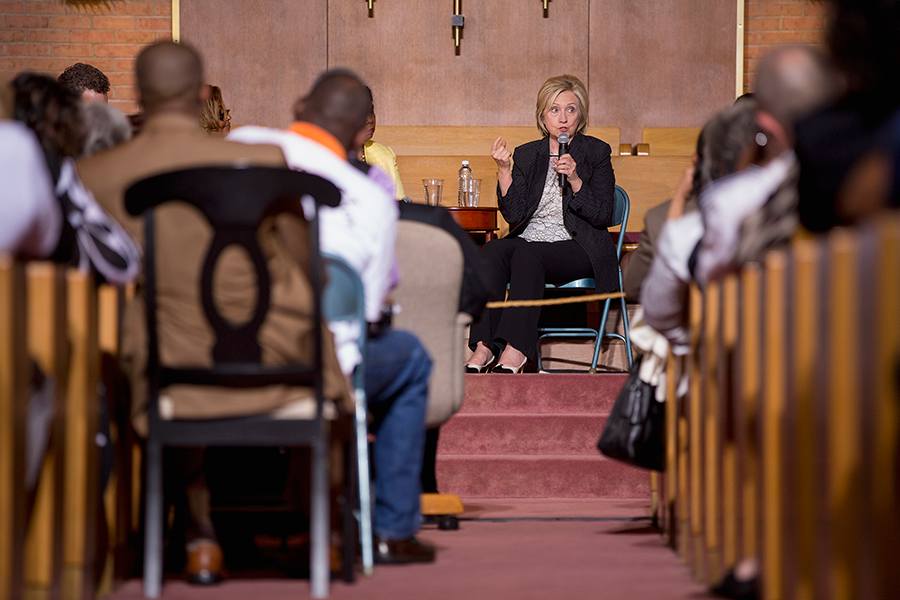 The activists started with a simple question: "What side are you on?"
The chant rang through the hall of the Phoenix Convention Center on Saturday morning, upending a presidential forum at the annual progressive conference, Netroots Nation. And one after the other, the two candidates there struggled to find the right reply: Martin O'Malley was defensive, Bernie Sanders frustrated.
Two days later, Hillary Clinton got her own question. Had she been there — had she shared the stage with her two opponents — how would she have responded?
"Black lives matter," she wrote from her campaign's account on Facebook. "Everyone in this country should stand firmly behind that."
But the activists behind Saturday's demonstration — known as Black Lives Matter — weren't much more satisfied with the response from Clinton.
The group's name, often written as a one-word hashtag, is now synonymous with a broad and urgent social justice movement to raise questions about structural racism and violence involving law enforcement. Two years after its founding — even as it remains a dispersed, bottom-up organization — Black Lives Matter has also become an increasingly vocal, commanding presence in the 2016 presidential race.
The group is poised to present a constant challenge to these campaigns: Activists have promised more appearances, more protests, more questions. And so far, according to the co-founder of Black Lives Matter, Patrisse Cullors, no candidate has shown "authentic engagement" — including, she said, Clinton.
The leading Democrat has long voiced support for the movement. She first affirmed the phrase "black lives matter" as early as December. Most recently, on Tuesday, Clinton said the words again at campaign stop in a Detroit bake shop, when a local activist, Ife Johari, questioned her about social justice. "If you really believe, as you do and I do, that black lives matter," she said, "you have to talk about what it's gonna do to help lives really develop to the fullest of their God-given potential."
Still, Clinton has not met with Black Lives Matter activists — and her campaign officials have yet to formally reach out to movement leadership, according to four people aligned with Black Lives Matter, whose members are set to convene this weekend in Cleveland for a conference, the Movement for Black Lives.
"We want a candidate who will take up a people's platform," Cullors said in an interview on Saturday evening. "We will be at every single debate."
The "authentic engagement" Cullors is looking for — whether from Clinton or one of her competitors — requires, at least at first, a lot more listening than talking.
"Authentic engagement is saying to the people who are calling out anti-black racism, 'I want to hear what you have to say, and I'm going to sit and listen,'" she said. "It's not giving a prepared speech, or saying, 'Well let me respond.'"
Clinton officials did invite Deray Mckesson, a lead organizer behind a new effort to foster new participation in the movement, to attend the campaign's "official launch" event last month — a rally on Roosevelt Island in New York. And when Clinton attended a community meeting at a church in Missouri — just after the shooting of nine worshipers in Charleston, S.C. — aides worked with the church to ensure that local movement leaders were invited, according to a campaign official.
Black Lives Matter activists are strongest in number in states like Maryland, Missouri, and New York — the sites of prominent deaths and subsequent protests. Although the movement has grown nationwide — particularly through Twitter — some Democrats say the organization still lacks a central spokesperson or leader.
Clinton has stumbled before in the eyes of critics and members of the movement. At the Missouri stop last month, Clinton talked to attendees about her mother's perseverance. "Years later when I was old enough to understand I asked her, 'What kept you going?' Her answer was very simple. Kindness along the way from someone who believed she mattered. All lives matter."
Within the movement, answering "black lives matter" with "all lives matter" is seen as diminishing. But campaign officials have stressed that Clinton made the remark within a different context: talking, as she does often, about her mother. (On Saturday, O'Malley was booed when he responded to the protests directly with the phrase, "Black lives matter, white lives matter, all lives matter.")
O'Malley, so far, is the only known candidate to have met formally with Black Lives Matter. The former governor sat down with activists from the group last Tuesday in New York City, a source familiar with the meeting confirmed.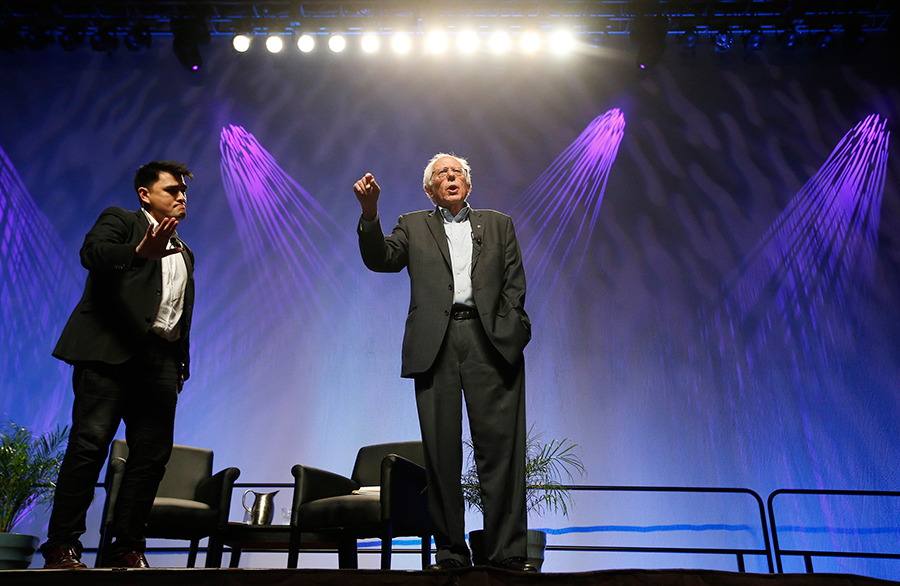 After the demonstration on Saturday morning, Sanders cancelled a meeting there with Black Lives Matter activists and backers, according to participants. One, Elon James White, said the campaign arranged the gathering to "get Sanders on track with the conversation about issues around racial justice."
The U.S. senator from Vermont — whose campaign has focused with great intensity on an almost exclusively economic message — has attracted crowds of thousands from the progressive and labor communities. But Sanders has also argued that many of the questions driving the Black Lives Matter movement are rooted in "economic matters" — a frame activists have largely rejected.
The movement is adamant that police violence is systemic. Activists view, for instance, Clinton's vow to equip police officers with body cameras as insufficient.
"We've witnessed the deaths of black people — Eric Garner, John Crawford, Tamir Rice — and witnessed their killers not be indicted or held accountable for their violence," said Zellie Imani, a Black Lives Matter activist and blogger. "[The] majority of patrol cars have dash cameras, cameras that capture police brutality, and they are still not indicted or convicted."
"Body cams cannot end police brutality, and neither can Hillary."
Her campaign advisers — now three months into the race — have concentrated their time and resources in the four states that begin the presidential primary. As a result, much of their black outreach has occurred there, on a local level, with operatives on the ground building relationships with black lawmakers and black churches.
In South Carolina, Clinton's state director, Clay Middleton, is helping lead the effort.
Her political director also spent much of the early campaign with coalition leaders and immigration and labor activists. Clinton herself met earlier this month with the Congressional Black Caucus on Capitol Hill, in addition to other members.
Last year, Clinton faced a series of protests from DREAMer activists, the undocumented youth who wanted the future candidate to support executive actions to slow, reduce, or end deportations. The demonstrations became a regular feature of politics in 2014, leaving a lasting impression on the party.
Clinton's campaign hired Lorella Praelli, a DREAMer activist, for the role of Latino engagement director. The candidate herself laid out an extremely specific — and progressive — slate of policy proposals on immigration early in the campaign.
Clinton's Facebook answer on Monday — in response to a question from a Washington Post reporter — stated that "black people across America still experience racism every day," and went on to propose body cameras, changes to drug sentencing, and funding for education.
Dante Barry, the executive director of Million Hoodies for Justice, called it "predictable."
"This response was not enough nor did it get to the points," Barry said. "The questions I want her to answer are: How will she end white supremacy? I want concrete action steps — this is about ending racism and I want to see how she matches up to that without dodging questions about power. And what does it mean to be safe?"