Black Lives Matter Asks A Question Of Its Own Movement: Where Are More Men?
There's no prevailing theme at the Movement for Black Lives convention in Ohio. But activists say the case of Sandra Bland underscores a problem in the movement: There is a lack of men speaking out on her behalf.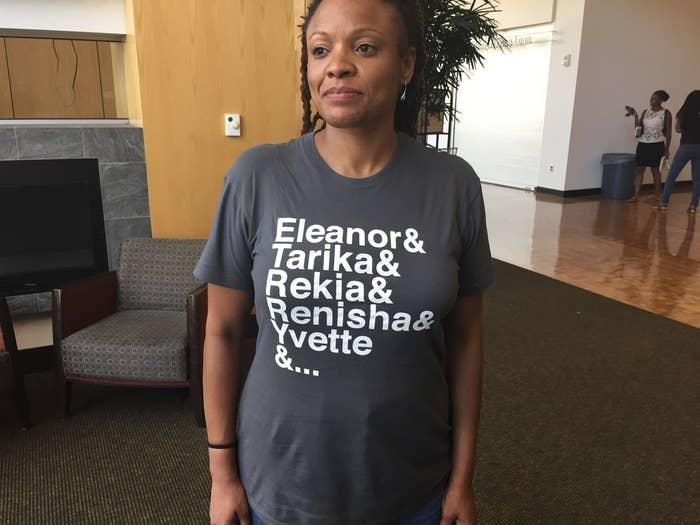 CLEVELAND — The women activists here at the first-ever Movement for Black Lives repeat a common refrain: Sandra Bland could have been them.
At every turn in her interaction with the arresting officer, the activists will tell you, Bland knew her rights. The activists are watching the videos Bland posted to Facebook, in which she talks about... a lot of the stuff that the movement is talking about. In person and on Twitter with the hashtag #SandySpeaks, they're replaying Bland's words over and over.
The first day of Movement for Black Lives came and went Friday with activists of all stripes, from the Bay Area to Queens, participating in everything from workshops on best organizing practices to panels on AIDS activism. The day was capped with an emotional ceremony that included the families of Tamir Rice and Tanisha Anderson, who were both killed by police in Cleveland. It ended with a raucous dance party to Kendrick Lamar's "Alright."
But the day's activism brought an unusual aspect — and many say problem — of the movement to the forefront.
Black Lives Matter was founded and cultivated by women activists fed up with the notion, they say, that men could be killed with little to no accountability or justice on their behalf. Now, a woman's story is front-and-center in the movement's activism. Now, the women in leadership are calling for men to show up.
Tia Oso, of the Brooklyn-based Black Alliance for Just Immigration, helped lead the action that rattled two presidential candidates at Netroots Nation. She said that three women — Patrisse Cullors, Opal Tometi and Alicia Garza — founded Black Lives Matter, which makes the movement "a continuous gender moment."
"When a black man gets killed," she said, "it's always a black woman who is always first to run out in the street to call for justice. It's not even a thought of whether we're not going to show up. But as a man, maybe the first thought is, 'Why do they keep killing us?' or, 'Damn, I need to get justice!' But a black woman's first thought is, like, 'Oh, hell no'."
Even as pockets of the movement are calling for men to be more vocal and active in organizing, activists like Dante Barry are careful to point out that the movement need not be be centered around men to thrive.
"It's about being able as a cisgender black man," he said, "in coordination with black women, to show up with a fierce urgency as much as they do — and to understand that I have a sense of my own privilege" as it relates to the movement and its external interactions.
Still, he tweeted on the subject after being nudged by Ashley Yates, another activist, over the phone.
The internal analysis represents something of an intentional departure from the traditional narrative of how Black Lives Matter began and flourished. The movement has resisted casting itself as lacking in central leaders or needing more of anything other than more organizing and resources.
Devin Murphy, communications director for the California Young Democrats, says this is how the movement is evolving.
"When there are more men speaking out and helping to lead the movement it represents larger potential for progress," he said. "That's why the efforts around 'say her name' is so important because these are women who are also victims of misconduct. When men recognize that, it creates intersectionality that creates more unity, progress and members."
It's difficult to estimate how many men are here at the Movement for Black Lives — an official said they did not ask registrants to identify gender. Another convention official estimated that women outnumbered men here by at least 3 to 1.
Searching for an answer why, Chuck Creekmur, the CEO of allhiphop.com didn't exactly demur. "Men are scared," he said.
Creekmur said he drove to Cleveland seven hours from New York City. "All I could think about driving was what happens if I get pulled over?"
"Men see a lack of justice and apathy from America when they see a brother get snuffed and it makes them feel hopeless," he said. "When you're getting beat down from so many different angles, you get tired and a lot of us have given up even if we don't want to to admit it."
Creekmur brought up the example of the rapper J. Cole, who has cited the death of Mike Brown in Ferguson as a pivotal moment for him politically. Before Ferguson, he said he'd been apathetic toward injustices in the process of taking care of himself and his family, and advancing his career.
Creekmur said the lack of sincere involvement in the movement is because a lot of men share in the artist's apprehension, adding that the movement should focus on encouraging and strengthening men — "especially the ones who feel they don't need help."
And some disagree, critiquing the idea that that Black Lives Matter is run by women for men, and question whether the women-centric leadership needs the affirmation of male involvement. April Goggans of One DC, which broadens access to community resources in Washington, wore a shirt with the names of people who have died. When she wears one with the names like "Trayvon" people know what it means; with the women, she said, people generally "have to Google them."
However, she smiled when asked whether Black Lives Matter needed more men in its ranks of activists.
"Some might see it as a problem," that men aren't present in equal proportion, she said. "But I think it's a good thing that men don't feel like they have to push us out."