Black Lives Matter Activists Will Press Hillary Clinton On Criminal Justice Issues
For weeks, Black Lives Matter activists have been preparing for their meeting with Hillary Clinton on Friday, where they say they will press the Democratic presidential candidate on criminal justice and racial issues.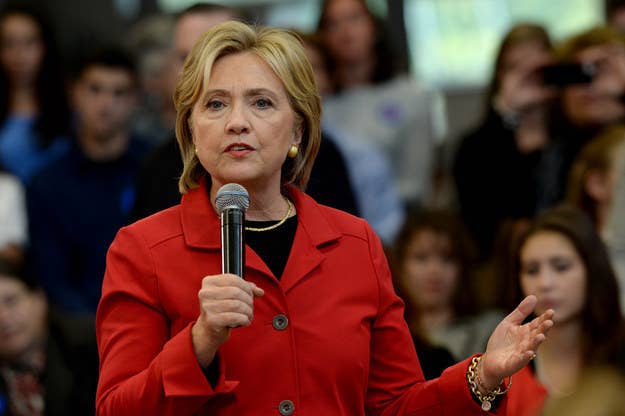 WASHINGTON — Activists from the Black Lives Matter movement meeting Friday morning with Hillary Clinton plan to press the Democratic presidential candidate on her plans to address criminal justice, mass incarceration, and racial issues in the U.S.
On Friday, BuzzFeed News was provided a look at organizers' outline for the meeting. Using Clinton's past policy and stated positions, the activists' outline offers a window into Black Lives Matter's engagement with a presidential candidate.
Organizers hoped to frame the meeting with Clinton around two questions:
"What is your perspective on the role of the President in changing the current realities of race and criminal justice in America?" one reads.
The other question is, "How will you use your first 100 days in office to advance a racial justice agenda?"
"I would say that it was weeks and weeks of research that is relevant to not just the movement but to black people in this country at large," Johnetta Elzie of Campaign Zero told BuzzFeed News. "It was a lot of watching her campaign speeches, reading through policy she's co-signed or supported in the past and really analyzing how those things she's supported, like mass incarceration, are still affecting black people today."
In addition to Elzie, activists DeRay Mckesson, Cherno Biko, Erika Totten and others contributed to planning the meeting.
Activists are expected to question Clinton about ending police violence and mass incarceration, as well as her proposal to ban police departments from federal funds that allows them to buy military equipment. "Will you end the federal 1033 program transferring free equipment to police departments and do everything possible to get police departments to return the equipment they've received?" one question reads. Another question asks if Clinton would cut off funding to departments that deploy military-grade weapons against civilians.
The activists will ask Clinton if she supports more police officers in black communities, press her on the effective use of body-worn cameras for police, and ask if Clinton will propose stricter national standards for police when it comes to deadly use force.

Other questions include asking about marijuana legislation. "How will you ensure that those who participated in the informal marijuana economy have pathways to participating in the legal marijuana economy?" one such question reads.
"When do you think solitary confinement is necessary?" asks another.

Activists had also planned to curate questions from Twitter, using the hashtag #AskHillary.
The document shows they plan to engage Clinton on more than just police shootings and mass incarceration.
"What is your position on 'zero tolerance' discipline in schools?" another question reads. "Will you act to institutionalize racial equity by requiring the use of racial impact assessments for administrative rule-making and pushing for this tool to be used for all federal legislation?"
"I'm expecting she will be a good listener today and will actually try to engage in an active learning session," Elzie said.