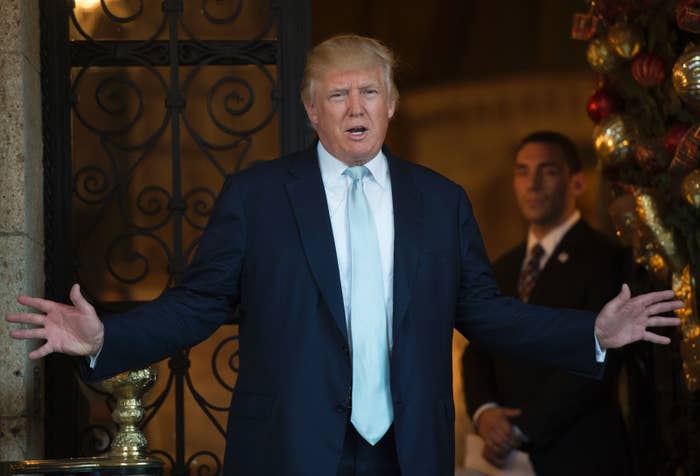 WASHINGTON — Young black activists are frustrated with the black leaders and organizations who have met with President-elect Donald Trump's transition team in recent days — exacerbating generational a split between with the old-guard civil rights activists and the Black Lives Matter movement.

Tensions between black groups over how to deal with presidents are not new, dating back to the early days of the Civil Rights movement; not even President Barack Obama, the first black president of the United States was exempt. And the movement's dissatisfaction with black leaders who get access to Trump or his senior staff goes back to the campaign. In November 2015, Campaign Zero's Brittany Packnett was among young activists of black-led organizations that expressed dismay at black ministers who met with Trump.
But now Trump will be president — and on Wednesday, civil rights leaders and left-leaning activists attended a meeting convened by Trump transition official Omarosa Manigault.

Among the leaders were Barbara Arnwine, former director of the Lawyer's Committee for Civil Rights; Melanie Campbell, president and CEO of the National Coalition on Black Civic Participation; Hilary Shelton, director the NAACP's Washington Bureau, and its senior vice president for advocacy and policy; and Ben Chavis, a former associate of Dr. Martin Luther King, who is currently head of the National Newspaper Publishing Association. The National Association of Black Journalists, which has advocated for black journalists since 1975, also met with Trump's transition team.
In response, Campaign Zero co-founder DeRay Mckesson said that Trump's cabinet nominees and rhetoric "did not demonstrate a commitment to justice or equity during his campaign."
"There will continue to be consistent pressure applied to Trump, his administration, and Congress to ensure that issues, programs, and funding related to black people and marginalized people remain intact and at the forefront of his presidency," he said.
While a growing number of black moderates in Washington, as well as non-partisan operatives say black Democrats need to find ways to work with Trump on issues like related to criminal justice, jobs, and education, Black Lives Matter activists largely find that unacceptable. Some contend that groups like the alt-right, a new white nationalist movement, and the KKK, which supported Trump, have made his presidency unique.

On a policy level, the incoming president campaigned on law and order, and is supported by the Fraternal Order of Police, which has encouraged Trump to throw out recommendations to improve the relationship between communities and police made by a task force convened by Obama.
"Here's the thing," a still downtrodden movement activist involved in police-community relations said. "He's going to have to give them something."
Trump even singled the movement out, telling Bill O'Reilly that Black Lives Matter had "in certain instances" instigated targeted shootings of officer last summer that rocked the entire country — and had many inside the movement unsure how to proceed.
Shelton, who attended Wednesday's meeting, said he used his seat at the table to push the administration on voting rights, and on the nomination of Sen. Jeff Sessions to lead the Justice Department. Civil rights leaders, he said, have a duty to make sure the country lives up to its constitutional promises of equal protection under the law and equal opportunity for all "if we plan on staying in this country."
"We can't run," he said, adding that the NAACP is inviting Trump its annual convention this summer. "The presidential administration has an awful lot of power and they can decide how to wield it. We have to do everything in our power to make sure they know what the challenges are and [know] what we want to be able to address issues of our communities."
Shelton said that while he respects young civil rights activists, "I think they have to decide what they want."
In interviews, over a dozen young activists said they were disappointed with leaders that met with Trump's transition team, citing his treatment of women and President Obama, and how he campaign treating Muslims and people of color who they feel will be more vulnerable under Trump's administration.
Calling Trump "one of the most divisive and outright racist demagogues," Peter Haviland-Eduah, the policy chair of the Million Hoodies Movement for Justice said Trump's involvement with the Central Park Five and giving rise to birtherism are disqualifying.
"Submitting to this harmful agenda should not be and is not a prerequisite to living in the United States and we refuse to live on those terms," he said. "We too are citizens of this nation and will continue to demand equality and accountability until the struggle is won."
On Wednesday, a coalition of several dozen youth-led black groups known as the Movement for Black Lives announced it was set to shortly release "powerful tools for people across the country to better organize, resist and learn." In a statement, the activists said it was necessary in light of a "new political moment, marked by overt racism, sexism, and control of the federal government by billionaires." The group said it was responding to increased violence against black people.
One prominent woman leader said the group is planning to "take Trump at face value," using strategies to resist that will look the same, even though the target is different.
"There's no sense in wasting time negotiating with a person who has already made clear by his cabinet picks how he feels about our families and our lives," she said. "We are already clear that Trump doesn't believe black lives matter."
UPDATE
This post has been updated to reflect that Barbara Arnwine is the former director of the Lawyer's Committee for Civil Rights.