Black Lives Matter Activists Looking For More From Bernie Sanders
Some argue the candidate needs to move beyond one example, and talk about structural racism — like Elizabeth Warren did. His campaign says Sanders is the real deal. "He definitely doesn't have all the answers and he'll tell you that, but he is willing to have the conversations...that speaks to the idea of the political revolution."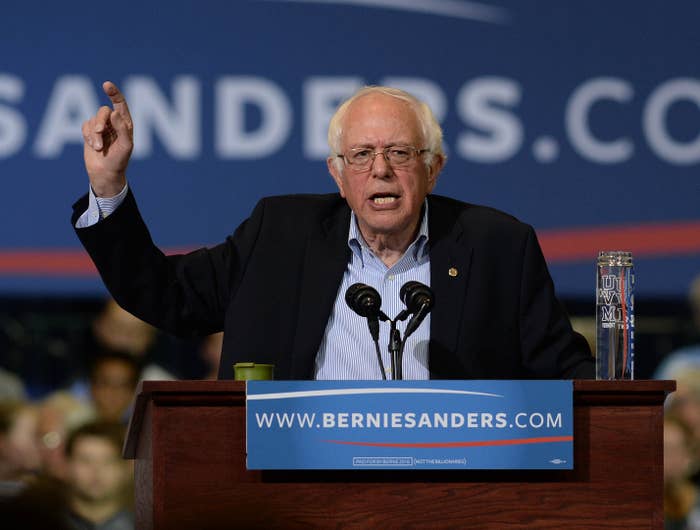 WASHINGTON — Black Lives Matter activists say they are unimpressed with statements Bernie Sanders has made regarding about Black Lives Matter following a series of confrontations with the activists this past summer — and are looking for him to show a broader understanding during Tuesday's Democratic debate.
Twice, in recent weeks, quotes have appeared with Sanders using the example of Sandra Bland, the woman who killed herself in a Texas jail cell after being assaulted by a police officer during a traffic stop. "It's hard to imagine if Sandra Bland was white she would have been thrown to the ground and assaulted and insulted," Sanders said this summer, in a profile in the New Yorker that appeared this month. "I plead guilty — I should have been more sensitive at the beginning of this campaign to talk about this issue."
Activists say this isn't enough. They want Sanders to go beyond this example and talk about broader issues of inequality and injustice, and talk about them outside his economic message. Some activists were also frustrated with Sanders's recent comments on gun control in a statement after the Oregon shooting, and the inclusion of the line: "In Chicago, they are used for kids killing other kids or gang members shooting at police officers, shooting down innocent people."
The activists' dissatisfaction may be best observed in the elated reaction to a speech given by Sen. Elizabeth Warren last month in Boston. At the time, DeRay Mckesson praised Warren for understanding the "role of structural racism" plays in America, and that she "understands the protests as a matter of life or death." He met with Warren shortly after.
Another activist, Brittany Packnett, told The Guardian, that Warren was "willing to give the speech that other politicians seem to be afraid to give, which is to say that black humanity matters without equivocation."
That's the sort of thing that activists are looking for from Sanders — and say they haven't seen yet.
"He doesn't understand the context," said Marissa Johnson, the Black Lives Matter activist who, along with Mara Willaford, confronted Sanders in Seattle. "He can only just throw out, 'Well, Sandra Bland was really sad.' It shows that he legitimately does not understand the political context outside of his old school, kind of socialist analysis."
"After black activists and organizers pushed him to talk about the issues that are affecting black folks on a regular basis, it's just reality that he's not completely understanding of what the crises are," said Dante Barry, executive director of the Million Hoodies Movement for Justice.
Barry said that Sanders and other candidates need to know more than the names, and begin to articulate why police violence and structural racism are pervasive in today's society and how, as president, he will begin to dismantle both. "The disruptions made him a better candidate and they will continue," Barry said, adding that the activism has shown they not just "have power not just a once an election season, but that they need to continue to be responsible and accountable to us."
But Sanders's campaign rejects the idea that these are new opinions for Sanders or that a simple citation of Bland's death shows that he misunderstands what's at stake. (The campaign noted that the addition of a position on civil asset forfeiture, which followed a meeting with Black Lives Matter activists, Campaign Zero.)
Symone Sanders, the senator's national press secretary, said that Sandra Bland's story is a clear example of injustice and racial inequality in the United States. The example, she told BuzzFeed News, is "much easier than citing something that happened in the back alley woods of Mississippi that nobody knows about."
"It's so clear cut," she continued. "People who can't relate to something like that happening to them...I don't think a white woman could understand what it's like to be in a car, be pulled over and fear for their life. But [for] black people in this country that is a thought that immediately goes through their head."
Symone Sanders acknowledged that Bernie Sanders is not from a state with a large black population, but said criticism from Black Lives Matter activists that his recent statements on the movement show a lack of understanding about Black Lives Matter is a mischaracterization of his intention.
"The senator has not had an epiphany," Symone Sanders said. "These are not new stances. To say that the senator one day woke up or had a meeting or something happened to him and now he feels as though black and brown issues are at the forefront is incorrect."
"He has always had a record of advocating for things that are in line with the movement," she continued. "He has had the opportunity to have multiple conversations with various Black Lives Matter activists and those conversations have been fruitful on both ends and the there have been great things that have come out of those conversations that can enhance the platform."
Packnett was careful to say that this is not just about Sanders. The entire political spectrum — from activists, to Congress to presidential candidates — need to get better at channeling talk about race into action.
"America has gone for centuries without talking about race," Packnett said. "Black folks talk about race every day, we live race every day, people of color experience race every day, so we talk about it all the time. But it has been far too easy in this country to live an existence and never have to grapple with the difficulties of race, structural inequality, or poverty."
Symone Sanders says that's why the candidate is willing to have those conversations.
"Yes, the senator is from Vermont where there is not a very large population of people of color," she said. "And he realizes that and it's why it's important to get out here and have these conversations. He has had varied experiences throughout his life that all play into the person that he is. He definitely doesn't have all the answers and he'll tell you that, but he is willing to have the conversations and get input from people that help shape his platform. That speaks to the idea of the political revolution."