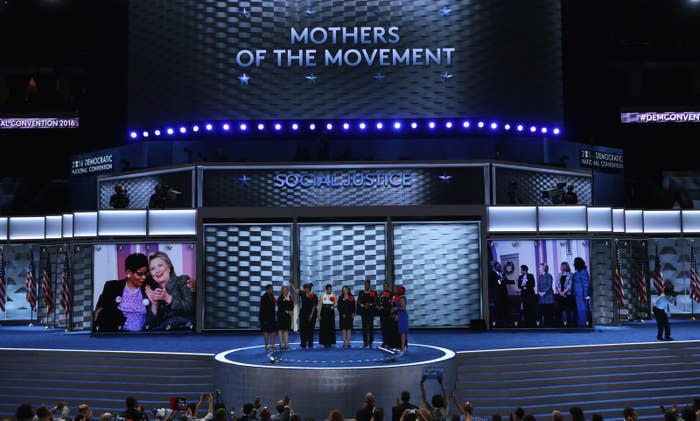 PHILADELPHIA — Key figures in the Black Lives Matter movement are here at the DNC speaking on panels, hobnobbing with VIPs at parties and attending the nightly speeches at the Wells Fargo Center.
But they haven't come out publicly in support of Hillary Clinton.
It's a perplexing state of affairs for Democrats frustrated that Clinton cannot yet count on them as surrogates in the face of a daunting election that needs young black voters to show up en masse in November.
Polling by brilliant corners Research and Strategies found that nearly half of young black voters said that groups like BLM, BYP 100, and leaders like DeRay Mckesson and Alicia Garza, speak for and represent their community. The firm also found that a 39% plurality of black voters agree that movements like BLM speak for them.
Therein lies a potentially enormous problem for the Clinton campaign. Alicia Garza, the Black Lives Matter network co-founder, for instance, refused to endorse Clinton in a June interview with Elle magazine. Asked directly by Melissa Harris-Perry if she'd support Clinton, Garza said, "Publicly? Absolutely not."
"Where Clinton's performance from Obama is off most is among younger voters broadly speaking," Cornell Belcher, a prominent pollster who led the research said to BuzzFeed News. "She's not performing where Obama was in 2012 with African-American voters primarily because of younger blacks. There is no progressive majority without this key component of the Obama coalition."

The Clinton campaign had in the past been in regular contact with key leaders in the movement, but it's unclear what inroads are being made toward full-throated support of the candidate from these organizers. The current tension now, however, is simmering against the backdrop of a convention that has celebrated the contributions of black women to the Democratic Party; the CEO, Rev. Leah Daughtry, is black; and Rep. Marcia Fudge and Donna Brazile were appointed to positions when the Democratic ship needed stability. The Clinton campaign also put on a memorable celebration of the so-called "mothers of the movement" Tuesday, with three mothers, Geneva Reed-Veal, Lucy McBath, and Sybrina Fulton delivering passionate testimony supporting Clinton. Democrats in the audience chanted, "Black Lives Matter!"
In interviews with senior Democrats this week, one Democrat emerged as possible emissary between the Clinton campaign and BLM: former Attorney General Eric Holder.

If he did, he wouldn't be the only one taking the temperature of BLM's leaders. Sources said that representatives from Green Party candidate Jill Stein's campaign has reached out to specific leaders in the movement to set up a possible meeting. (Stein's campaign did not return a message seeking comment.)
A spokesperson for the Clinton campaign did not immediately to a message seeking comment. But at a media availability at the convention Monday, senior spokesperson Karen Finney said that Clinton was going to work to earn the trust of young black voters as she campaigns in the final stretch. Their biggest advantage? They really don't like Donald Trump.
"Our job is to then turn them on Hillary Clinton and Tim Kaine," she said. "And part of the way we will do that is through our outreach and our grassroots efforts but also by talking about the issues that are important to young voters."
"What I would say to millennials is look at the work that she's done," Finney said. "[There's been] a lot of talk about the nineties, but let's look at what she did as senator and the work she did on ending racial profiling addressing sentencing disparities. So I think this is a person with a real record that I don't think people know about."
Senior policy adviser Maya Harris said the campaign is full of credible voices, and younger black aides and allies who can speak about why they're supporting Clinton.
"What Hillary fundamentally believes is that this election is about bringing people together," Harris said. "And bringing them together to solve the challenges that we're facing in this country — and that we're stronger together than when we're apart.