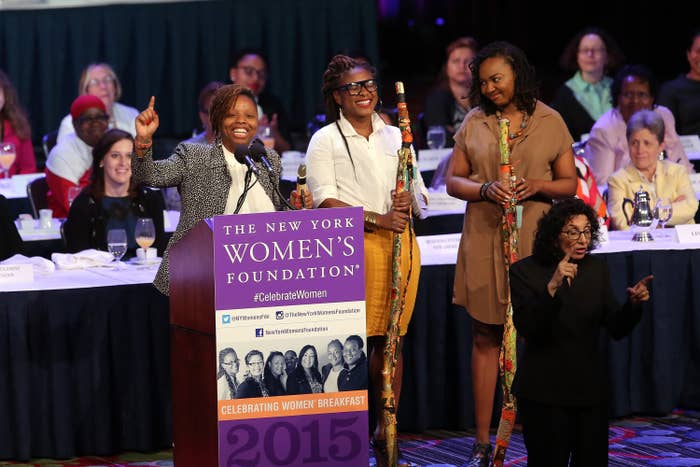 WASHINGTON — The water crisis in Flint, Mich. should be a signature issue for the Black Lives Matter movement, as well as political candidates and the private sector, one of the movement's most prominent activists told BuzzFeed News.
In an interview with BuzzFeed News, Patrisse Cullors of #BlackLivesMatter said her organization has been coordinating with activists in Flint. This weekend, Black Lives Matter network chapters in Kalamazoo and Grand Rapids, Mich. will work together to deliver clean water to families, she said.

"Clean water is a human right," Cullors said. "And I think that part what happens often times is that poor black communities end up getting the shorter end of the stick."

"Black Lives Matter stands in solidarity with the community of Flint, specifically because it's a majority black city and the water crisis there is just a microcosm of the water crisis that's happening across the country in places like Detroit where it shut off, and California with the drought," she continued. "We clearly have a national crisis that's not being taken seriously."

Thousands in the area have been left without safe water because of lead poisoning and other contamination from the Flint River.
Michigan Gov. Rick Snyder apologized for the crisis during his State of the State address on Tuesday, but there have been increasing calls for his resignation over his administration's inaction.

Democratic presidential candidate Hillary Clinton brought up the Flint crisis in a presidential debate last Sunday.
"I spent a lot of time last week being outraged by what's happening in Flint, Michigan, and I think every single American should be outraged," Clinton said. "We've had a city in the United States of America where the population which is poor in many ways and majority African American has been drinking and bathing in lead-contaminated water. And the governor of that state acted as though he didn't really care."

Cullors said it's "really important" that Clinton spoke out on the issue, and said she "would hope that more people, whether it's candidates or elected officials would show up right now for the people of Flint."
Cullors said the matter was less about Clinton and more about the people affected in the communities.

"I think everybody should participate," Cullors said. "Whether you're a presidential candidate, a community member, we should have all hands on deck in Flint."

Cullors told BuzzFeed News that Snyder has taken on a more apologetic public stance only now, because of the media attention on the crisis.

"What we're saying as part of the Black Lives Matter movement is that when our communities don't have access to clean water that is also state violence. You know, we've talked a lot about police and vigilante violence but it's a matter we have to take up as a movement."