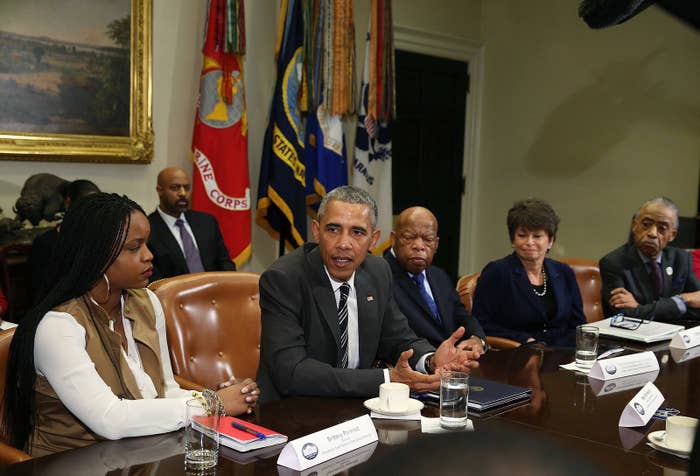 Three months after the National Urban League sent a 40-question survey to each presidential candidate, only three Republicans were left in the race. Ted Cruz and John Kasich hadn't bothered with it, and neither had presumptive nominee Donald Trump. And Marc Morial was annoyed.

For Morial, the group's president, it wasn't the first time weeks had passed without a peep from Trump. The previous year, Morial invited Trump to speak to NUL's national conference. He didn't come. On a muggy, overcast day in Ft. Lauderdale two years ago, Morial rose at the presidential plenary to say that the candidates who had come to address them took them seriously. Morial rattled off the names of candidates who didn't respond, including "New York real estate tycoon Donald Trump." The mention garnered laughter.
But last year, with Trump on his way to victory, Morial was flustered. Privately, Morial wondered if the snub by Trump was intentional — he had no real way of knowing. Trump had ignored the 2015 conference, the questionnaire, and declined the invitation to attend the convention three months before the election.
Even with the election between Hillary Clinton and Trump up in the air, a new era between legacy civil rights groups and the presidency seemed inevitable. Civil rights stakeholders had engaged President Obama closely on a range issues of mutual concern. That work that was buttressed by a unique foundation: Obama senior adviser Valerie Jarrett said in an interview that he saw himself as one of them, an organizer at his core.
But now the ground is shifting beneath the feet of a large and varied group of civil rights and black faith groups, whose influence involved direct audience with the president of the United States and people within the White House. No one quite knows how President Trump will deal with principal civil rights advocates like Morial and Rev. Al Sharpton — or the NAACP's Legal Defense Fund's Sherrilyn Ifill, currently leading a crusade against the nomination of Sen. Jeff Sessions to lead the Justice Department.
The groups have little leverage, as they have in previous administrations across parties, but particularly in Obama's. Trump did not need black voters to win, and indeed has mocked black Americans who did not vote, and enabled his victory. And while the Trump administration, will likely feature many social conservatives including the vice-president-elect, Trump himself does not come from the evangelical wing of the Republican Party — a traditional bridge between the party's presidents and black leaders. It's causing anxiety for groups used to being on the inside.
"We are surely going to miss Obama and we are going to miss him more than we realize," said civil rights leader and prominent pastor Rev. Herbert Daughtry. "I don't think that it's dawned on us yet."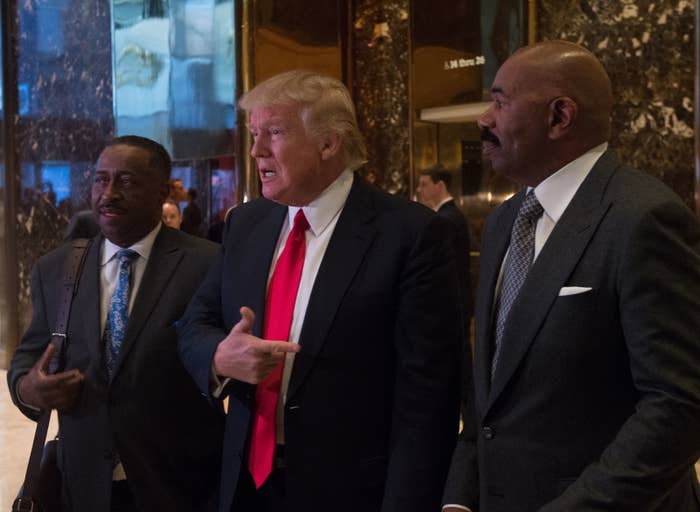 In interviews, leaders described an unexpected departure from a honed game plan. Some leaders said they were unsure about the next steps or not ready to discuss them; groups like the NAACP's Legal Defense Fund are reticent to share a specific strategy regarding how it plans to advance its agenda. More important, the groups say, there is an outright agreement that groups will push for more progress on issues like voting rights and criminal justice. Civil rights groups this week met in Washington with leadership from the Congressional Black Caucus to get on the same page about their goals. Ultimately, they're willing to play, in a sense, left-handed.
"Everyone is trying to figure out this moment," said Ifill, the president and Director-Counsel of the NAACP Legal Defense Fund, in an interview with BuzzFeed News. "We want to understand what it means for the work that we do and the clients we serve. The question is do we have a fundamental difference of understanding about the importance of civil rights law and the vindication of civil rights law?"
That issue, whether Trump administration officials believe civil rights statutes remain necessary and what the role of discrimination is in America, is not one that Trump has really addressed. Still, many civil rights leaders have indicated already how they'll move.
"It's time for us to put our fighting uniform again," Sharpton said.
How to fight animates the left now. There's a sharp generational divide, and has been for years, about how to press leaders and whether access expedites or impedes action. So far, younger activists have sharply critiqued a recent meeting where civil rights advocates met with the Trump transition team (as well as other figures in media and advocacy who have met with Trump in smaller groups in recent weeks). Participants were asked to share their priorities, but attendees said it was not an exchange; reps from the transition team listened idly while leaders expressed concern with the appointment of Sessions.
But what if the option is off the table, and the Oval Office isn't open under Trump? There's a few schools of thinking on this. One is that they may have a key ally: In 2014 and 2015, incoming White House Chief of Staff Reince Priebus addressed the Urban League, and has been a staunch supporter of black Republican activists deeply entrenched in civil rights issues. Those activists say Priebus' presence in the White House gives them hope that their issues will have a listening ear.
Morial — whose group gave Obama an "excellent" rating on its first presidential scorecard — said civil rights leaders' access to Obama as a black president had no bearing on how it chose to hold the president accountable, offering some clues about how he might proceed under Trump. He bristled at the idea that blasting Obama publicly meant that the group was carrying out the duty of holding the president accountable.
"The question is not whether it's easier or harder [because the president is black] — that's our job," Morial said in 2016. "But it's also our job because we have access to policy makers in the White House not to think that the way you play out accountability and influence is by having press conferences. There's a mindset which is sometimes unsophisticated thinks if you're not calling somebody out that you're not holding them accountable."
Another school of thinking is that access doesn't really matter.
"The people that speak on the national stage for black people is not determined by who's in the White House," Sharpton said, calling the suggestion "insulting." "Those of us who spoke while Obama was in [office] were already on the national stage. He didn't create us, he worked with us."
Protecting Obama's legacy was one of the aims of "We Shall Not Be Moved," a Washington march led by Sharpton on Saturday. Supported by other civil rights groups, Sharpton said events like this are intended to put pressure on Trump, but also serve as a warning to Democrats that any failure to stand up to him on bread-and-butter civil rights issues, and on promises to repeal and replace the Affordable Care Act, will result in more action.
"Our march gives some backbone and guts to the Democrats and lets them know that even though you're in the minority that you need to stand up and block anything that interferes with these areas or you've got to face us in the community," Sharpton said.
He called the Sessions nomination to lead the Justice Department "a nightmare" for expanding voting rights for black Americans and criminal justice and policing, calling for a "collective response" from civil rights groups to fight against it. Sharpton says he's ready seize yet again the role for which he became so well-known — as an outside agitator — yet again. Sharpton shrugged off the idea that, given his ascent as the one of the most preeminent civil rights figures during Obama's presidency, his influence might wane with Obama's exit, too.
The reason he and other leaders kept access with Obama is that they "agreed with him more than we disagreed with him."
Still, Sharpton's regular appearances inside the White House lent him a different kind of stature and influence. After an appearance on cable news, Trump phoned Sharpton, who said he told the president-elect that he knew Trump was "no pushover," but that they were going to be engaged in a battle, especially as it relates to Obama's legacy. Sharpton said he wasn't opposed to keeping an open line with Trump, but that "the question is what do we get out of the talk. I don't need to talk. I've talked to the last three presidents. We need action."
"It's more advantageous to be in a position to push and challenge and demand things from a leader who need your community to be in power versus not," Color of Change executive director Rashad Robinson said of his time working with the Obama administration. "That is certainly a challenge we are heading into." Although far too often many confused presence for power -- the presence of a Black president for the rules actually changing.
Robinson, among a younger generation of civil rights leaders, espouses the view popular with many Black Lives Matter activists and others who feel that negotiating with Trump or his administration is destructive. The idea is that these activists will push Democrats, media, corporations and some Republicans on progressive issues — but that the willingness of other, particularly older and more established groups, harms progress.
"Pushing back asking him to be less racist — there's nothing strategic in that, there's no fight or leverage in that," Robinson said. "We have a fighting strategy that doesn't include going to him hat-in-hand asking him to not be bigoted or not appoint a certain person, but in clear and very public ways make it hard on the enablers -- both in politics and corporations -- who will let him sell off this country and the progress that's been achieved to make money for himself, his family and friends and put his name on everything. We have to fight and we have win real victories at the local level, asking Trump for anything is a waste of time and won't help us protect vulnerable communities."
Ifill was front-and-center during the confirmation of Sessions, listening for clues that Sessions would indeed enforce civil rights law if confirmed. If "we get pushed back, that's one thing," she said. "But we won't turn back."
"I don't feel myself to be crouched in a defensive position, that's just not in the cards," Ifill said. "We still have to find ways to move the needle on equality and justice for people who are marginalized and or don't have a voice, and have a right to be part of whatever it is that America has to offer."