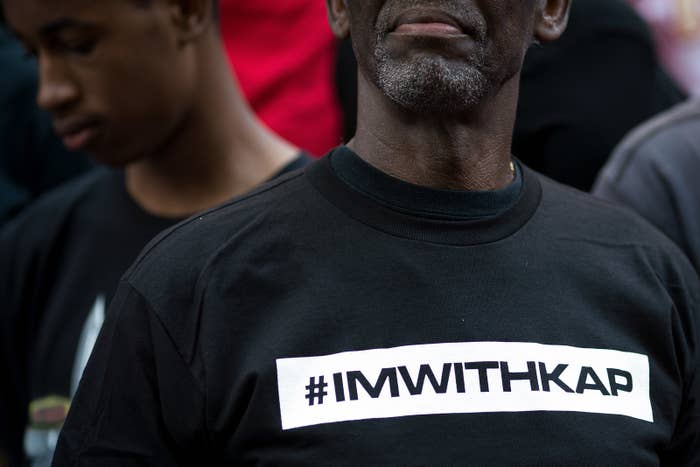 When the top black lawmakers and operatives in America meet later this month at an annual, days-long conference in Washington, they want Colin Kaepernick there, too.
The chatter in the lead up to the Congressional Black Caucus Foundation's annual legislative conference in two weeks is that there's a plan in place for Kaepernick to be involved somehow, a half-dozen independent sources told BuzzFeed News.
Both Kaepernick and the CBC find themselves in an entirely different position than just a year ago: The now former NFL quarterback has become a political cause and lightning storm, while some CBC members like Rep. Maxine Waters have also moved to the forefront of national politics in the Trump era.
The sources had no knowledge of whether an agreement had been reached. A representative for Kaepernick did not respond to a request for comment.
The political environment is a complicated one for black lawmakers, who've emphasized taking on the president and by-and-large see a racial dynamic in the national news worth addressing: Just in the last month, there's been the white supremacist rallies in Charlottesville, Trump's controversial responses to the violent events there, and the apparent police profiling of a well-known NFL star. All the while, the apparent refusal by NFL owners to even hire Kaepernick as a back-up QB has become an activist cause — organizers involved in the winter's Women's March recently sent a set of demands to the NFL over the issue.
Congressional Black Caucus chair Cedric Richmond said in July that Kaepernick had "superior talent" than players currently on teams and was simply exercising his first amendment right. "I think it's unfair," Richmond, a Louisiana Democrat, told TMZ Sports. "I think that he has a lot of talent. He was the starting QB in the Super Bowl and he's a great athlete. And the fact that he spoke up means he's a great person and he spoke his conscience. And I don't think we should penalize people in this country for doing that."
And now the CBC annual conference is approaching in a much different landscape than last year when Barack Obama delivered an impassioned endorsement of Hillary Clinton. (A foundation spokesperson did not immediately respond to an email asking whether Trump had an invitation to speak this year.) The priorities this year look more like: getting back some of the progressives and young voters who didn't show up to vote last year, and opposing Trump's agenda on matters including Obama-era criminal justice guidance.
"It has to be a collective meeting of the minds of first-time Obama voters, progressives, and younger folks, and more," a Democratic strategist close to the CBC told BuzzFeed News. "We need that coalition [because] if you look what happened [in 2016], we lost some people. We're not at a place where we can afford to have different segments and especially. So the message at ALC is unity and the need that everyone is active collectively and has a central role to play."