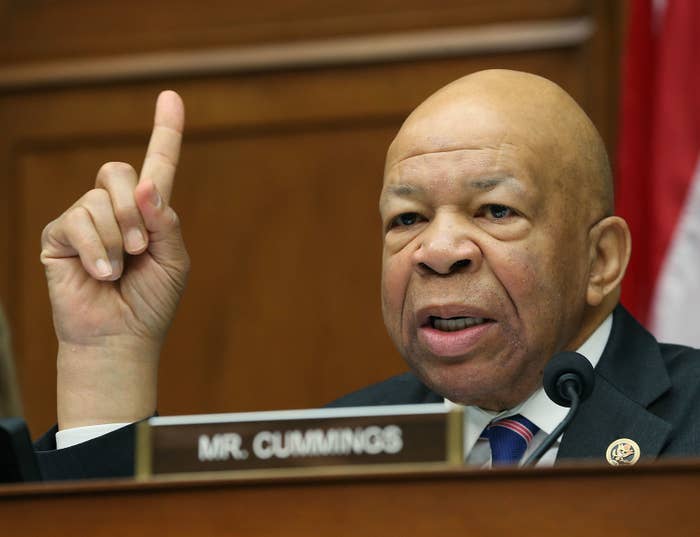 WASHINGTON — The Congressional Black Caucus is grappling with how to deal with Donald Trump's impending presidency and all that comes with it.
The CBC, like most Democrats in Washington, had no contingency plan for a Trump victory. Some in the caucus want to take a cue from President Obama, who has vowed a wait-and-see approach on the President-elect. Others say Trump's appointments like that of Steve Bannon, the former head of the far-right Breitbart website, means working with the president-elect will be nearly impossible.
"I think we had to get past the shock of what has happened," Rep. Elijah Cummings said in an interview with BuzzFeed News. "We may be just going through our shock and then mourning and then evaluation. And maybe once all that's done completely people will come to certain conclusions."
"Where Trump has issues like infrastructure spending, we need to be with him 100%," Cummings said. "If it's TPP, we have to work with him. But on the other hand when it comes to bigotry and any kind of racism or taking away people's votes, all of that should be non-negotiable. And we should go toe-to-toe with him on all of those things."
Another CBC lawmaker — who requested anonymity to speak openly — said he was aghast to see some of the initial openness to working with Trump, especially in light of Bannon.
"We're here fighting against discrimination, fighting against prejudice, and he hires a guy who uses the alt-right as a tool to further his political ambitions," the lawmaker said. "That's very, very, very disturbing and it makes it tough to move forward."
"Those things can't be brushed off or moved aside," he added. "It's hard to go talk to the president about jobs when he hasn't fixed the Bannon problem."
Black lawmakers were among the 169 members of Congress who signed onto a letter denouncing Bannon, who will be one of Trump's closest advisers. Bannon's website Breitbart often features racist, sexist, and anti-semitic headlines alongside ultra conservative commentary and was once described by Bannon himself as the "platform of the alt-right."
"It's a time when we are now open to the possibility of people who are being paid by our tax dollars like Mr. Bannon. We will be paying him with our tax dollars," Cummings said. On losing the election, Cummings said, "It's very painful. Do you get tired? Yes. The only thing I think that keeps me going is I have to believe that there's something good that's going to come out of this. I have to. And that's based on my faith."
Before the CBC plots out a cohesive strategy though, they'll need to elect their next chair — but the unexpected election of Trump adds an especially fractious component to a vote some inside the CBC had already feared would be contentious.
The next chair was widely thought to work closely with Hillary Clinton, pushing through a bold agenda for black Americans with a major emphasis on the economy, policing and gun control. Now the CBC is bracing for navigating Washington with Trump, who has vowed to be a "law and order" president. Either Rep. Yvette Clarke of Brooklyn or Rep. Cedric Richmond will create the roadmap to guide the CBC through the first two years of Trump's presidency. And as the entire Democratic party grapples with the stinging losses of the election, CBC members are hoping they will play an influential role in shaping how the party as a whole moves forward.
A key area where the CBC wants to help shape the future of, and unify, the party is picking the next chair of the DNC. Members like Reps. Sanford Bishop and Marcia Fudge support Jaime Harrison, a former Clyburn aide and chair of the South Carolina Democratic Party. Harrison faces Rep. Keith Ellison, a CBC member himself, but Fudge prefers Harrison over Ellison because she thinks it needs to go to a person who can do it full time.
"There has been so much as a result of this election that is saying to us that we need to take a different look and different strategy at everything we're doing. I think we can start out by making sure that the person is devoted solely to making sure that we get this right."
Rep. Jim Clyburn was clearly still frustrated with the Clinton campaign and the DNC. He thought back to 2008 when Barack Obama's campaign for president had a true 50-state strategy. One of the reasons Obama so well in certain counties because the candidate and the Democratic National Committee were there, he said.
"For some strange reason, we reverted back to a 17-state program which left all these counties exposed and that's what led to after 2010 we got redistricting and that's what led to us losing, what, 900 legislative seats? Over an eight year period? That's stupid stuff," an agitated Clyburn said. "You cannot maintain a House of Representatives if you don't maintain significant legislative presence at the state level. It's just that simple."
Cummings said Democrats have we have to come up with a plan "that boils down to economics and to a large degree race" with that strategy being "a real thin line we have to walk."
"On the one hand we have to make sure that we appeal to the Rust Belt. But we also need to make sure that we don't forget that there are many people in urban areas, black, white, Hispanic and Asian, who have lost their jobs, too."