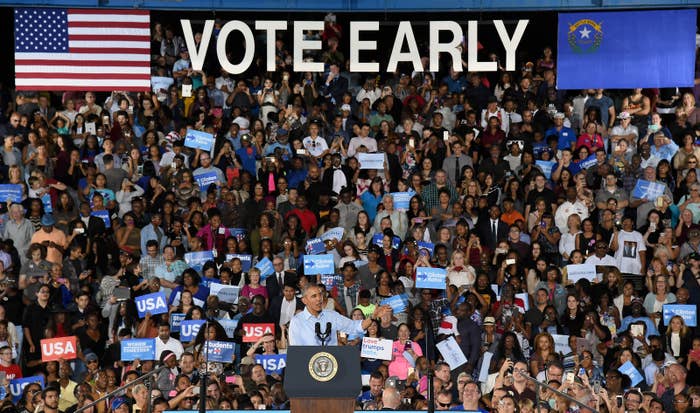 WASHINGTON — Weeks ago, on a kickoff call for the final stretch of the election with the Democratic National Committee's Black Caucus, Interim DNC Chair Donna Brazile seemed concerned about the amount of resources at her disposal to turn out the black vote.
"We might not have the resources that we need but we're still going to send you everything we've got," Brazile said, offering up organizers things like posters and robocalls, or the president urging people to get out of vote, saying she needed voter protection lawyers in all 50 states because she didn't trust Republicans. "I know their track record. I know what they're going to try to do."
"Please, please, please," she pleaded. "Just make sure you're doing something that raises the level of visibility of our entire ticket. We need every voter, we need everyone."
Then, Black Caucus Chair Virgie Rollins followed up. Pleading with organizers to do everything they could to get the black vote out, she reflected on the recent past: Black voters lined up en masse to vote for President Obama's re-election largely because of the racial pride his candidacy engendered. Since Trump's candidacy was doing the same for many white voters, Rollins told her organizers to tell people that this election is the "most crucial."
Brazile's opening remarks, as well as those by Rollins, were recounted Tuesday to BuzzFeed News by two independent sources on the call as evidence of unease about black turnout even before Clinton and Trump took the debate stage on Long Island. That anxiety has been validated by recent data showing poor early turnout from black voters in vote-rich Florida, a key battleground for Clinton that, if she wins, makes Donald Trump's path to the presidency quite difficult.
FiveThirtyEight reported the five counties in Florida with the highest percentage of black voters are not on pace with the statewide average of 79.4 in 2012. Gadsden County, near the state's capital, had only reached 60% of all early in-person voting and vote by mail at the same point in 2012.
Republican efforts have tried to quash early voting, the results of which often overwhelmingly favor Democrats. But it's unclear if it's had an effect on black turnout in a place like North Carolina, for instance, where just 43.7% of votes cast have been by Democrats (down from 49% in 2012, though Democratic ballots still outpace Republican ballots), and ballots cast by black voters are down 15% from the same day in 2012. While Clinton will likely see gains in some states based on outsize enthusiasm from Latino and Asian voters based on early returns, a diminished black electorate would have potentially damaging consequences in key states like Pennsylvania and North Carolina, as well as the upper Midwest.
Rev. William Barber, president of the North Carolina NAACP, called the state "ground zero in the intentional, surgical efforts by Republicans to suppress the voice of voters." But many Democrats warned against using voter suppression tactics as a reason for lower turnout, as many said they were turning their focus toward the latter half of this week that historically drives numbers in early voting.
"My thing is you can't compare 2008 and 2012 black turnout because of the Obama factor," said a Democratic strategist with ties to the campaign and party apparatus. "The numbers are low [so] there is still that difference, but I do agree that not enough has been done to engage the black community, and people have been telling the DNC and [the campaign] this for months.
"They thought with Trump on the ballot there was no way a majority of black folk would vote for him, which is true. But you still need to get people to the polls for Hillary."
More than a half-dozen Democrats who spoke with BuzzFeed News Tuesday are expecting to see more in the last week of the election. Jarvis Stewart, a Washington-based media and communications strategist, said more resources are needed to engage black voters, and that the party should be "more creative" with how it drives souls to the polls and utilizes ground forces and trusted sites like black media and black-owned newspapers. He said it also was incumbent upon Democrats to identify community leaders who know how to reach voters.
"I'm not sure Democratic organizers are paying close enough attention to the sluggish black early vote numbers as those on the ground in states like Florida," he said. "Conventional wisdom suggests the numbers should be close near the number in 2008 and 2012. That's wishful thinking, but an aggressive, coordinated push still must be executed as we get closer to Election Day."
Still, others warned against expecting numbers on par with 2012.
Michael Blake, a New York City assemblyman, said Democrats need to be "proportional with our expectations" given that Obama isn't on the ballot. Still, Blake said he liked the enthusiasm he saw campaigning for Clinton in North Carolina because sporadic voters are showing up overall.
"The level of direct engagement that I saw at North Carolina A&T, for example, of students who were saying among themselves that they already voted or were asking where to vote early — in addition to the three church visits that I made where people had early voting materials located near their churches — showed an attentiveness on the ground that is encouraging and exciting," Blake said in an email to BuzzFeed News.
One of the complaints among many young Democrats was about the lack of young black surrogates in the states talking to young black voters in particular about why it's important to vote in this election. The DNC deployed a bus tour with electeds, operatives, and celebrities hitting HBCUs and other communities; Democrats launched I Will Vote; and the Clinton campaign infamously announced a Jay Z concert this week in Cleveland to engage young black voters and remind them of the election.
"I think voter turnout will pick up in the coming days as we get closer to Election Day," said Jaime Harrison, chair of the South Carolina Democratic Party. "We are seeing good numbers in parts of the South mimicking 2012 numbers. The Clinton campaign has a superior ground operation. I have seen it firsthand in North Carolina."
Democrats continuing to engage the "Obama coalition," especially the key bloc of low-propensity black voters that made up his support in 2008 and 2012, has been the central focus of the robust, if informal, campaign of Cornell Belcher. The Washington-based Democratic delivered an ominous, numbers-based breakdown of his analysis about what it takes for Democrats to win elections at the DNC.
"These Obama voters — you can't treat them like they're base Democratic voters because they're not base Democratic voters," he said in a recent interview with BuzzFeed News. "They came into the process inspired and excited by Barack Obama. Yes, they're more in line with Democrats on almost every issue. But before Obama, they had decided that voting was not the primary vehicle for them bringing about change to their communities. It was a whole array of things from volunteering, onward. But Obama made them think about voting and connecting change to politics. And when he steps off the stage, that cynicism returns. Well, we've got to speak to that. If we don't speak to that, we lose them — we lose them, we lose the future."
Rick Wade, an adviser to the Clinton campaign who served as a principal to try to drive and turn out the black vote for Obama's campaigns, said the idea of Clinton turning out Obama's coalition is unrealistic. Sure, Wade said, if the Clinton campaign could build that kind of coalition, it would be a winning formula. "But I've never had any expectation that her numbers would meet or exceed" the president's.
"It will be [her] ground game that will deliver," said Wade, adding that he's seen a lot of pro-Clinton enthusiasm and excitement in Florida that he believes will carry to Clinton to victory. However, he warned against using Obama's turnout number as a "barometer" for Clinton — even as black voters understand what's on the line and as many cast an anti-Trump vote.
"I still think that we'll still have very strong numbers," Wade said. But "it should be remembered" that the inspiration of Obama's candidacy was "different, and that there the idea of an African-American president and what that presented was really a different kind of inspiration to vote."