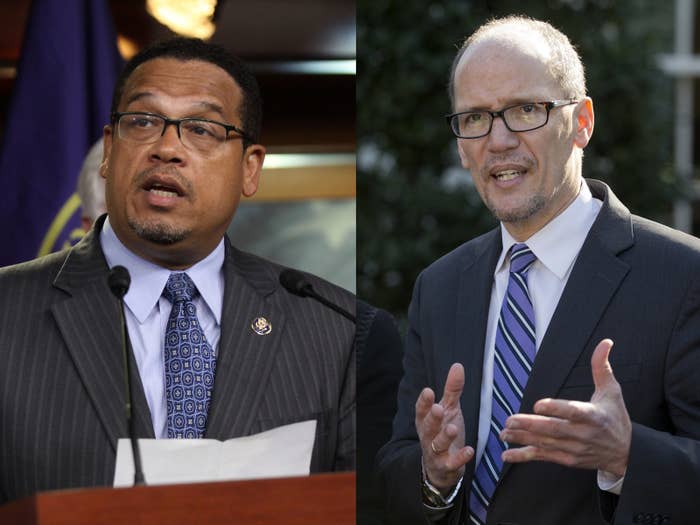 WASHINGTON — As Democrats survey the rubble of Hillary Clinton's stunning loss, a group led by black Democrats is seizing the opportunity to argue that the party erred gravely and must give meaningful investment to engaging young and minority voters or risk Donald Trump winning again.

The Democracy in Color campaign was launched this past summer in part by Steve Phillips, the Democratic donor and activist whose new book, Brown Is the New White: How the Demographic Revolution Has Created a New American Majority, rankled Democrats on its way to becoming a New York Times best seller.
"There were five million fewer Democratic votes than there were in 2012," Phillips told BuzzFeed News. "Clearly, for whatever constellation of reasons, the New American Majority that came out to win enough states for Obama did not come out for Clinton," though he noted that Clinton won the popular vote.
In the days following the election, a number of Democrats, as well as liberal groups and writers, have debated what the source of Clinton and Democrats' failure really was and what the next step should be. Some contend the issue was that the party has become too alienated from white working-class voters — others argue that those voters weren't coming Democrats' way, and that the path forward must involve truly engaging people of color and young voters, and infusing the party with a more clear message.
Before the election, Democracy in Color's challenge to Democrats was simple: If the party wanted to win elections going forward, it was best off investing in reaching low propensity voters of color to gain traction, the group argued. The DSCC started, as part of this effort, a questionnaire to collect data on hiring and engagement efforts.
"The struggle is that there isn't enough data around what we do when it comes to communities of color. Whether it's hiring, spending resources on voter engagement — I wish that I could say there was a template that we could give everyone that they could just overlay on all of their operations for success," said Democratic consultant Jessica Byrd, a co-founder of the campaign. "Instead, we had to have a new and very different conversation with the DSCC and all of the campaigns about where they were and all of the information they needed to gather in order to address whether they were doing a good job or not."
But the group's efforts have gained new urgency since Democrats were defeated in what were considered safe blue states like Pennsylvania, Wisconsin, and Michigan. Phillips contends the Clinton campaign and allied super PACs like Priorities USA wasted $1.5 billion speaking to the wrong voters, particularly with ill-targeted and ultimately ineffective television ads. The larger problem, he said, is that ads are a function of who is controlling the budgets.
"Of the $1.5 billion spent by the Democratic Party and allied organizations, all of the top budget-making roles were held by whites in a party that is 48% people of color," Phillips added.
Albert Morales, who served three tours as part of the DNC, most recently running Hispanic engagement efforts before leaving before the summer, said Democrats spent no money on Spanish-language television in Philadelphia. "They have a huge Puerto Rican population there," Morales said. "Why not saturate that market?"
Democracy in Color is also calling for a generation of new Democratic leadership, with the intent of establishing the engagement in communities of color by campaigns as a standard operating practice to go beyond what it considers to be empty rhetoric and token hires.
"We have unfortunately been met with the worst-case scenario of what we assumed could have potentially happened if we stayed the course that we were on in the spring, which is the result of undevelopment and underinvestment in communities and voters of of color," Byrd said.
"The reinvention of the Democratic Party must reflect the importance of key parts of the base coalition, Byrd argued. That means innovative and heavy investment in voters of color. "Our communities are in imminent danger. We know the leadership of the Party is only a fraction of what needs to be done. But we must create a party system that reflects its base voters and the urgency of the moment we're in"

For their part, Latino groups say that the Hispanic community showed up for Clinton in record numbers, and dismiss exit polls that many consider to be flawed when it comes to demographic breakouts. They say Latinos voted for Clinton in huge numbers, with 20% being first-time voters, and they must be engaged, too, or the party risks losing them in the age of Trump.

"It's time for a Latino to serve as the DNC chair and for them to be considered in leadership roles across the spectrum at the party committees," said Cristobal Alex, one of the top Hispanics on Clinton's campaign who has returned to his role as president of Latino Victory. He pointed to "qualified progressive champions" like former Labor Secretary Tom Perez, Rep. Ruben Gallego, and Rep. Xavier Becerra, who all supported Clinton's bid for the presidency.
Alex said that groups must also ensure that experienced, outgoing Obama administration and Clinton minority staffers are aided in finding new roles to strengthen the party. He said his group has partnered with the National Hispanic Leadership Agenda (NHLA), a coalition of 40 national Latino groups, for a Latino talent initiative that hopes to do just that.
For Democracy in Color, these efforts begin Wednesday. On a call bringing together national stakeholders, the campaign plans to announce their focus on a broad "transition of power," laying out their demand that the DNC chair, as well as the executive leadership of the DNC, Democratic Governor's Association, and Democratic Congressional Campaign Committee are people of color — and place women and people of color in executive leadership.
"It's critical that leadership chairs and top staff people have deep cultural competence and familiarity with the communities of color," Phillips said. "We're laying out a blueprint for how the party should be functioning so that whoever takes over will adhere to it."
With an open, public election of the DNC chair coming early part of 2017, Democracy in Color will invite the candidates for chair of the DNC to partake in a public forum in Washington.
While the campaign is not endorsing a particular candidate, Phillips spoke well of Minnesota Rep. Keith Ellison, who is black, and has received the backing of outgoing Minority Leader Sen. Harry Reid and and his successor Sen. Chuck Schumer. "What Ellison has done are the type of things the party should be doing," Phillips said.
"We want leaders who are not beholden to greater party interests, choosing relationships over leading the community, I want a person who is connected to movement and advocacy and people are at the center," Byrd added.
As for the Clinton campaign, in a tersely worded memo obtained by BuzzFeed News, Democracy of Color writes that the campaign was diverse, but no minority staffer (other than Marlon Marshall, the director of states and political engagement) led a department with a meaningful budget.
"As was painfully proven on November 8th, that is not a formula for victory," Byrd said.