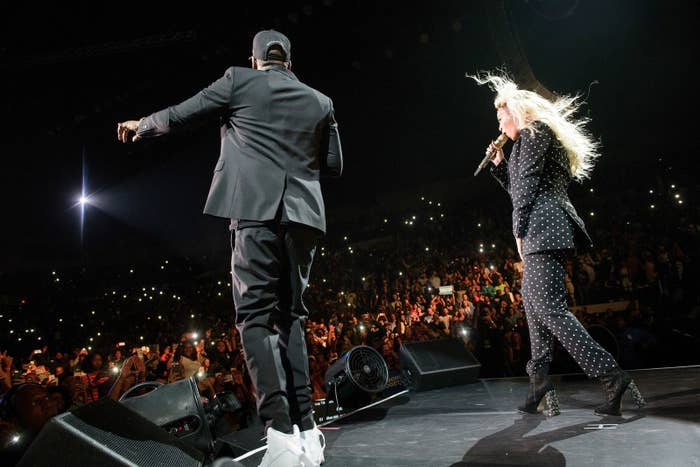 CLEVELAND — Walter Patton and Demario Hinton found out that three young people had been killed in their neighborhood Friday. They are organizers in this city's East Side. Their job, in a way, is to know when things like this happen.

"That shit don't get played on the news," said Patton.
Patton and Hinton, 29, are with Free Thinkers Since '87, a group dedicated to creating relationships with young people, to "show them something different," said Patton. "A majority of my role models were majority drug dealers," he said, "so I'm trying to change their perspective and teach them that they can be other things in life. Because that's all they gonna do is try to grow up to be what you've what they see. I want to show them what's possible."
They are two of the organizers who canvassed for Hillary Clinton in exchange for a ticket to see Jay Z in concert. His and Beyoncé's full-throated endorsement lends her campaign the potential for much-needed black enthusiasm, as she's taken a pointed, late pivot in her stump speech toward aimed at getting the attention of young people, in which she's highlighted Donald Trump's harsh past actions over the Central Park 5, which activists have long desired, and framed him as a racist.
These are characterizations her surrogates have made for months. Only now, some feel, has Clinton so sharply framed Trump as specifically unfit for black Americans. Whether her added sharpness on issues important to young black Americans will be reflected in black turnout — which is down from 2012 — seems dependent upon the attitudes of voters inside the very communities, some of them projects, where volunteers canvassed this week.
The message Friday centered mostly on the historical significance of electing the first woman president, and not Clinton, the concerns of black voters, or the legacy of the departing black president whose case for Clinton has rankled some who think the former secretary of state has a checkered record when it comes to race. Added to that, activists and voters that spoke with BuzzFeed News said that those communities have gone underlooked this year, while the concerns of Trump voters received saturation coverage.
The artists didn't mention Trump by name, either, but Jay Z spoke in ominous tones of a potential Trump presidency. The historical significance of the black vote — how it must be honored and protected — loomed as a major theme.
"Many of the performers reminded us of a time when we didn't have access to the vote and that we are stronger when we actively resist hate and division," said Brittany Packnett, who is a member of President Obama's policing task force and endorsed Clinton. "We have a lot of work to do, on and after November 8, but they reminded us to take a stand."
Chance the Rapper, who performed a spirited rendition of "Blessings" told BuzzFeed News he'd wanted to perform "because Ohio is a battleground and we're at war." Chance, whose real name is Chancelor Bennett, has been performing during a registration drive with the NAACP.
Ohio Sen. Sherrod Brown told BuzzFeed News with all the negativity regarding black voters, Republicans "clearly" have a plan to keep black Americans from voting. Brown said part of the plan was to have voters leave feeling positively about politics on their way out.
"There's so much excitement for Hillary Clinton and obviously Jay Z and Beyoncé coming out makes it even better," Brown said. Enthusiasm, has "built and it's built and it's built. With all the negative stuff, the enthusiasm with the young people is coming to a crescendo right at the right time.
The message that they got was that a whole lot of people gave their lives and gave a lot to get the right to vote. "None of us, really, young blacks, young whites, know enough of our history," Brown said. "Think about how far we've come and how much further we have to go."
The show coincided with a coordinated push in Cleveland to turn out voters, as well as the significant operation currently running in the state. Of a dozen and a half volunteers that spoke with BuzzFeed News, nearly all canvassed in this city's East Side.
One of them was Shay Ford, a 22-year-old who said her favorite part was when Clinton came out and "showed love" to Cleveland. "I didn't think she wasn't coming."
They canvassed where voters fell into one of three categories, according to a wide range of starry-eyed young black people looking forward to laying eyes on Beyoncé for the first time. A third of voters had already voted for Clinton; another third planned to vote on Election Day. The last third, echoing a sentiment people inside the Clinton campaign dedicated to turning out the black vote dread, didn't believe voting would in any way help their communities or situation.
Modern organizing programs of political campaigns like to have organizers say they're your neighbors when they knock on your door. To the extent that this is an effective strategy, Clinton camp's decision to have volunteers clock a couple of hours for the chance to see the concert is pretty genius. Hinton and Patton walked around the East Side's Outhwaite Homes, asking voters if they had made a plan to vote.
Patton said he identified with voters he spoke with who don't believe presidential elections affect their everyday lives, "'cause I don't ever see no change where I stay."
They recognized Sen. Brown, and even appreciated Rep. Marcia Fudge's appearance, but balked at making the kind of endorsement voiced during the performances of Beyoncé, Jay Z, Big Sean, and Chance the Rapper.
Part of the cynicism has to do with Cleveland's place in many people's minds as ground zero for the movement fighting for racial equality stemming from the shootings of Tamir Rice and Tanisha Anderson. Jay Z and Beyoncé, who both have made their own personal outrage public, reportedly made sizable donations to group D.C. s in the movement, but the gifts were never confirmed by the artists. (For her part, Packnett personally thanked Beyoncé for dedication to the movement.)
On Friday night, Clinton hit Trump from the stage, where Beyoncé and her dancers dance to "Freedom" in pantsuits. "Do we want him controlling the Justice Department?" she said.
Loud "nooooooooos" ensued.